Back to News
Hydrock just the ticket for Pitlochry Festival Theatre redevelopment
5th Sept 2023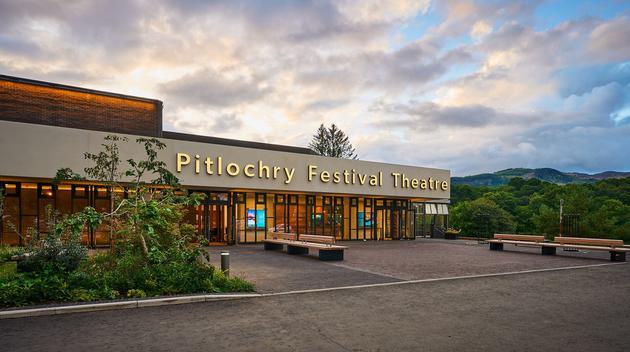 We've secured a pivotal role in the latest phase of the transformative redevelopment of Pitlochry Festival Theatre. Situated on the banks of the Tummel, and Scotland's largest of its kind, the cultural gem is renowned for its captivating and accessible dramatic arts experiences.
Backed by a substantial £10m investment from the Tay Cities Regional Deal, Pitlochry Festival Theatre has chosen Hydrock through a rigorous selection process. With a multidisciplinary range of expertise, Hydrock will provide integrated design support, encompassing fire safety, structural and civil engineering, MEP design, as well as smart energy and sustainability consultancy throughout RIBA stages 1-3.
Emma Stewart, head of project development at Pitlochry Festival Theatre, expressed her enthusiasm, stating:
"

We are delighted to confirm our partnership with Hydrock, a leading multidisciplinary engineering services provider. Pitlochry Festival Theatre wholeheartedly welcomes this collaboration, as it brings together our shared commitment to excellence and innovation in the performing arts industry. With Hydrock's expertise and unwavering dedication to delivering exceptional engineering solutions, we are confident that this partnership will enhance our capabilities and ensure the continued success of our productions, bringing Pitlochry to the world and the world to Pitlochry. Together, we embark on an exciting journey, uniting creativity and engineering expertise to create extraordinary experiences for our audiences. Pitlochry Festival Theatre is excited to have Hydrock on the Design Team for the next phase of the capital project, VISION 21, and we eagerly anticipate the remarkable possibilities that lie ahead

"
As part of a transformative programme of building upgrades known as Vision 21, Pitlochry Festival Theatre is ready to forge forward with an exciting new chapter in its illustrious 70-year history. The ambitious goal is to create a world-class centre of excellence, perfectly tailored for the twenty-first century. This includes elevating the calibre of theatre performances, introducing innovative vocational training and skills development programs, bridging gaps in the creative sector talent pipeline, and delivering an unparalleled visitor experience. All of this will be situated in an extraordinary location that promises to inspire hearts and minds for generations to come.
Marc Pawson, regional director — Scotland at Hydrock, added:
"

I'm immensely proud of this appointment on a project that's going to help build resilience and broaden the theatre's artistic programme for the local community and audiences at large. Our team has a track-record of bringing symbolic cultural projects like this to life, notably the restoration of Bristol Old Vic, and we look forward to working closely with the other project partners.

"
Setting a new benchmark in Scottish cultural development, this ground-breaking program has garnered support from key organisations such as the Scottish Government, Scottish Enterprise, Creative Scotland, and Perth & Kinross Council.
The comprehensive redevelopment undertaken by Pitlochry Festival Theatre will secure its future for existing and new audiences alike, create employment opportunities, and foster collaborations with a diverse range of artists from Scotland and the wider UK.
With offices in Edinburgh and Glasgow, Hydrock's involvement in the redevelopment of Pitlochry Festival Theatre signifies a pivotal moment in the iconic venue's transformation. By bringing together expertise, innovation, and unwavering commitment, we're poised to shape inclusive and long-term sustainable spaces that will be enjoyed for the next 70-years and beyond.
Image courtesy of Pitlochry Festival Theatre