Back to News
Hydrock wins big for energy-positive Bay Technology Centre at the BCIA Awards 2022
13th Oct 2022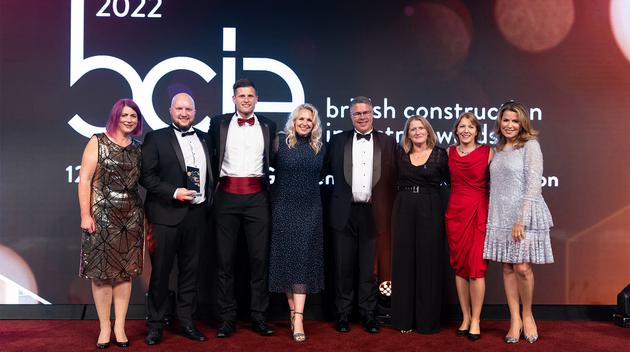 We are extremely proud to announce that we were awarded Commercial Property Project of the Year, for the fourth consecutive year, at the prestigious British Construction Industry Awards (BCIA) 2022.
Celebrating its 35th anniversary, the BCIA brought together a room full of the most influential clients and peers in the built environment sector, for an evening of celebration, recognition and networking.
This year, our winner was the Bay Technology Centre, in Port Talbot, Wales. This multi-award-winning pathfinder project was driven by Neath Port Talbot Council, which our Cardiff team supported through digitally-led design and an innovative approach to renewable technologies alongside the contractor, Morgan Sindall, and architects IBI group and the Urbanists.
An iconic building for Port Talbot, Bay Technology Centre exceeds net-zero and actually produces more energy than it consumes. This 2,500 sq. m building was designed to support high tech businesses and start-ups with its state-of-the-art facilities, offices and laboratories.
Not only is Bay Technology Centre a blueprint for future development, its construction also gave back to the local community. Supporting local economic growth, 72% of the contracts during its build were awarded in Wales, with 42% awarded in the local area.
It also supported those seeking employment in Wales, working with Thrive Women's Aid to provide employment for women subject to domestic abuse, and working with the Job Centre Plus to help people affected by the pandemic get back into work.
Matt Ace, Director of our civils and structures team in Cardiff, said:
"

This award means a huge amount to our team and to our partners on the project. Bay Technology is a trailblazer for sustainable construction, a superb project that mirrors our journey as a Cardiff team over the last seven years and represents our growth to where we are now - at the forefront of the industry in Wales. Not only is this a win for the whole Cardiff team, and for Hydrock, but it's a win for Port Talbot, for small town Wales and for the bravery of putting big ideas into practice.

"
Sarah Langhorne, our Head of Marketing, said:
"

This is such a fantastic achievement for the project team, and well-deserved recognition for Bay Technology Centre. This award demonstrates Hydrock is, once again, at the forefront of designing award-winning, future-proofed commercial buildings. Bay Technology Centre embodies our direction of travel; innovative, energy-centric, ahead-of-their-time solutions. Huge congratulations to the team, and to the other, highly impressive projects shortlisted in the same category.

"
You can find out more about Bay Technology Centre, by watching the video below: