Back to News
Hydrock's Glen Irwin confirmed on newly launched NABERS UK Independent Design Review Panel
27th May 2021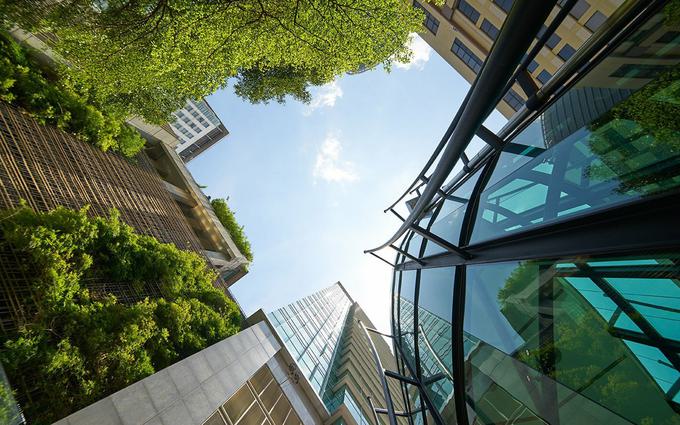 Building optimisation specialist, Glen Irwin has been confirmed as one of just 11 experts trained and appointed to the newly created NABERS UK Independent Design Review Panel. This panel has been launched by the BRE to upskill the commercial real estate sector and deliver energy efficient buildings.
NABERS UK has been developed via the Design for Performance initiative led by the Better Buildings Partnership, working in close collaboration with the transformational Australian NABERS programme that is providing an easy to understand sustainability rating system for the built environment. The UK programme has been funded by leading names including British Land, Derwent London, Grosvenor Britain & Ireland and Stanhope amongst others.
Glen, who is a Technical Director within Hydrock's Building Performance Engineering team, has undertaken a rigorous training and assessment programme led by the Better Buildings Partnership. He is now qualified to review new project designs to assess how likely they are to achieve their operational energy targets. In this role, Glen will share ideas, concepts and solutions with design teams, and the panel as a whole will share best practice and help to influence how energy efficiency is approached within design across the wider built environment sector.
Speaking about his appointment to the Independent Design Review Panel, Glen said: "Building optimisation is a passion of mine, so I am delighted to be involved in NABERS UK. The assembly of the IDR panel is an important step on the road to designing buildings for performance, rather than compliance.
"NABERS has proven to be very successful in Australia/New Zealand and now we have access in the UK, helping design low energy buildings which can be proved to deliver on targets. This will be a powerful process as we strive to deliver true net zero buildings. Being part of the IDR panel will help all of us involved to strengthen our skills and knowledge from shared experiences across the group."
The launch of the Panel is a key milestone to support new office development and refurbishment projects that utilise the Design for Performance framework to target operational energy performance during the design stage. Design for Performance is part of the NABERS UK rating scheme, administered by BRE, and all projects registered under the framework must procure an Independent Design Review – using the panel that Glen is on – to assess how likely the project is to achieve its operational energy target.
Sarah Ratcliffe, CEO at Better Buildings Partnership said: "The Design for Performance framework is critical in ensuring that office developers committing to a NABERS UK rating have the confidence that it can be delivered. The Independent Design Review Panel forms a vital piece of this jigsaw. We are delighted to be able to announce this list of highly skilled individuals who will not only be able to undertake IDR's, but also contribute to upskilling the industry to deliver better, more energy efficient, buildings."
For further information on Hydrock's role on the panel, please contact glenirwin@hydrock.com and review the full announcement of the Independent Design Review Panel, here.