Back to News
Industry leader in ESG joins Hydrock's sustainability business
17th Sept 2021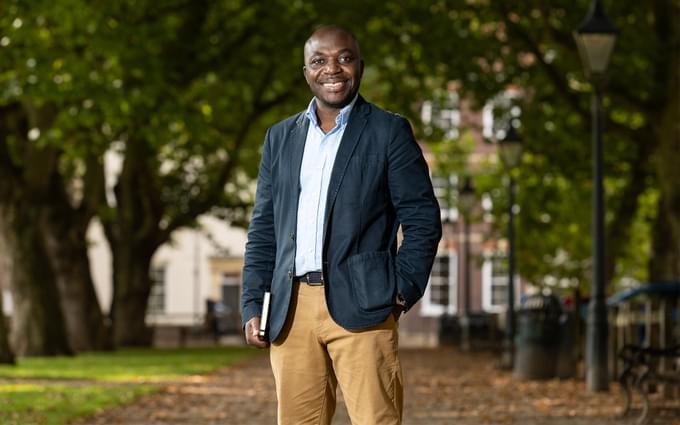 We are delighted to announce that Tunde Agoro has joined Hydrock as an Associate Director in our Smart Energy & Sustainability team as Head of ESG. Tunde will work with our clients to help them set and achieve their sustainability goals with an overall aim to realise long term value from socially and environmentally responsible portfolios.
With 20 years' experience, Tunde joins Hydrock from Hoare Lea where he created a sustainability framework as an approach to helping organisations achieve their sustainability goals. He had previously worked for AECOM where he served on the company's Sustainability Panel and helped pioneer its national Sustainability Working Group.
Considered a thought leader on environmental and sustainability benchmarking, ESG engagement, corporate responsibility policy and strategy, health and wellbeing and the circular economy, Tunde leads the delivery of associated strategies for a wide range of development projects and organisational programmes.
Speaking about his appointment, Tunde said, "I have an incurable passion for people, places and design and I'm excited to join Hydrock who are actively helping clients to transfer their sustainability ambitions from paper into practice.
"I enjoy helping organisations to work out where they stand and what they want to achieve. For me, it's important to focus on tangible outcomes. In the built environment this is so often around creating a sense of place and making developments truly inclusive and cohesive. Just as much as achieving decarbonisation goals, we must make real progress around communities and people."
Commenting on Tunde's arrival, Josh Bullard, Divisional Director for our Smart Energy & Sustainability team, said: "Increasingly we are witnessing clients, both in the public and private sector, grappling with how to meet carbon reduction and sustainability targets, but uncertain how to start or make the most effective change. Tunde has deep experience in how to establish a robust process, based around ESG factors, and how to create and execute a sustainability strategy.
"Across our business, we have assembled a strong team to help clients through the whole life-cycle of understanding how to create climate resilient, sustainable property assets and businesses. Tunde's experience alongside our existing specialists in areas such as net zero strategies, renewable technologies, battery storage, behind-the-meter solutions, embodied and operational carbon studies, and the associated financial modelling with each of these approaches and solutions, means we are well-placed to help clients address their challenges through a range of smart solutions that benefit people, the planet and investors."
Tunde's career experience includes acting as sustainability lead on a number of mega projects including the Elephant and Castle regeneration programme, the iconic Blavatnik School of Government at Oxford University, and the redevelopment of the multi-award winning Southmead Hospital in Bristol.
He is a BREEAM Accredited Professional (BREEAM AP), Fitwel Ambassador and one of the first qualified WELL Building Standard® Accredited Professionals (WELL AP) in the UK.
Tunde is also a sought-after speaker and visiting sustainability lecturer at the University of Bristol, the University of the West of England (UWE), Cardiff University and the University of Bath where he also sits on the department of Architecture and Civil Engineering's Industrial Liaison Panel.