Back to News
Major UK rail freight interchange appointment for Hydrock
10th Jul 2018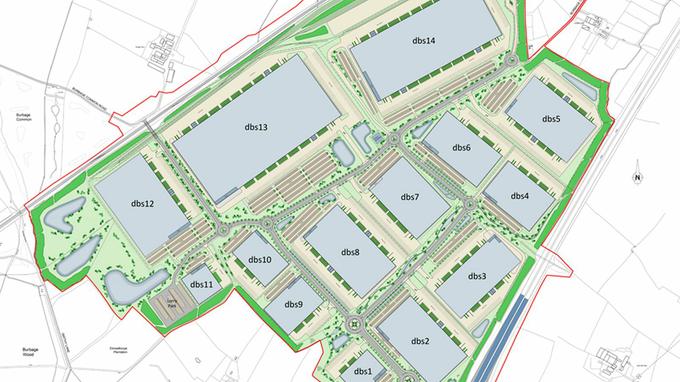 Hydrock has been appointed by db symmetry to provide full multi-disciplinary engineering services to its Hinckley National Rail Freight Interchange scheme which will deliver a multi-purpose cargo interchange and distribution facility, alongside new and improved rail and road connections.
db symmetry's scheme includes the creation of up to 850,000 square metres of high-bay storage and logistics buildings, including ancillary office accommodation, together with delivery of a rail freight terminal. The scheme is considered to be a Nationally Significant Infrastructure Project (NSIP) and will be subject to a Development Consent Order (DCO).
Hydrock will provide full support to db symmetry during the DCO planning process. Our services include: geo-environmental, geotechnical, air quality, acoustics, sustainability, climate change, waste, lighting, flood risk, transportation modelling and infrastructure road design, drainage and earthworks.
The plans look to meet the needs of the logistics industry, including port operators, in serving manufacturers, distributors and retailers by capitalising on the site's locational strengths and connectivity to the railway and motorway networks.
Located in Leicestershire at junction 2 of the M69, the site is well positioned in what the UK logistics industry regards as the 'Golden Triangle'. The East Midlands is home to a fifth of the UK's manufacturing capability and 45% of British rail freight goes through the Midlands.
Hydrock has an established relationship with db symmetry and is working closely with its team on the scheme which includes plans for:
Railway sidings and freight transfer area alongside the two-track railway between Hinckley and Leicester.
Dedicated road access directly from Junction 2 of the M69 motorway, with the addition of a northbound off-slip and a southbound on-slip to the Junction.
Up to 225.57 hectares (ha) of level land for the construction of a rail port for the loading and unloading of freight trains, and for a total area of up to 850,000 square metres of high-bay storage and logistics buildings.
Land for landscape and planting works, ecological mitigation, drainage balancing ponds and footpath and cycleway links.
Hydrock is supporting db symmetry in the preparation of a comprehensive range of information for informal public consultations later in the year, statutory consultations in early 2019 and design for submission of the DCO application in the second half of 2019.
For over 20 years Hydrock has delivered award-winning engineering projects across a wide variety of sectors. Contact us today to find out how we can help your business.