Back to News
Planning approval secured for new UKHO office
5th Dec 2016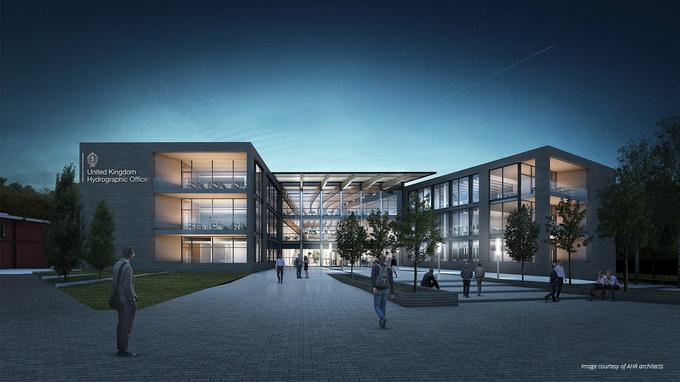 As part of AHR's project team, Hydrock has delivered a range of multi-disciplinary engineering services to help secure planning for the new UK Hydrographic Office (UKHO) building at Admiralty Way, Taunton.
Designed by architects, AHR, the 11,000 sq m facility will replace existing buildings that are inefficient and expensive to maintain, providing up-to-date technology infrastructure and working conditions that will enable UKHO to sustain a long-term future.
Hydrock's structural and building performance engineering teams have played a central role during the early-stage engineering design of this modern three storey office building. The building will accommodate 700 desks in an open plan arrangement with flexible floor plates with extensive meeting, breakout and collaboration spaces.
The UKHO's brief was to encourage a 'one team' approach, in contrast to their current cellular buildings. The architectural and structural engineering design has achieved this by arranging two wings either side of a central atrium with open balconies and bridges creating a physical and visual connection between all parts of the building resulting in an impressive sense of openness for such a large facility.
Our structural engineering design is based on a concrete flat slab structure. The central atrium includes 203 rooflights and our structural design includes 18m long pre-cast concrete beams to support the rooflights. The atrium also contains a feature stair that leads to a number of steel link-bridges which we have designed which are up to 18m in length and provide access to the wings and breakout space. The bridges step diagonally across the section to create an unrestricted view upon entering the building.
Each wing will accommodate 70 workspaces and collaboration between teams is achieved on broad four-metre wide bridges which we have engineered and which cross the atrium and cater for a variety of meeting and breakout activities. Each office has access to an external balcony.
Working with AHR, our building performance engineering team has focused on passive sustainable features that include an exposed concrete frame and generous 3.6 metre floor to ceiling heights creating impressive levels of natural daylight. Our engineers have supported the design of the glazed atrium roof that contain the rooflights which open to allow natural ventilation. Sinuous oak clad baffles hang from the atrium roof to provide acoustic absorption. These are an integral part of the passive environmental design shading and reduce glare to the offices below by diffusing low angle sun to create a consistent level of daylight.
In addition, our transportation specialists supported the planning application with a Transport Assessment and a revised Travel Plan for UKHO which recognises that this is a new building on an existing site. Our team also provided a re-design of the site access arrangements.