Back to News
Shaping a net zero carbon, sustainable hotel
23rd Jun 2022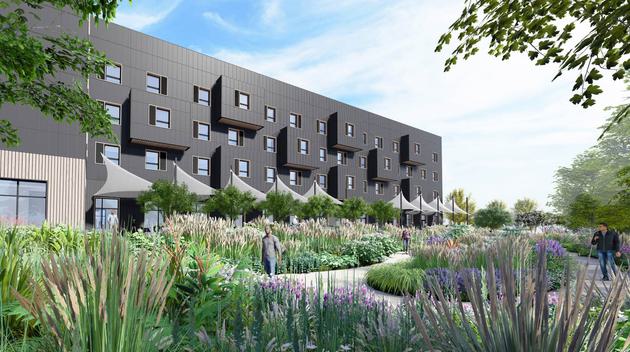 Acting for Zeal Hotels, we have supported the planning submission to develop a net zero carbon, 142-room sustainable hotel at Exeter Science Park.
Our integrated engineering, energy and sustainability advice is shaping the proposed build and construction of the hotel to help achieve net-zero.
For Zeal Hotels, their concept is called 'Mindfully Modern'. As the first truly net-zero hotel, they are creating an industry-leading hotel brand which delivers first-class guest experiences and comfort.
The proposed development seeks to incorporate innovative, low carbon building and operation standards.
As part of our multi-disciplinary delivery, our structural engineers, in collaboration with our fire safety engineers, led the conceptual design delivery to shape the proposed build and construction of the hotel to help achieve net-zero.
Commenting on our work, Tim Hoggins, Technical Director in our Structural Engineering team said: "We researched a number of structural solutions and advocated a full timber build using cross-laminated timber (CLT) as the most optimum solution in terms of carbon."
"Our fire safety engineers ensured this solution meets UK fire regulations and this has subsequently influenced our approach to the structural design."
Working with the landscape architects, McGregor Coxall, our civil infrastructure design work is also ensuring that the overall scheme meets its sustainability targets.
In collaboration with McGregor Coxall we introduced permeable paving, minimised the surface water run-off, and eliminated the need for underground pipes by designing in swales to transport water. In addition, we advised on a re-working of the site to mitigate the use of retaining walls and other structures around the site, which has also limited the amount of excavation needed.
Supporting the overall process to enable Zeal Hotels to develop the first truly net-zero carbon hotel, our Smart Energy & Sustainability team has produced a framework to deliver a carbon verification and validation process.
Capturing embodied carbon and in-use, operational carbon, this ensures the design and delivery approach meets the net-zero expectations and provides Zeal Hotels with a justifiable statement on what has been achieved.
Images courtesy of ECE Westworks