Back to News
Strengthening our Transport expertise in Cornwall
11th Sept 2020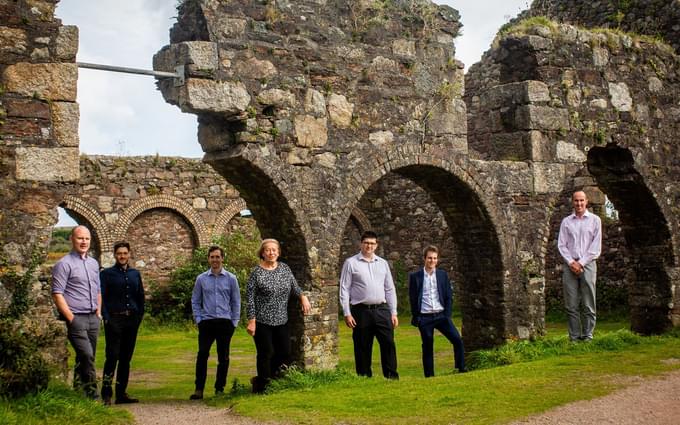 Pictured above from left to right: Ben Smith-Laing, Tom Shilton, Chris Hill, Sharon Blake, Mark Pearce, Ally Carpenter and James McKechnie.
Building on our existing engineering presence in Cornwall, Hydrock is delighted to welcome two key transport specialists to our Camborne Transportation team.
Ben Smith-Laing (Associate) and Chris Hill (Consultant) have joined Hydrock's national transportation division from WSP in Truro.
They are both passionate about encouraging development, infrastructure and economic growth across Cornwall and the wider south west, including acting for private developers and also as consultants for Cornwall Council.
Associate Ben Smith-Laing is a Chartered Transport Planner with 18 years' experience in transport planning and an excellent knowledge of transport policy. His role includes junction and strategic traffic modelling – including LinSig and SATURN, along with preparing transport assessments, travel plans and highway layouts. His most recent projects include Langarth development, Truro; Stadium for Cornwall; and Exeter Chiefs' Sandy Park stadium.
Consultant Chris Hill is both a Member of the Chartered Institution of Highways and Transportation (CIHT) and the Institute of Physics (IoP). He is a development planning and movement-modelling specialist, with a strong understanding of data analysis, how to use data outputs from specialised software and to report this information clearly, providing clients with the information needed in order to make important decisions.
His recent experience includes creating a VISUM traffic model of the St Austell – A30 link road, along with Charles Street roundabout, Plymouth; Cornwall Town Frameworks; Highways England Regional Traffic Models; A38 Bodmin Link; Heathrow Terminal 6; Sizewell B nuclear new build and the A38 Manadon junction improvement in Plymouth.
Hydrock's National Transportation Director, James McKechnie, said: "I'm absolutely delighted that Ben and Chris have joined our Camborne office – their arrival strengthens and enhances our multi-disciplinary Cornwall team which is approaching its 20th year in the county. Both Ben and Chris have been deeply involved with many of the transport strategies and key developments shaping Cornwall's continued growth, and with securing inward-investment from Government for significant transport schemes across the region. Their arrival adds further strength to our business in Cornwall and sits perfectly alongside key colleagues including Tom Shilton (M&E lead), Mark Pearce (transport modelling lead) and our wider Camborne team."
To find out more about what we can offer or to get in touch with Ben or Chris, contact the team on 01209 719 037 or email camborne@hydrock.com.