Back to News
VISSIM modelling unlocks £75m marina redevelopment
28th Nov 2018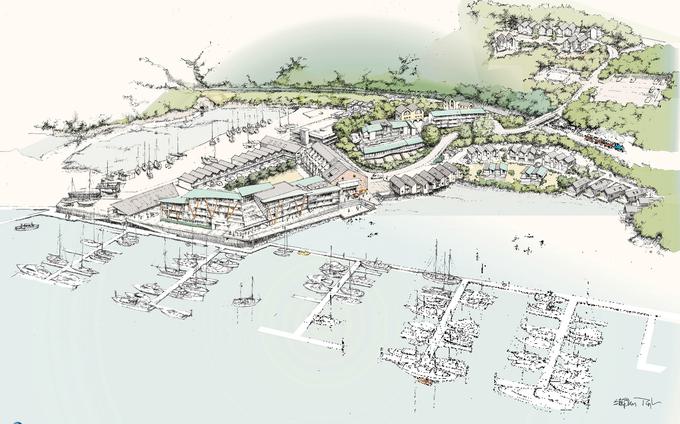 Hydrock's transportation specialists have supported Premier Marinas to achieve planning consent for their £75m investment in re-developing the Noss-on-Dart marina in Devon.
Our Transportation team was appointed by Premier Marinas for the proposed redevelopment scheme in Dartmouth in 2016. The site comprises 37 acres of foreshore and woodland set on the bank of the River Dart, just below Kingswear and opposite Dartmouth. The site was formerly the Philip & Son shipbuilding yard but has operated as a marina and boatyard since shipbuilding ceased in the late 1990s.
Currently, much of the site is derelict and the existing marina infrastructure is in a poor state. Premier's plans will reinvigorate the site. The proposals include providing a 232 berth marina, boatyard with associated marina and commercial facilities, 130 residential units, 49 bed hotel, 200sqm of B1 employment and a college (academy).
The team handled a wide range of issues with the Local Highway Authority (LHA) including access design, junction capacity and even a UXO!
For the local highway authority, we provided access design solutions and addressed junction capacity issues using a VISSIM micro-simulation model to model traffic flow. This demonstrated that the highway authority's initial requirement for a right-turn lane into the site was not actually necessary.
We saved our client £500,000 in mitigation works by illustrating that their plans have no adverse effect on the surrounding area.
Planning consent was achieved in August 2018 with demolition work now underway to clear the site's many derelict buildings. The core elements of the scheme are scheduled for completion by 2022, including the boatyard, floating marina, car park, commercial buildings and the hotel. The majority of the residential elements of the scheme will take place thereafter.
Image courtesy of Harrison Sutton Partnership