Tunde Agoro
Head of ESG, Smart Energy & Sustainability
Bristol
BSc (Hons), MSc, CEnv, MIEMA, BREEAM AP, WELL AP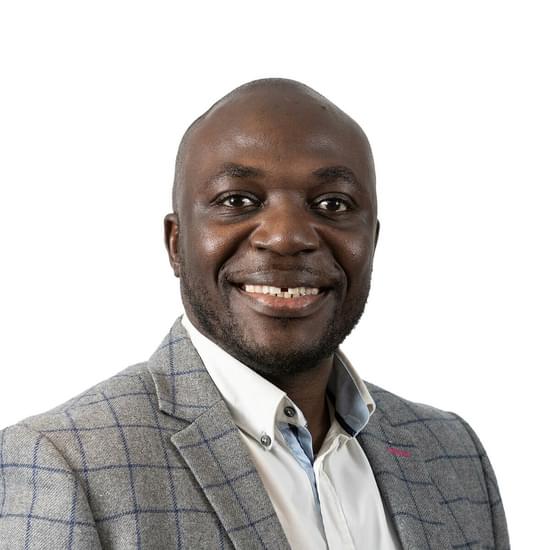 Tunde has an incurable passion for people, places and design and helps clients to transfer their sustainability goals from paper into practice.
With a 20-year career that began in architecture and has evolved into Environmental Social and Governance (ESG), Tunde helps both organisations, and specific built environment projects to realise their sustainability ambitions and goals. He works collaboratively with clients and partners to help define their vision/targets and realise long term value while creating socially and environmentally responsible portfolios.
His career track record includes the creation of a complete sustainability framework for a leading consultancy practice which was subsequently adapted as a model for other clients. Tunde was also the sustainability lead from inception, through planning to detailed design on the Elephant and Castle Town Centre regeneration project that will create more than 1,000 new homes, a new university HQ building, a new town centre and other supporting infrastructure. He was also sustainability lead for the iconic Blavatnik School of Government at Oxford University, and for the redevelopment of the multi-award winning Southmead Hospital in Bristol.
In addition to his client-facing work, Tunde leads our own ESG Steering Committee and helped our business to publish our first-ever ESG Strategy Report in 2022, with goals established for the future.
In 2022, Tunde was invited to join the Impact Evaluation Standard (IES) steering group with leaders from a wide range of sectors. IES offers a proprietary framework designed to help organisations measure and value their social value activities. He also regularly speaks on best practice ESG and how to tackle stranded assets in real estate portfolios. In 2022, he spoke at the CIPD Festival of Work and a London Constructing Excellence roundtable dedicated to this subject.
Tunde has also completed a programme in Real Estate Economics and Finance from the London School of Economics, and is also one of the first qualified WELL Building Standard® Accredited Professionals (WELL AP) in the UK, a standard that assesses both the health and wellbeing impact of buildings on users.