Keeping logistics moving in the UK's 'golden triangle'
Magna Park South, Lutterworth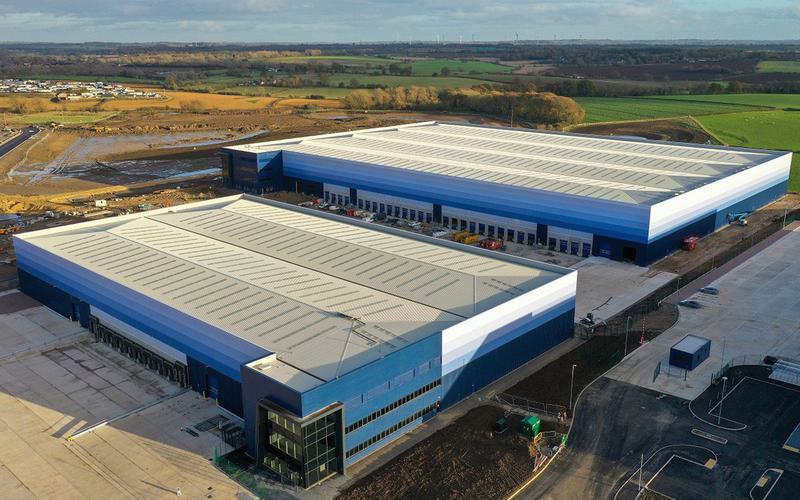 At the heart of the UK's 'logistics golden triangle' we delivered detailed sustainable site infrastructure to support the development of four new speculative units totalling 118,000 sq m.
Magna Park South is under-going significant expansion as the UK's largest speculative logistics/industrial project. This latest extension consists of four new speculative units of 9,100 sq. m, 11,700 sq. m, 27,900 sq. m and 69,300 sq. m which became available for occupancy from 2021.
Magna Park is the UK and Europe's largest distribution park and now home to some of the UK's leading brands across over 743,200 sq. m of premium quality logistics floorspace, employing in excess of 4,500 people.
Situated right in the heart of the 'UK's Logistics Golden Triangle' the development is ideally suited to serve the fast-expanding local supply chain. As with all large-scale distribution facilities, the new cross-dock (4+4 unit) mega shed is complex and so every effort needs to be taken to make buildings cost-effective and sustainable, meeting BREEAM Excellent targets.
Despite the COVID pandemic, construction targets at Magna Park South remained ambitious. Over a 12-month period, works required on the site included:
New junction on a main A-road
New spine road into site (approx. 1.5 km long)
Diverted watercourse which bisects the site (approx. 1km long)
Construction of large SUDS system including storage for over 60,000,000 litres of water
Construction of all four units, ready for occupier fit-out
Fully-serviced the site
Working alongside architect, Steven George, and three primary contractors including Mick George (Earthworks and Groundworks), TSL (Buildings) and Volker Fitzpatrick (Infrastructure), we delivered a range of multi-disciplinary services designed to ensure the building achieved best-in-class specification.
Our work included site due diligence, design for all necessary planning applications, detailed design for the enabling works, civil and structural engineering design, highways and infrastructure design, flood modelling, site investigation, earthworks, drainage, and site supervision. These are on schedule to be completed within the very lean programme, ensured by closely working with the client's project manager, RAME, and cost consultants, KAM.
Due to their environmental, social and economic sustainability performance, all four buildings are on target to achieve BREEAM excellent status.
This continues our long association with the development of Magna Park which began in 2008. Strategically located between junctions 13 and 14 of the M1, it is home to many major distribution, logistics and retail companies including John Lewis, Waitrose, and A G Barr among others.
Got a project in mind?
Get in touch.