Low carbon MEP designs for award-winning SEMH schools programme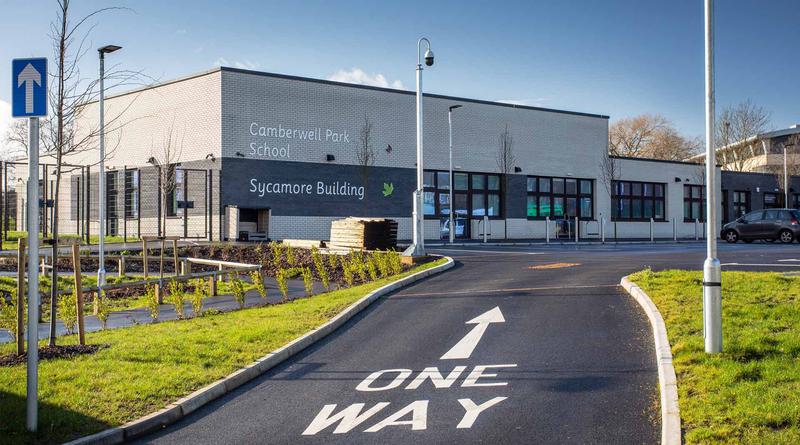 We delivered low carbon-driven MEP engineering designs for ISG on an award-winning SEMH schools programme, feeding into the wider ambitions of local authority net zero targets.
Our team in the north-west of England has optimised MEP designs in support of Manchester City Council's (MCC) schools programme which is providing much-needed facilities for students with social, emotional and mental health (SEMH) needs.
Collectively providing £12.7m of social, local and economic benefit, the importance of the new Southern Cross, Castlefield Campus and Camberwell Park schools to the region is significant.
We worked collaboratively with the main contractor, ISG, and the wider project team to develop detailed design solutions that meet the needs of these modern SEMH schools while minimising their carbon impacts.

MEP designs that meet the net zero challenge
Our team delivered the MEP engineering design from RIBA stages 2–6 on all the schools with the exception of Castlefield Campus, where we were involved up to construction.
MCC set the target of being zero carbon by 2038. Our brief was to identify passive measures which would help meet carbon emission targets, which we went on to achieve without more expensive technologies such as PV.

Passive measures and natural ventilation
Driven by new building regulations, energy efficiency is increasingly important as the built environment continues to explore ways to reduce greenhouse gases.
We delivered passive design analysis in accordance with standardised BREEAM methodology. This included looking at various elements such as building layout and orientation, building form, building fabric, thermal mass, daylight and ventilation strategies, along with broader strategies that would prepare the schools for adapting to climate change.
In addition, we used dynamic simulation modelling to demonstrate the benefits of the passive design elements.

Our passive design analysis and thermal modelling were crucial components in helping the schools succeed in achieving a BREEAM 'Very Good' rating.

Maximising natural ventilation
Wherever possible, we found solutions that maximised the use of natural ventilation and complied with all air quality and overheating criteria. This led to passive solutions replacing mechanical ventilation in 23 rooms at Camberwell Park and 35 rooms at Southern Cross.
This not only generated energy savings and reduced ongoing maintenance for the school, but also meant there were fewer capital and carbon costs.
In addition, our work involved delivering a low carbon feasibility study which could provide a blueprint for future use of renewable technology to further increase the energy performance of the buildings.

Close collaboration and end-user engagement
These aren't standard schools. The programme required bespoke thinking. Whilst maintaining timescales through a pandemic, it was essential to collaborate closely will all project partners — and from our side, especially MCC — along with the wider supply chain.
Another cornerstone of success was wider engagement with end-users and teachers. As a result, the quality and attention to detail in design and delivery will enable students of the schools to gain vital skills and reach their full academic potential.
The completed schools opened for the start of the 2021 academic year. They provide highly inclusive learning environments for students of different ages with diverse special educational needs.

Creating long-term social value
In recognition of the exemplary social value created, this has become a multi-award-winning programme. The schools are already making a real difference to people's lives and will undoubtedly have long-lasting outcomes.
Winner of the 'Social Value' award, Building Awards 2022
Winner of the 'Inclusive Learning Spaces for All' award, Education Estates Awards 2022
Highly-commended in the 'Community Engagement Project of the Year' category, Construction News Awards 2022

The programme was procured through the North West Construction Hub (NWCH) framework.

Photos courtesy of ISG.
Got a project in mind?
Get in touch.