Healthcare
Against a backdrop of seismic change, we're re-thinking healthcare infrastructure design and helping to push forward the evolution towards better, more flexible and technology-driven patient experiences.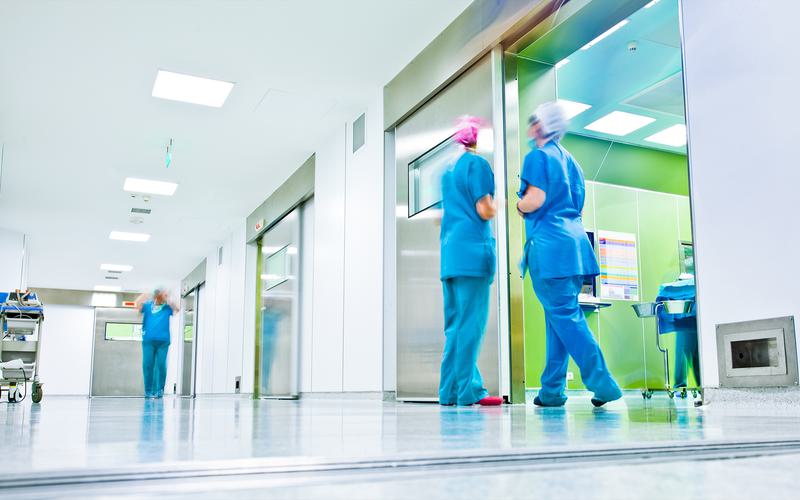 The wait is over. A collision of forces including a global pandemic, the climate crisis, advances in medical science and the digital revolution has caused a seismic shift in healthcare.
Rising to the challenge, innovative and fresh perspectives are transforming the sector. Without compromise, healthcare infrastructure needs to remain modern for decades because we can't predict what clinical operations will look like in five, 10 or 20 years into the future.
Standalone hospitals, once the flagships of healthcare in many communities, aren't the answer any longer. There's a clear trend developing towards offering a greater range of care delivery assets, which is helping to lower costs, enhance coordination, and improve patient experience.
To manage life-long health holistically, bespoke care must be sensitive to the broader needs and experiences of individuals. Applying learnings from retail and hospitality, the healthcare sector is engaging with patients in original and meaningful ways by connecting them with where they live, work and play.
Our specialists are experts in human-first design, it's in our DNA. We're focused on shaping healthcare spaces which promote resilience, sustainability and flexibility.
Futureproofing healthcare infrastructure comes down to adaptation and being able to engineer ways to overcome the common obstacles to innovation: cost, scale and risk.
The future of healthcare
We're entering a new age. One driven by shifting behaviours, the integration of life sciences, rapidly evolving technologies, and new care delivery models which are re-inventing the next generation of healthcare facilities.

Some of the most pressing challenges and opportunities include:
Creating resilience
Healthcare providers need to act in a complementary and unified way, building new and improving existing physical healthcare facilities to maximise access, optimise efficiency and improve overall quality of service across local communities.
Net zero carbon healthcare
Understanding whole lifecycle carbon emissions and the decisions made, both in terms of the choice of construction and operation, are pivotal to creating a sustainable asset.
Future flexibility
To manage life-long health holistically, bespoke care must be sensitive to the broader needs and experiences of individuals. From purpose-designed spatial configurations which satisfy patient needs and nursing aspirations, to layouts which connect people to the outdoors, providing a sense of place and comfort.
Environmental, social and governance factors
Above all else, the healthcare sector needs long-term planning which illustrates ESG thinking at its best. In turn, reducing isolation by transforming facilities into hubs of economic activity that generate further investment for adjacent uses and spaces, such as residential, commercial and leisure.
Where we add value
In addition to our fundamental engineering design principles, we also address areas that include:
Representing a significant opportunity for asset owners to maximise space and create additional income-generating opportunities. We fully cost proposals to invest in renewable energy and collocate where appropriate with energy storage solutions. We undertake all the utility mapping to understand grid connectivity and alternative methods.
Through our proprietary software tool, StratEV, we model the requirements and opportunities for charging, and address the supporting utility requirements. It's an approach to make the best use of available space, especially where large parking areas remain unused at night but offer an additional income generating opportunity if made available to local fleet operators.
We ensure healthcare spaces create the optimum aural balance between a dynamic atmosphere and the ability for intelligibility between users, spanning doctors, patients and visitors.
Our building physics specialists will analyse why a building is underperforming and not delivering the predicted comfort or energy efficiencies. Through a series of operational, control and retrofit measures we turn the dial from under-performance to optimum performance.
We ensure buildings are compliant with all fire safety regulations and for new build, our fire safety engineers will design for compliance with the Building Safety Bill to provide all stakeholders with access to the 'golden thread' of information.
We work with a range of stakeholders to model and identify passive design techniques that promote natural ventilation whilst improving the air tightness of buildings to reduce energy wastage. Our structural designs include embodied carbon calculations and advocate the use of more sustainable low-carbon materials.
Private and public sector organisations both value our ability to identify operational and investment opportunities to improve the energy performance of healthcare assets. We fully cost all recommendations and help implement change programmes that deliver the most effective return on investment. It's an approach that mitigates stranded assets and improves ESG credentials.
Power procurement strategies
Access to power is constrained and grid reinforcement works that connect sites to available capacity is frequently complex, competitive and expensive.
We take a strategic approach to help you understand your power needs. We assess sites and available capacity, establish the options to scale up your needs, support you with applications and negotiations with the DNOs and cost up options to invest in onsite generation and storage to reduce peak demand.
In need of fresh thinking?
Think Hydrock.