Back to News
Black History Month keynote: Chi Onwurah shares her experiences with Hydrock
16th Nov 2022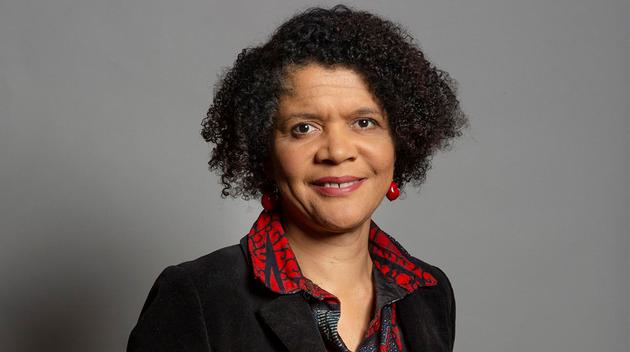 "

My advice would be that no matter how many people are in the room, your voice and your views count and are important. Always ask questions and raise the issues that are on your mind. Don't be intimidated by lack of diversity of people or thought.

"
Chi Onwurah
MP for Labour MP for Newcastle Upon Tyne Central
Shadow Minister for Science, Research and Digital
In recognition of Black History Month, and our commitment to raise awareness and create a space for open conversations around race, diversity and ethnicity, we welcomed prominent politician, Chi Onwurah as a keynote speaker. Chi shared her thoughts and experiences with Rajiv Sudan, our Business Development Director and member of our 'Race, Religion and Ethnicity' employee resource group.
Before entering Parliament, Chi spent over two decades working as a chartered electrical engineer where she built and designed networks in the private and public sector in the UK, France, Nigeria, Denmark, US and Singapore. She has now spent over a decade as an engineer in the House of Commons.

"

One of the most important things that life can give you is to wake up every day to work that's challenging, interesting and makes the world work better.

"
Keen to explore the journey that Chi underwent from engineer to member of parliament, including the challenges she faced along the way, Rajiv posed a number of questions:
Rajiv: In your career as an engineer and politician, what challenges did you face as a woman of colour?
Chi: When I was working as an engineer, I was so often the only woman of colour in the room, no matter how big that room.
Those who aren't in a minority underestimate just how tiring, how disabling and how disempowering it can be, to be the only person of colour, the only woman, the only northerner, the only working-class person in the room. I spent a lot of time in meetings trying to entertain myself when men were talking, by calculating in my head the square root of the number of women in the room. The answer was always "one".
My advice would be that no matter how many people are in the room, your voice and your views count and are important. Always ask questions and raise the issues that are on your mind. Don't be intimidated by lack of diversity of people or thought.
Networks do matter. You don't know what you don't know. Women and black engineering networks can be really supportive.
Rajiv: What inspired you to stand for parliament?
Chi: One of the things that inspired me was living in Nigeria for three years because I could see there that it didn't matter if you designed the best network in the world. Whether it's used, whether people could afford to use it, whether people have the skills to use it, whether it gets built - these are all political decisions and that is how to make a contribution.
I really do encourage all engineers to look at politics. Often engineers think that politics is a dirty business, as opposed to the clean facts of engineering but it's also about making the world work better. The scientific method isn't always followed in parliamentary debate. Understanding the different criteria has been one of the challenges.
Rajiv: What can we do as a consultancy to encourage minorities to take up a career in engineering?
Chi: There are many different things. There's not one answer, but one great organisation is called 'The Association for Black and Minority Ethnic Engineers UK' and the 'Make Engineering Hot' programme, which is about raising the profile of engineering amongst young people who do not have access to science capital in their family.
Consultancies can promote engineering by going into local schools and promoting it in local debates and making sure your work your company does is known about and inspires – getting engaged in the community.
Another way is to bombard your local MP with engineering questions and ask them to raise engineering questions in parliament that make a difference to people – things that impact everyday life. Your representatives need to become more accustomed to speaking about engineering and the contribution that engineering makes to the wellbeing of everyone.
You need to think of support for people who may not come from traditional backgrounds – it's important for intake and networks.
Chi's thoughts on representation in STEM of people of black, Asian or minority ethnicity.
Being the MP for Newcastle Central is the best job in the world. Being an engineer is the second best, but it's unacceptable that those jobs in STEM broadly remain the preserve of a narrow demographic. Just 4% of tech workers, 14% of engineers, less than 10% of Russell Group STEM students and fewer than 1% of University STEM professors are of black, Asian or minority ethnicity. How can engineering and technology reflect the needs of all of us, if it's built by so very few of us?
"

We need to see opportunity for all opened up across our country and that's why Black History Month is important, because it puts a spotlight on this and we talk about the issues and challenges.

"
Chi's thoughts on engineering:
Engineering is the ultimate caring profession. What could be more caring than improving people's lives for the better and from transforming brownfield sites, to sharing expertise on nuclear power stations? I think the work of Hydrock shows the contribution engineering can make in securing for everyone a prosperous and green sustainable future. And that desire for engineering to make the world work better is why I went into engineering many decades ago.
Chi's thoughts on company culture
I can usually tell in 90 seconds whether a company culture is supportive of diversity and inclusion or not, because it's not a tick box exercise. It has to be believed and something that's reflected through the organisation culture and priorities and it's what made a difference in my career. It was much easier to overcome hurdles when the company was supportive.