Back to News
Hydrock appointed on UK's greenest hospital
19th Dec 2022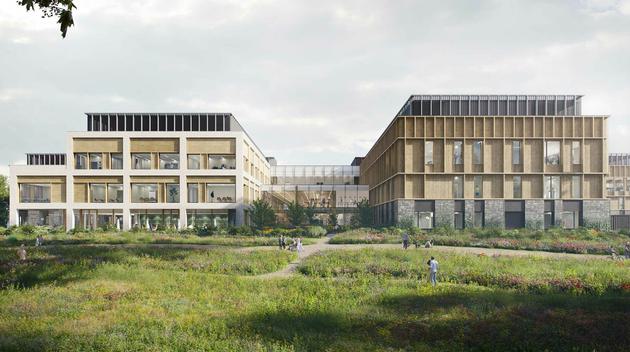 Hydrock has been appointed on the new, world-class Velindre Cancer Centre in Wales.
Appointed by Acorn consortium, on behalf of the Velindre University NHS Trust, this £250m state-of-the-art hospital is set to be a sustainable, sensitive and naturally calming space for its staff, patients and their families. It is due to welcome patients in 2025.
Hydrock's civils and structures, MEP, fire safety and acoustics teams have been appointed alongside London-based White Architects to deliver RIBA stages 3 to 6.
It is estimated that 230,000 people in Wales will be living with cancer by 2030. Therefore, the new Velindre build is of great importance to the community, and will provide specialist treatment alongside facilities for learning, research and development.
In a statement regarding the project, Steve Ham, Chief Executive of Velindre University NHS Trust said:

"

Our ambition for the design of the new centre has been clear from the outset – we want to build a cancer centre for the future which is the greenest in the UK.

"
The 32,000m² Velindre Cancer Centre aims to achieve a BREEAM sustainability rating of 'Excellent', due to plans for the building to be 100% electric, using green energy sources including photovoltaic panels fitted to the roof, while its heating and cooling power will come from ground and air source heat pumps.
It is planned for the cancer centre to be constructed using low-carbon, bio-based and locally sourced materials, such as timber and recycled slate, as well as featuring a sustainable drainage system. Walking and cycling paths will contribute to the sustainability credentials of the building.
Proposals have been made for the hospital to benefit from landscaped gardens surrounding the site, remaining as wild as possible by retaining and extending the natural habitat around it, as well as having a community kitchen garden and orchard further down the line.
Daniel Beynon, our Regional Director in Wales, said:
"

We are delighted to be able to contribute to the development of the Velindre Cancer Centre. This is a key project, reflecting Hydrock's growth in the healthcare sector and our continued development in Wales. The sustainability goals align with our own aspirations at Hydrock, and the whole team is looking forward to delivering on the promise of the UK's greenest hospital.

"
Construction is due to begin in 2023, with completion by 2025 (currently pending approval).
Update, 16 June 2023: Velindre Cancer Care won the Future Healthcare Award at the 2023 European Healthcare Design Congress. Prestigious awards that recognise professional and research excellence in the design of healthcare environments around the world.
Image by: White Arkitekter