Back to News
Hydrock 3E onboard leisure operator's exciting growth plans in northern England
6th Dec 2022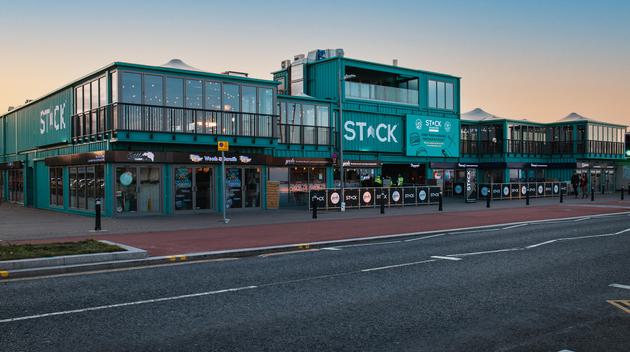 Hydrock 3E has been appointed to deliver multi-disciplinary consultancy across three exciting STACK leisure venues destined for northern England.
Hydrock 3E will be advising Danieli Group, founders of STACK Newcastle, with their rapid growth plans having previously supported the equally successful STACK Seaburn in Sunderland.
Neil Winch, Chief Executive at Danieli Group, said:
"

We are delighted to be bringing Hydrock 3E back on board with us once again, to help us realise the company's exciting expansion plans. Having announced a number of new projects in key locations across the country, we look forward to working closely with them to bring these schemes to fruition.

"
Expanding outside its heartland for the first time, the developer has recently submitted a planning application to convert the former Marks & Spencer store in Durham into a STACK site. This retail redevelopment project involves removing part of the first-floor structure to create a double height space to accommodate a performance stage.
Along similar lines, Danieli Group has also unveiled a further project at the former Argos store at St Marks Shopping Centre in Lincoln, after City of Lincoln Council granted permission for a transformation of the historic former railway station site.
Plans have also been submitted for STACK Carlisle which, if successful, will follow a model similar to the original project in Newcastle and see the creation of a container village made up of around 50 shipping containers on the site of the city's former Her Majesty's Theatre.
Across all three projects, Hydrock 3E will be delivering integrated multi-disciplinary civil, structural and geotechnical consultancy services.
Steve Watson, Director at Hydrock 3E, said:
"

We're really proud of the relationship we have with Danieli Group, an innovative developer and operator in the leisure space that has hugely exciting expansion plans. With examples popping up the world over, these container villages are supporting greener living and proving to be a real life-blood for the independent food and beverage scene. Importantly they're often at the heart of urban regeneration.

"
STACK Carlisle is most in keeping with the innovative container village experience the brand is recognised for. These projects involve cutting, carving and strengthening shipping containers to give them a new lease of life as vibrant urban venues.
Meanwhile STACK Durham and STACK Lincoln aim to have between seven and 10 street food outlets, five bars, a coffee shop, stage, communal seating and a roof top terrace. The former will also include interactive gaming incorporating state-of-the-art technology.
These new venues represent a combined multimillion investment by Danieli Group aimed at delivering a boost to both the local daytime and night-time economies, while also creating hundreds of new jobs across those regions.
Once work is under way, the hope is that STACK Carlisle, STACK Durham and STACK Lincoln will have all opened by winter 2023.
And the plans don't end there. The developer also has its eyes set on a fourth project in Bishop Auckland, after being appointed development partner by Durham County Council, with a view to launching that scheme in early 2024.