Contemporary redevelopment of famous listed site for community use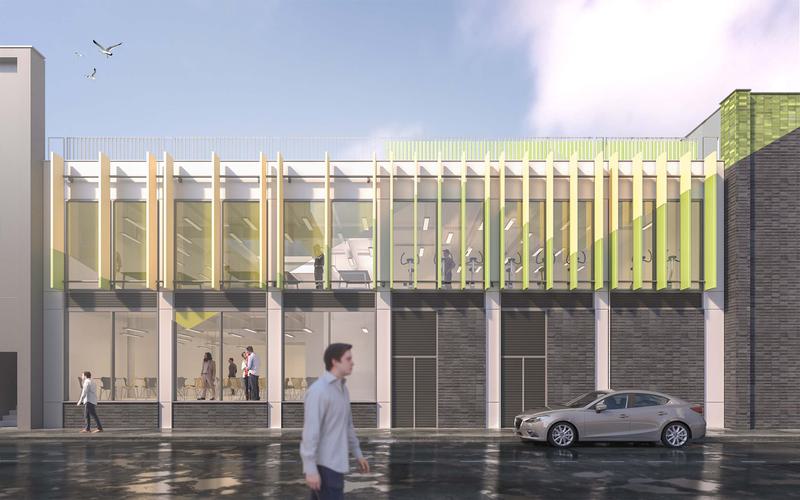 Clever retention of striking art-deco façade on Grade II listed former cinema as part of the conversion to vital social and work space designed for all members of the community.
Working collaboratively alongside BAM, GWP Architects and Neath Port Talbot County Borough Council, our Cardiff based engineering teams have helped to refurbish the much-loved Grade II listed former Plaza Cinema in Port Talbot, that inspired the careers of Sir Anthony Hopkins, Richard Burton and Michael Sheen.
Built in 1939, the cinema was listed in 1999 for its striking art-deco façade design, although it also closed that same year. Neath Port Talbot council acquired it in 2009 with the aim of redeveloping it, and in 2018 received an EU funding grant to redevelop the site behind the listed façade for community use, with the assistance of the Welsh Government's historic advisory body, Cadw.
We have provided integrated engineering services to help safely retain the art deco façade while the rear of the building was demolished to make way for a modern two/three storey, 2,200 sq. m YMCA community hub to include incubator space for start-up businesses, a hall, fitness centre, café and shops.
Our Welsh team have a passion for listed heritage projects. For the Plaza Cinema, our structural engineers went above and beyond to find appropriate solutions to save as much of the original building as possible, resulting in a high-quality finished building and seamless connection between heritage and contemporary needs.
Alongside meeting Cadw's requirements for repairing the remaining listed parts of the building, practical design challenges for our team included the tight town centre site constraints, limited outside space to implement SUDS regulations and the location of the site in relation to a flood zone, requiring specific floor levels and flood defences.
Our teams have also delivered MEP, geo-environmental site investigations, transport assessments, fire engineering and acoustics studies, from RIBA stages 1-7 on this £6.75 million refurbishment.
Our MEP team embraced a passive design that focused on making the building as efficient as possible. They pushed the thermal and fabric performance of the building's extension so that it was more efficient than the notional target.
In the Main Hall, we introduced a complete, dynamically controlled air system, as the town's heavy industry can affect internal air quality. This smart system is based on occupancy and load, so does not operate on full power all the time.
The power for the scheme intentionally stepped away from the use of fossil fuels, such as gas. The team designed a VRF heat pump system for heating and cooling and installed a large PV array on the roof to provide renewable energy, integrated into the SuDS scheme using a biosolar green roof system.
Images courtesy of GWP Architects
Got a project in mind?
Get in touch.