A thriving new city quarter on Bristol's iconic waterfront
Wapping Wharf (Phase II)
Bristol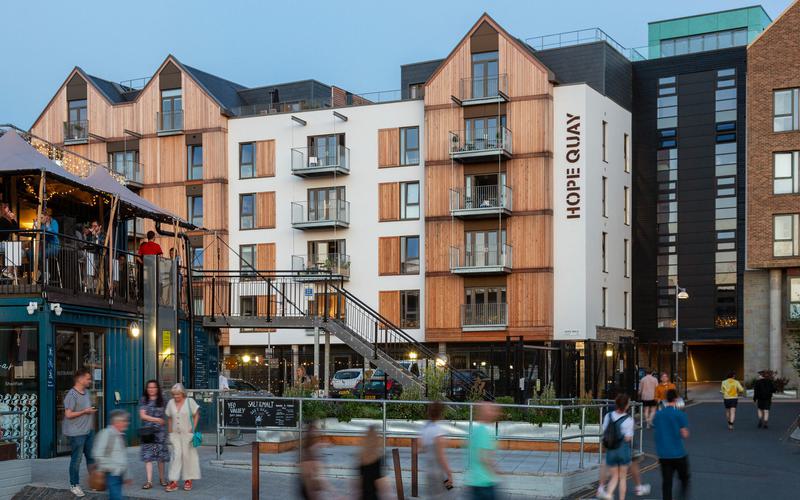 £43m
Historic city centre residential development
Regenerating an historically significant site on Bristol's floating harbour, helping to deliver a new £43m mixed-use urban village.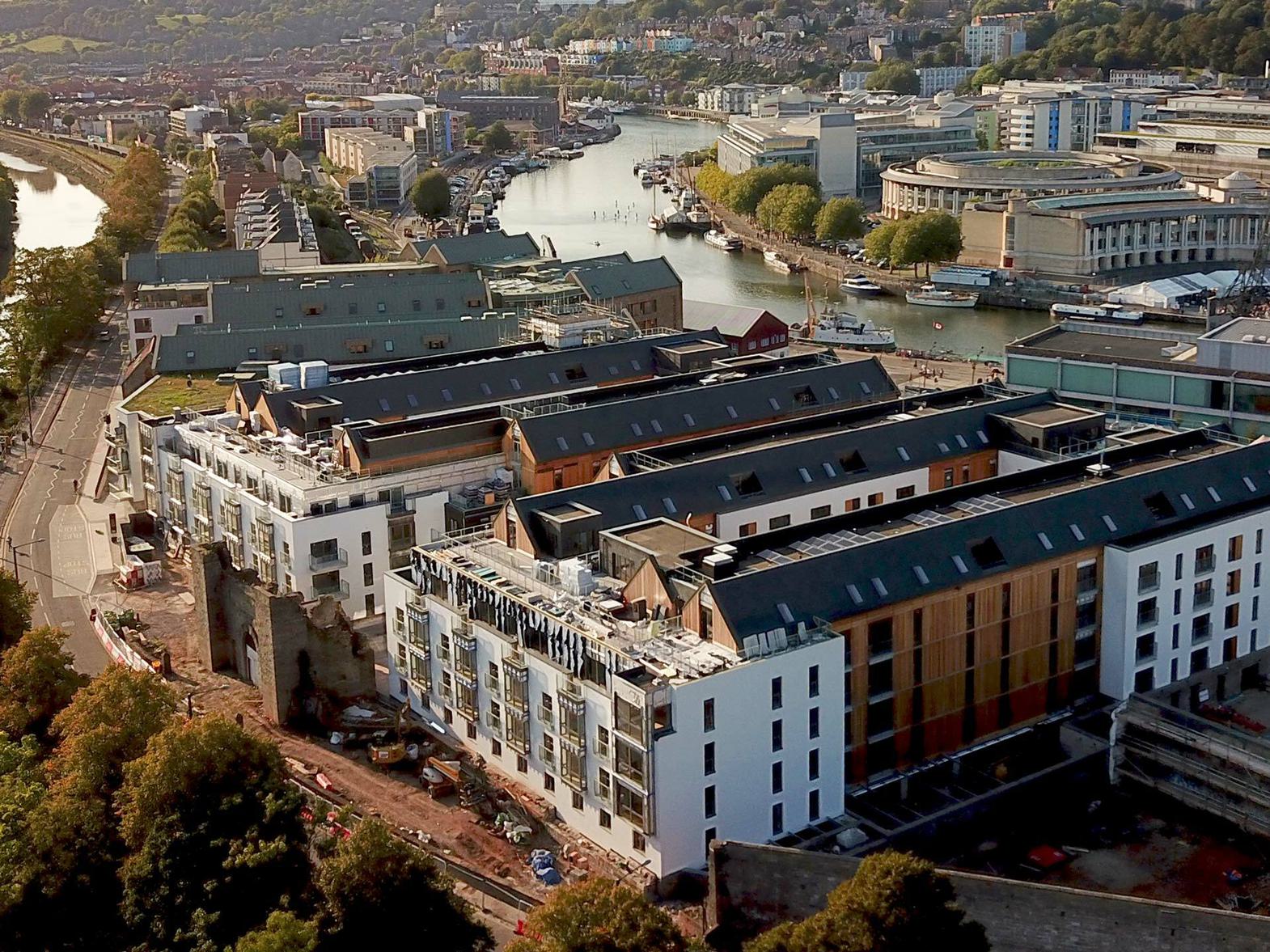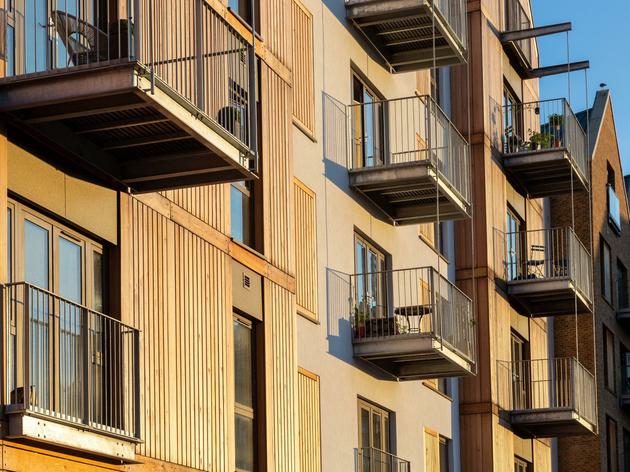 Wapping Wharf has rapidly become a vibrant destination overlooking Bristol's iconic harbourside. Converted shipping containers have become home to many independent retailers and eclectic eateries, building a strong sense of place. There's currently around 1,000 residents revelling in this slice of maritime culture on their doorstep with more to follow in future phases.
Designed by Alec French Architects, Wapping Wharf Phase II comprises 256 new-build apartments for sale and for rent, including 49 shared-ownership, together with six retail units, new public space and an undercroft car park.
We were appointed in a multi-disciplinary role to provide a variety of engineering services for the scheme, which initially included civil and structural engineering work from RIBA Stage 2. At RIBA Stage 4, we took on some extra MEP design and were novated to advise Balfour Beatty on civil, structural and MEP design.
"

The eye-catching design of Wapping Wharf's transformation reflects its urban dockside character. This upcoming neighbourhood will encompass over 600 apartments and provide vital employment space for aspiring businesses.

"
Judges citation, Bristol Property Awards 2021

Multiple award winner
Residential Project of the Year at Michelmores Property Awards 2021
Double win at Bristol Property Awards 2021
Transformation Project of the Year and overall Winner of Winners

From derelict to desirable

Overcoming challenges
Our engineering design work on Wapping Wharf included finding solutions to complex design challenges and cost efficiencies to ensure the program remained on track.
In the undercroft car park, it was clear that columns would restrict space, so transfer beams were used to allow efficient use of the space. This not only meant better space for parking, but didn't restrict the shallow floor to ceiling height.
A cost-effective solution was also found for constructing the undercroft's one retaining wall. The original plan was for a deep, embedded wall dug into the underlying rock. The proximity of the historic Gaol Gatehouse meant any solution for constructing the retaining wall would also have to eliminate any risk of vibration or settlement. Our structural engineers designed the foundations using pins and panels which allowed shallower excavation. By allowing wider spacing between the pins, it enabled work to be completed more quickly, keeping the project on track.
Substantial cost efficiencies were also found by using pour strips to reduce the reinforcement needed in the concrete.
A new, less disruptive solution was also found for the site's surface water drainage. Proposals drawn up during the first phase of development were for a new harbour outfall. But this involved complex and ultimately disruptive excavation work which would impact historic buildings and features adjacent to the site. It would also require multiple consents including listed building consents.
Following our team's assessment, we devised a solution using the existing outfall. Attenuation was added to reduce the flow from the site and an underground tank installed to store excess water for the whole development when there is heavy rainfall.
Digital design
Engineering solutions for the mechanical and electrical services at Wapping Wharf were complex due to the overall design, combined with height restrictions, meaning many of the apartments were atypical and didn't stack.
Our MEP team value engineered the project to ensure capital expenditure remained within budget for the client. Streamlining this part of the process, we used Revit 3D software to model different design solutions before installation.
The use of 3D modelling provided a succinct, visual explanation with clear illustrations of the design challenges. In turn, this accelerated engineering solutions and decision-making, generating project cost and time benefits.
Being a large, phased development we were asked to reconfigure the existing heating plant distribution and associated controls. Phase 1 had two boilers and two CHP systems which required fully integrating with the designs for the second phase of the development. We also introduced a third boiler to meet demand.
Work on the heating system was carefully planned so that there was minimal disruption to residents living in the first phase of the development.
Discovery of historic culvert
Our geotechnical team was appointed to undertake a watching brief of the remediation works being delivered by Churngold, as well as acting as key liaison with planning regulators. In addition, we delivered ground investigation works for the site's clean-up documentation which fed into the overall scope of works.
During our work, we discovered a historic culvert. After investigation our geotechnical and structural engineering teams designed an innovative concrete bung to stabilise the tunnel and gained approval from the planning authority. These works enabled us to deliver the specified undercroft construction, next to the listed structures, without affecting the culvert, whilst retaining the historically important listed facades.
The early engagement of our geotechnical team, and their proactive engagement with the regulators, resulted in a smooth passage in discharging the planning conditions on the site and allowed construction to progress.
A sustainable solution
Completing the regeneration of Bristol's renowned floating harbour, the phased development at Wapping Wharf on derelict land, was designed to restore and retain a number of key listed buildings and the Old City Gaol gatehouse to enhance the City Docks conservation area.
Wapping Wharf provides an important new connection between south Bristol and the city centre following the opening of Gaol Ferry Steps, which runs through the heart of the new neighbourhood. People can now easily walk down this pedestrianised, tree-line route, which links Gaol Ferry bridge to the waterfront and a new public landscaped square.
Future phases of the development continue the theme of upcycled shipping container components, giving it an industrial dockside vibe.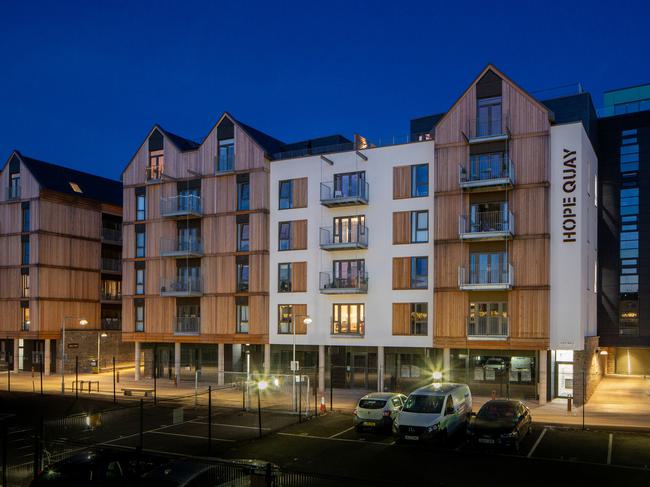 Rebalancing sound
Monitoring and managing sound are critical parts of the development process and ongoing success of any new community.
As part of our appointment to Phase II of the Wapping Wharf development, our acoustics team assisted the contractors in resolving noise issues affecting a small number of residents arising from the mechanical ventilation and heat recovery systems and a substation used in Phase I.
After monitoring the noise in a sample of units, a small number were found to be above the acceptable parameters. To bring the noise levels to acceptable levels, units were rebalanced.
We also assessed the noise from the ground floor substation which housed the transformer. In nearby apartments, the hum from the transformer was easily audible. To overcome this acoustic challenge, our cost-effective answer involved designing a second layer of insulation matting, creating a double layer of isolation material.
Got a project in mind?
Get in touch.