Back to News
Hydrock acquires SPLtrack
23rd Jan 2023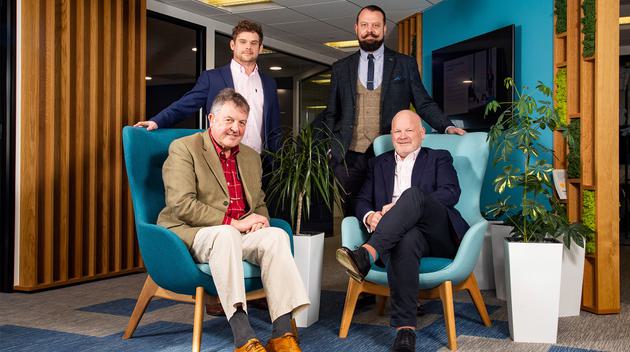 We're pleased to announce that we've completed the acquisition of SPLtrack, an environmental consultancy with an emphasis on new software and sensor technology. The company operates principally in the UK but also supports projects further afield. (Photo L-R: Top row Ian Arthurs and Ric Hampton. Bottom row Chris Beale and Brian McConnell)

Founded in 2013, SPLtrack has earned a reputation for delivering real-time noise, vibration, and air quality monitoring data that has made them the leader in supporting industries such as motorsport, live music and construction achieve strict regulatory compliance.
Led by Chris Beale, SPLtrack's monitoring solutions provide unparalleled live insights into environmental data due to integrated connectivity and intelligent power solutions, earning them a solid reputation within the industry.
Hydrock was attracted by the entrepreneurial spirit of SPLtrack, who identify as an ideas factory, challenging convention. Their ethos closely matches the culture and mindset fostered by Hydrock which acts as the backbone of us being a force for good.
Ric Hampton, regional director and director of acoustics and air quality at Hydrock, said:
"

This is a fantastic addition to the acoustics and air quality division. We're over the moon to have the opportunity to add such specialist expertise to our already high-performing team. With clients such as Silverstone and MSV circuits, we're able to accelerate our capabilities in real-time environmental monitoring and play an important role in addressing the public health crisis and meeting new WHO guidance.

"
Chris Beale, director of SPLtrack commented:
"

SPLtrack has taken the leap from a small but successful independent company to join the wealth of skill and experience that is Hydrock. The SPLtrack team are excited to work with new colleagues to unlock the strength of our technologies, the ADAhub platform, and to bring new opportunities to the group. Personally, I am delighted to be working alongside engineers that I have known for many years within a company I greatly respect.

"
SPLtrack represents Hydrock's third acquisition in 2022, following the successful integration of 3E Consulting Engineers Ltd and CDP, complementing our established reputation, of addressing global challenges through smart engineering solutions.