Industrial
An industrial revolution for the modern era: high-levels of automation, a self-conscious approach to minimise climatic impacts, and integration with supply chains and communities.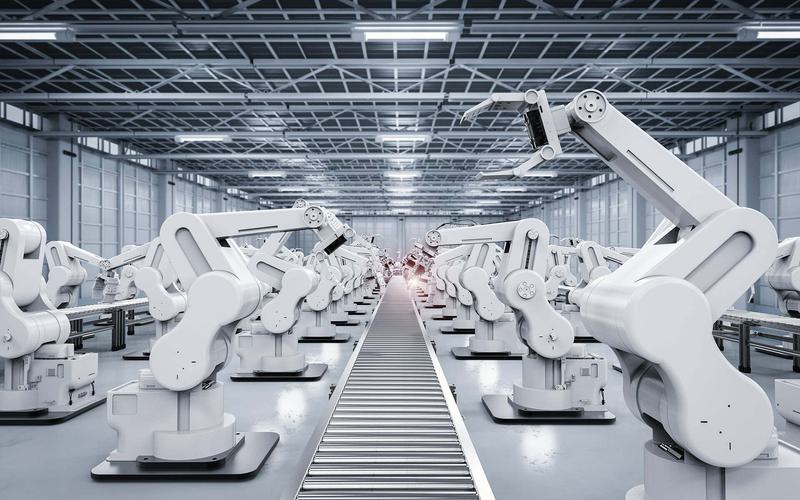 The seismic socio-economic shocks that the world has witnessed since 2020 has changed the face of the industrial sector across the UK and Europe.
Industry 4.0 is about automation, highly skilled roles, repurposing, efficiencies and integration into local communities.

The need for supply chain resilience has resulted in re-shoring industrial operations and led to the growth of highly skilled jobs and improved social value. It's a sector that has proliferated due to technology, e-commerce and social behavioural change. This is a sector that ranges from gigafactories to dark kitchens.
Varying in size, scale and requirements, space needs to be robust and flexible. It needs to accommodate the very latest in automation and process optimisation to ensure you maximise efficiency, whilst offering a healthy place to work that attracts the array of talent needed.
Our big picture 'future communities' thinking includes assessing how to integrate facilities such as laboratories, clean-tech production and last-mile logistics hubs into local communities. Understanding how these facilities make a positive contribution to their surrounding areas, including bringing life to under-used, brownfield, urban sites, is a key part of shaping a robust site-wide sustainability strategy.
Our integrated consultancy and design expertise addresses all these requirements including optimising building performance, minimising embodied carbon in construction, exploring opportunities to embrace renewable energy, and creating facilities that respect the wellbeing of their users.
Who we work with
We work with all stakeholders in the industrial sector:

Developers
Investors
Main contractors
Users
Design team
It's a multi-faceted sector, and our experience covers:
Research & development
Laboratories
Automotive
Aerospace
IT and data centres
Food & drink
Chemical and pharmaceuticals
Last mile logistics
Dark kitchens
Manufacturing & engineering
Gigafactories
Where we add value
With funding decisions placing emphasis on environmental, social and governance (ESG) factors, driven by public expectations and occupiers requirements, we understand the need for all types of industrial facility to deliver greater energy efficiencies, sustainability and employee experiences.

In addition to the fundamentals of preparing a site for development, including ground engineering, access assessments, and the civil, structural and building services design, we also address:

We fully cost the opportunity to invest in renewable energy and collocate with energy storage solutions to deliver resilience, generate income and enhance sustainability credentials.
We verify and validate carbon commitments to meet investor demands, in addition to advising on the re-use of excavated materials, sustainable drainage systems, operational energy performance management and how to minimise embodied carbon in construction.
We model the requirements and opportunities both on-site and off-site for charging, and address the utility requirements for the ever-increasing electrical load to these facilities which is driven by automation.
Our sustainability and energy appraisals for wider masterplan sites will address the provision of green spaces and leisure facilities for employee wellbeing.
We re-imagine assets in urban environments for uses such as last-mile hubs and dark kitchens with a significant emphasis on EV charging infrastructure and how the use and appearance of these sites fit with their communities.
Access to power is constrained and grid reinforcement works that connect sites to available capacity is frequently complex, competitive and expensive.
We take a strategic approach to help you understand your power needs. We assess sites and available capacity, establish the options to scale up your needs, support you with applications and negotiations with the DNOs and cost up options to invest in onsite generation and storage to reduce peak demand.
The industrial sector is a dynamic part of the economy with a changing face in light of technology, climate change impacts, employability and community integration.
In need of fresh thinking?
Think Hydrock.