Back to News
Hydrock onboard for design of £40m train factory facility in Goole, East Yorkshire
13th May 2021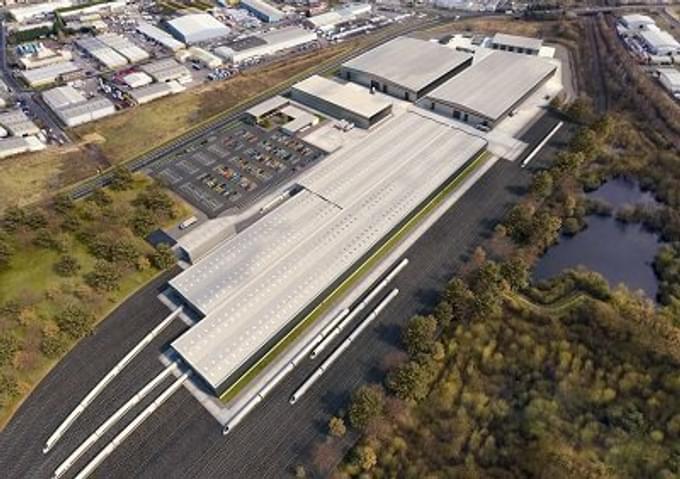 Hydrock has been appointed to advise GMI Construction Group PLC (GMI), as part of a number of contracts awarded to firms supporting the first phase of development on the new Siemens Mobility train factory and rail supply chain village in Goole, East Yorkshire.
Having secured a £40m contract to construct what will eventually be an 860,000ft2 manufacturing plant and 4.5km of rail track needed for connection to the main railway line, GMI commissioned Hydrock in both a specialist mechanical, electrical and plumbing (MEP) design guardian capacity and for fire engineering design consultancy.
Mike Kershaw, Project Director at GMI Construction Group PLC, said: "It's great to be working with Hydrock on another exciting project."
Hydrock were initially appointed to support the MEP tender specification, ensuring best value-for-money from the construction company's preferred subcontractors. We subsequently went on to peer review design intent drawings ahead of GMI's appointment on the site and will maintain an ongoing watching brief through construction.
Siemens' state-of-the-art rail facility is the latest example of a string of companies currently investing in Yorkshire. The region received a further boost with the government's recent decision to award the Humber region Freeport status, unlocking transformative growth and providing local job opportunities in the process.
John McElwee, Divisional Director at Hydrock, said: "This is a great new appointment for our team based in Yorkshire and continues our long and trusted relationship with GMI Construction. It's a fantastic project to be involved with and is really heartening to witness the investment being made in modern-day engineering in Yorkshire."
The supply chain village site also includes commissioning, warehouse buildings and stabling sidings, as well as a 54,000ft2 office building, which Hydrock has also been providing fire safety design on. The largest of the 10 buildings stands in excess of 10,000m2 and has 12m-high ceilings. Being so vast, typical travel distance limits have been exceeded meaning specialist fire engineering analysis is needed to ensure the safety of the occupants and its wider community.
Construction is underway and when Siemens' site opens in 2023, London Underground's Piccadilly line will be the recipient of the first of a new breed of lighter, more energy-efficient 'Inspiro' trains built at the facility.
It adds to a new legacy being created by the business community at the Goole 36 enterprise zone super-site which falls within the Humber Freeport zone, where we've also been advising Associate British Ports, Stirling Capitol and most recently on the fitout of a new customer excellence centre for Croda PLC.