Back to Articles
Meet Ruby Lowe: Going green with nuclear taking 'centre' stage
25th Jul 2022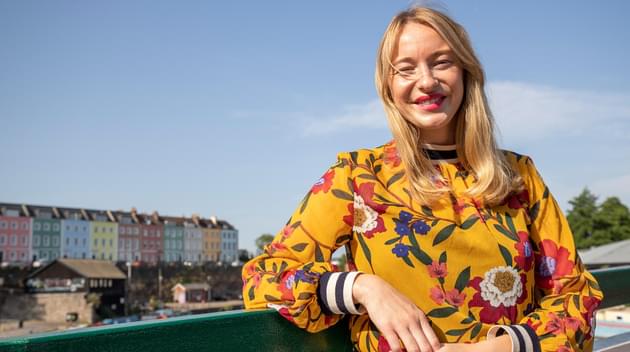 We caught up with Ruby Lowe, Senior Consultant, who's another of our team of newly accredited carbon verification specialists, who took time out to talk about eco-anxiety and looking at decarbonisation through a nuclear lens.
What keeps you feeling fresh and invigorated?
Making the most of my time and getting a good chunk of exercise is really important to me. Football — I play centre-back for Portishead Town Ladies — but I also really like running. I live in Bristol and love a good trail run around Leigh Woods.
Where did interest in sustainability originate?
It goes way back. The greenhouse gas effect and how that worked has always interested me. I'm someone who needs to make a positive difference in what I'm doing, which also influenced my choice of career. There's always been that moral angle to it.
At university I studied Chemistry. This spanned modules on atmospheric chemistry and ozone depletion, which included learning about all the different compounds and chemical reactions that cause global warming. It gave me an appreciation for greenhouse gases; knowing how they work, how they're broken down and how they're released — all underpinning change on our planet. Understanding these things to that level can be quite stressful but I'd rather know than be in the dark. Knowledge is power.
We've seen millennials take the lead as climate change activists and we know preparing the young will be absolutely critical to transitioning towards green and climate-resilient developments, but do you sense there is a growing fear among our younger generations?
We should all care for the planet. But it's fair to say that the anxiety around the climate crisis is forever increasing, for everyone. It's especially important to show younger people the career paths they can take which will help tackle change. There's a variety of roles out there, and we need to make sure the next generation are informed about the sea of options.
Not so long ago I read about a landmark global study led by the University of Bath in collaboration with five other universities which revealed nearly 60% of young people feel "very worried" about climate change. I totally agree with them — I know there are amazing people trying to make a difference, which helps me manage my fear slightly!
Would it be fair to say that this eco-anxiety about the irreversible impacts of the climate crisis is something you felt you couldn't ignore, hence you've made the decision to play an active role in being part of the solution?
Absolutely. I've always wanted to help communicate, and stress, the importance of a reduction of carbon in the environment. It even influenced my academic choices, having focused my Master's degree project on increasing understanding of the distribution of greenhouse gases across the UK.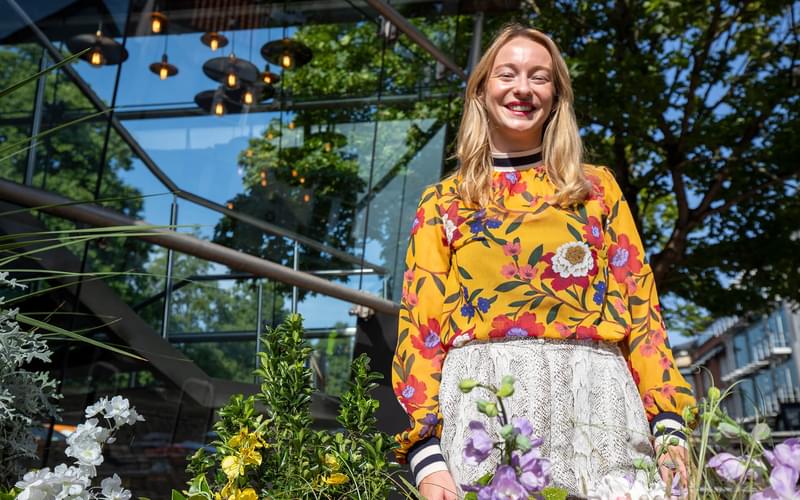 Hearing that, it will surprise few that you've found a home at a British-owned engineering design, energy and sustainability consultancy.
True. I'm fortunate that I've been able to continue making an impact, in both the energy and built environment sectors.
I'm currently providing consultancy at Hinkley Point C, the UK's first newbuild nuclear power station in over 20 years. When complete, it'll provide enough low carbon energy for up to six million homes. Our role on the landmark project is to provide a wide range of strategic and technical consultancy particularly focused on nuclear safety case, organisational capability, and decommissioning planning.
Do any metaphors spring to mind when you think about the type of work you're involved in?
Although not really a metaphor, a really powerful fact is that the same amount of electricity is produced from one tonne of natural uranium as 20,000 tonnes of coal [Ref].
So even though generating electricity using nuclear fuel produces nuclear waste, which is complex to dispose of and manage, there isn't nearly as much as people think. And compared to fossil fuels, the operational carbon from a nuclear plant is so low.
However, it's important to look at the whole lifecycle of emissions and, like with all sources of electricity, there's still significant carbon and other emissions associated with the earlier lifecycle phases. These include construction (and in the case of nuclear, mining for fuel), which we can't forget about and should continue to work to reduce.
A big element of any organisation's response to the climate crisis is understanding carbon hotspots and prioritising where the reductions can be made. How are you now helping organisations measure and report against their progress and why?
Businesses generate unavoidable greenhouse gas emissions. But there's always the opportunity to make better choices which will reduce global emissions, enhance livelihoods and protect the planet.
Tying in my nuclear background with delivering carbon verification management is something I'm most looking forward to. In March, I went to the Nuclear Industry Association (NIA) Nuclear New Build Conference and there are so many new nuclear projects on the way, both in the UK and internationally. From the well-publicised gigawatt reactors like Hinkley Point C and the eight new reactors proposed in the recently released UK's Energy Security Strategy, to more novel small modular reactors (SMRs).
That's a lot of new construction and we have to look at the opportunities to reduce the carbon involved as part of this. Understanding these emissions and finding the biggest opportunities to reduce these is something I'm keen to get involved. For context, and to stress why I'm so passionate about this, when you look at the whole lifecycle carbon emissions of a nuclear power station, the footprint is similar equivalent to that of a windfarm.
To me, there's an opportunity to innovate and explore new materials during the construction stage of a nuclear plant which could have a huge impact on reducing carbon footprint. It might even lead to changing people's perceptions around nuclear power. That's exciting.
The opportunities we create for our people, the long-term value we deliver to society, and the impacts our work has on the environment is something we take seriously at Hydrock. How have you been helping steer our own carbon-related commitments?
How could we not take it seriously? Our organisation's overall purpose to be a force for good is something I'm proud to be part of.
I've been the Chair of our internal sustainability working group since it was established in 2019. This involves working with our teams to identify and drive initiatives that support carbon reporting, reduce our own carbon footprint, and embed greener working practices. It's all part of Hydrock's commitment to reach Net Zero by 2030.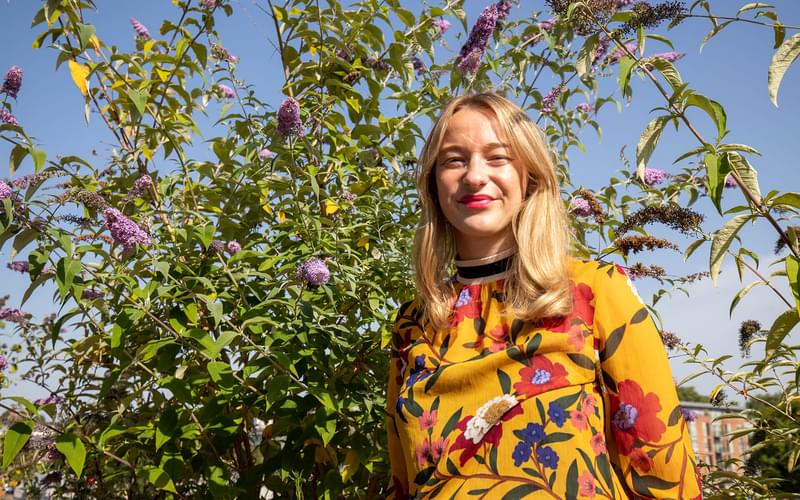 Hot on the heels of COP26, you've also been selected for the 2022 UKGBC Future Leaders programme, alongside 21 other rising stars working across the built environment sector. Tell us more about that —it's surely a fantastic opportunity to be part of the conversation and influence policy?
It's a six-month course, during which I really hope to continue to learn how to influence and make meaningful change to the industry. The others on the course are amazing and I feel pretty privileged and really proud to be working alongside them. They're working to make a real difference in terms of sustainability in the built environment and it's really reassuring and comforting to know that there's a network of other just as passionate people out there helping bring about change.
I'm working with a group that's exploring how we can repurpose existing vacant buildings in a way that supports the community, reflecting that many of these buildings were originally built with that intention. This helps increase the social value of these buildings and helps keep them in-use (and therefore maintaining embodied carbon which may otherwise be lost if the build is demolished).
It's an amazing platform to collaborate with others in the sector. Sharing our experiences and learnings, we aim to come up with novel ideas to move the built environment forward. I can't wait to see the achievements of this new network in the near future
What gives you the greatest sense of hope?
When you speak to people about sustainability, they're always open to change. We can all make a difference!
As people informed about the subject it's our responsibility to share our knowledge and we've just got to keep going.
Who do you look up to most — Virgil Van Dijk?
Who knows how I got to this play this level of football, definitely not me! But for me, I really respect teachers making such a difference to the lives of young people. Getting the best out of them and being there for them when they need them most. Those are admirable qualities in all walks of life, whether you're a teacher, in a profession like mine, or even a footballer.
But naming an individual who's had a direct influence, I'd probably say Andrea Day. She's been my mentor at Hinkley Point C. I admire her knowledge, the conviction she shows on a daily basis, and I'm really grateful for how she's helped me in my career so far. I'm just trying to absorb her energy [pun intended].
And for those that don't know, Ruby spends weekends playing centre-back for Portishead Town Ladies FC. We couldn't let you go without asking how the season went?
We're safe, which is what we wanted in our first season post-promotion. Our main aim was to compete — and we'll finish midtable, around eighth. It's mostly been a case of character building and we now know what we're up against. For example, we've played the likes of Bournemouth who've some relatively big financial clout. But as anyone who follows the sport will agree with, football can be a great leveller at times.
Take a look at our carbon verification and validation page to find out more about our service and broader smart energy and sustainability offer.

Ruby is a Senior Consultant at Hydrock working across our Nuclear and Smart Energy and Sustainability teams.