Back to News
Celebrating National Apprenticeship Week 2023
6th Feb 2023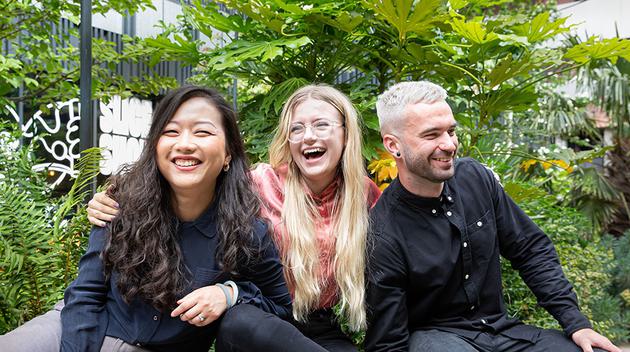 Apprenticeships offer people a different route into the world of work, equipping them with skills for life. With record numbers of apprentices at Hydrock, we're shining a light on some of our superstars to celebrate National Apprentice Week 2023!
We caught up with a few of our apprentices across the company, to see how they're doing and what they're enjoying about being an apprentice with us. Here's what they had to say…
Magdalena Chmurska
Apprentice civil engineer
Birmingham

"Hydrock truly looks after me as an apprentice and as a person. I like that, being a multidisciplinary consultancy, they can help me with all areas of my studying. There's always someone that's more than happy to help explain things to me, making my experience a lot more valuable."

George Cooper MacDonald
Apprentice civil engineer
London

"Hydrock has been really supportive throughout my career since I joined. My line manager and co-workers take an interest in and care about my progress. I've been given so many learning opportunities, which has helped me to develop as a person and inspires me to achieve my full potential."

Elaloise Kirkland
Apprentice building services engineer
Birmingham
"Joining Hydrock completely changed my view on continuing work in this industry, or in fact work as a whole. Hydrock have allowed me to see what a healthy work environment is and taught me that there are companies who value you, your time and your commitments just as much as your work."
Tom Smith
Apprentice fire safety engineer
Birmingham
"I can confidently say that my first six months at Hydrock couldn't have gone any better! I've loved working within a diverse and passionate environment and I've learned so much in such a short amount of time. Hydrock has gone above and beyond from start to finish, I already feel a part of the family. I'm over the moon with my employment and I'm really excited to see what the future holds."
Jordan Casley
Apprentice electrical engineer
Cardiff
"I love working for Hydrock because the company aims to be a force for good. I've had the opportunity to work on some incredible projects in the healthcare and education sector, and it feels good knowing that our work makes a positive impact on people's lives."