Back to News
Preserving Heritage: Redeveloping Leamington Spa Town Hall
29th Aug 2023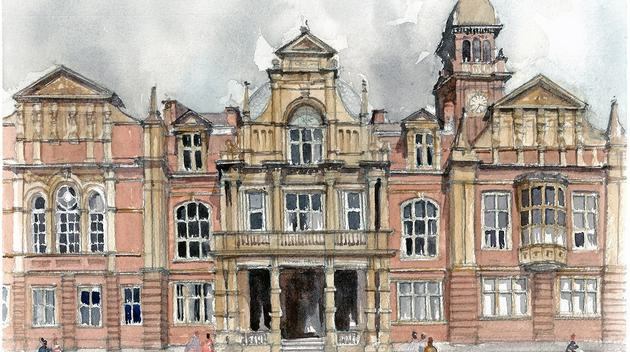 We've been appointed to provide fire safety and acoustics design for the redevelopment of the historic Leamington Spa Town Hall, in Warwickshire, which is poised to breathe new life into one of the town's finest and most important buildings.
Our teams will join forces with Purcell Architecture, working right across RIBA stages 0 to 6 to deliver a modern and functional space that respects the historical integrity of the building.
Smaranda Ciubotaru, architect at Purcell Architecture said:
"

We're delighted to be involved in transforming this landmark building which has played such an important role in Leamington's civic culture and urban life over the years. The project will not only safeguard the future of the building, but will also bring substantial benefit and value to the community of Leamington, ensuring the Town Hall can be enjoyed by as many people as possible.

"
Supported by the Government's Future High Street Fund, the proposed works for the Leamington Spa Town Hall will primarily focus on refurbishing the existing spaces. Built in 1884, the Grade II-listed town hall carries a rich heritage and architectural significance. Our team has been chosen to navigate the delicate balance between adhering to the latest fire safety guidance and regulations, while being considerate of the building's existing arrangements.


Adam Eaton, director of fire safety at Hydrock, said:
"

As a Warwickshire resident, within walking distance of the Town Hall, I've taken a special interest in the redevelopment plans, and it's fantastic that this has all been made possible by the Government's funding. It's been a pleasure to support Purcell Architecture, alongside our Hydrock teams, and I look forward to seeing the finished project.

"
Our fire team's input has focused on desktop strategic advisory services, specifically considering how occupants can safely escape the building in the event of fire by assessing means of escape provisions, as well as our site-based Fire Risk Management teams undertaking Fire Risk Assessments and Fire Door Surveys.
Our acoustics team's input will focus on controlling reverberation time, the time required for sound to 'fade away' in a closed space, within the large ornate exhibition galleries. This is to ensure an adequate acoustic environment during presentations and events. We'll be ensuring that all proposed acoustic treatment meets the overall architectural design goals and philosophy.
The Leamington Spa Town Hall redevelopment is set to create a dynamic creative hub that will attract artists, entrepreneurs and innovators alike. The revival of this treasured landmark is great news for the local community, notably for the opportunities it will provide for Warwickshire's flourishing creative scene.
The project is set to complete in 2024.