Back to News
RIBA competition win to transform key site in Mansfield
14th Aug 2023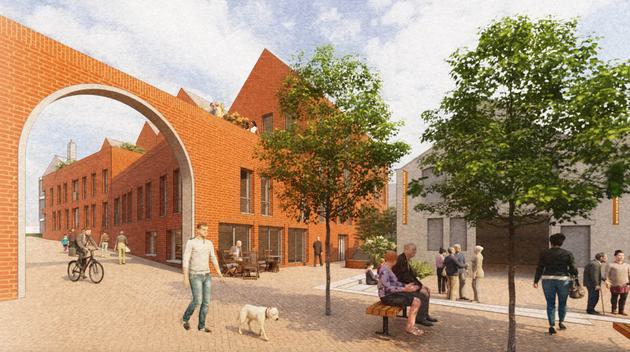 Our London-based multi-disciplinary team partnered with Proctor & Matthews Architects to beat international competitors and win a RIBA competition to deliver a sensitive and exemplar town centre housing and placemaking scheme in Mansfield, Nottinghamshire.
Transforming White Hart Street
The White Hart Street area, near Mansfield railway station, has stood derelict for over 10 years. It forms part of the Church Street Quarter in the emerging town centre masterplan and sits within the Bridge Street and Market Place conservation area. It contains a listed building and non-designated heritage assets.
The site was purchased by Mansfield District Council in 2022 to facilitate its regeneration. The £14-19m scheme will deliver a mix of housing, including family homes and apartments for older people, all built to the Future Homes Standard. An important focus on landscaping and placemaking will transform this area and bring an end to the anti-social behaviour that the area has attracted.
Multi-disciplinary engineering service delivery from Hydrock
Our multi-disciplinary team supported Proctor & Matthews with the proposals and the RIBA competition interview.
We are delivering an energy and sustainability strategy in addition to civils, structures, MEP and utility services to build the business case and support the planning submission for the transformation of White Hart Street.
Charlotte Graimes, Hydrock's energy and sustainability lead in London, said:
"

We are excited to partner with Proctor and Matthews on this opportunity to bring real social value and uplift to an area of Mansfield that has suffered a decline in recent times. This is a scheme that focuses on the community, providing a variety of spaces for people to come together. It will also champion energy efficient design and systems that will improve air quality and biodiversity.

"
Taking inspiration from the history of the area
Linking into the existing urban context of Mansfield town centre, the vision led by Proctor & Matthews creates a sequence of squares and new yards that each have their own character and encourage an active community life and social interaction, with much needed green spaces.
Many of the architectural characteristics are inspired by the traditional forms, materials and colours of the area, and re-interpreted in a contemporary way.
Mansfield's executive mayor, Andy Abrahams said:
"

We think we have found in this winning scheme a design that will respect the area's heritage and provide affordable, energy-efficient and future-proofed homes that are fit for the 21st century, and which people of all ages will feel proud to live in.

"
Commenting on their vision, Stephen Proctor, Founding Director of Proctor & Matthews Architects said:
"

The competition winning design - a collaboration between our studio, Hydrock, Atoll Blue and Camlins - draws upon the rich history of Mansfield to create a green and permeable townscape at the heart of the community. Working alongside Mansfield District Council, we hope this will nurture a strong sense of connection and identity, bringing together people of all ages throughout their daily life.

"
The project design team will act for Mansfield District Council, and comprises Hydrock, Proctor & Matthews, Camlins Landscape and project managers, Atoll Blue.