Back to News
Redcliffe Way Design Competition - it's a win!
11th Jul 2022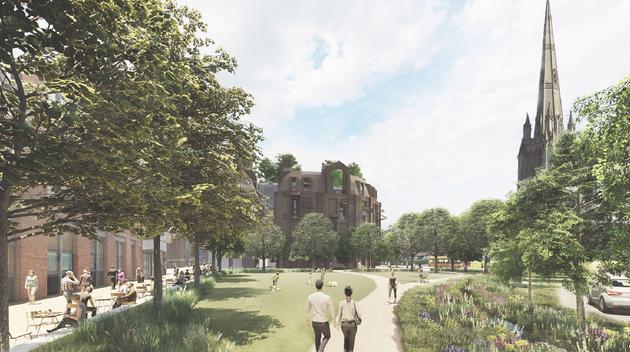 In response to a design competition, initiated by Bristol City Council owned Goram Homes and Bristol Housing Festival, we joined forces with architects Groupwork and urbanism and landscape architects McGregor Coxall, to deliver the winning design concept, that called for 'inspiring and inclusive ideas' to transform Portwall Lane car park, opposite the historic St Mary Redcliffe Church.
As a prominent gateway to the city, the transformation of Redcliffe Way is seen as the first part of a wider project to reconnect north and south Redcliffe.
Goram Homes Managing Director Stephen Baker said:
"

We are committed to working with communities in Bristol to ensure that our developments meet local needs and complement existing neighbourhoods. This design competition was a fantastic opportunity for us to do just that and to support the Redcliffe Neighbourhood Forum in realising a long-held ambition to regenerate this area.

"
In competition with FBM Architects, HTA Design and Levitt Bernstein, our winning design focused on transforming Redcliffe Way to Redcliffe Park, creating a living future where Redcliffe Way is reimagined through a contemporary synergy of landscape, architecture, ecological design, and cultural history.
A living, breathing, parkland environment that emanates from the delivery of Redcliffe Way, an architectural emblem of sustainability. Biodiverse swales slow, spread, sink, and store water to naturally manage and mitigate local flooding. A new south facing civic plaza unifies St Mary Redcliffe with the animated city and biodiversity becomes an ecological catalyst to place prosperity.
The design epitomises future communities, shaping a climate resilient, socially vibrant and connected community of the future.
Responding to the win, Hydrock Divisional Director Ric Hampton said:
"

Hydrock was founded, and is headquartered in Bristol, so it's incredibly special to us to be able to work on such an exciting scheme for the city. The site is a stones-throw from our city centre office, which is just adds to our delight. We've been fortunate enough to collaborate with two fantastic organisations in McGregor Coxall and Groupwork, who share our passion for the project and the positive impact it will have on the Redcliffe community. We can't wait to work with Goram Homes on this important catalyst project for the wider Redcliffe area.

"