High quality student accommodation from back-to-shell refurb on listed building
More House
South Kensington, London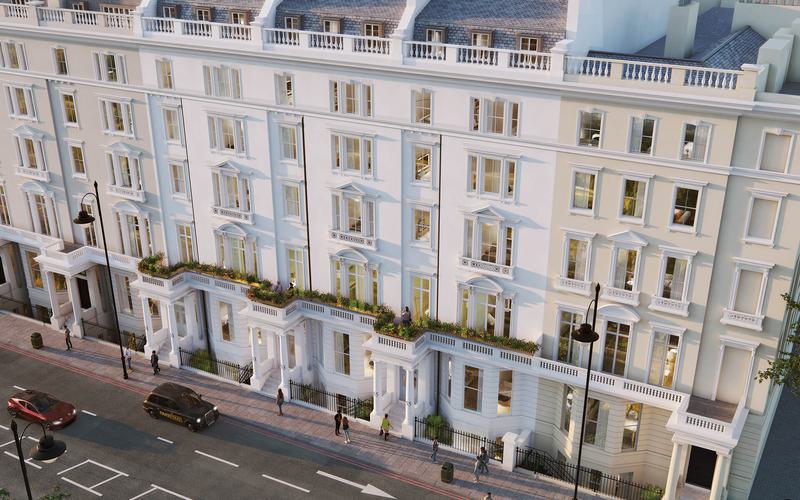 Multi-disciplinary engineering design to transform three linked buildings in a London conservation area into purpose-built student accommodation, improving energy efficiency and quality of liveable space.
Situated just a one-minute walk from the Natural History Museum, 51-55 Cromwell Road is a series of 19th century buildings historically opened up and connected together to form More House, and previously used as a form of student hostel.
Vacant and run-down, More House was acquired by SAV Group in 2021. In refurbishing the 3,530 sqm building into student accommodation, the project team has focused on limiting embodied carbon emissions, improving the energy efficiency of the building, and retaining and restoring the existing structure.
The refurbishment will deliver 115 student rooms, all en-suite, with high-quality kitchen space and communal living space.
We have delivered a suite of engineering services that brings to life the vision of architects, Studio Moren. Together, this approach is restoring the existing fabric, reconfiguring the internal space for modern-day use, and sensitively expanding the building to the rear.
Structural engineering solutions
Working collaboratively with our MEP team and Studio Moren, our structural engineers have delivered solutions to the three phases of the project: the internal alterations; the rear extensions; and the conversion of a former mews building into a new ancillary area.
More House is in the Queens Gate Conservation Area of South Kensington, so all design decisions and material choices have been carefully considered to maintain the character of the area.
Our expertise has been key to:
The installation of a new lift. Our geotechnical engineering team completed studies to confirm the ground conditions to inform the design of the lift pit. We delivered the underpinning design for the existing loadbearing walls to ensure existing footings were not undermined by the lift pit construction and we provided masonry design for the new lift shaft.
Extensive temporary works design review. This has supported a range of activities that open up the internal space and create more living accommodation. This includes maintaining the existing roof while internal changes were made and a new mansard roof was installed that integrates with the original design of the building.
Maximising internal head heights. Our design advocated the removal of existing joists and the inclusion of steel beams into load bearing walls to mitigate several deep structural zones in the building.
Wall openings. Our design included 'box' rigid frame design to ensure load from the solid masonry walls and floor structure was spread evenly back to the load bearing walls and ultimately the foundations.
Discreet infill extensions to the rear. Our work has included the removal of an existing floor structure, designing new levels and adding space for an internal mezzanine.
Party wall considerations. We liaised with party wall surveyors to ensure existing party walls were not undermined by proposed foundations and new load bearing structures.
Point cloud survey. This BIM-led survey was used as the base model by the project design team to ensure efficient coordination and clash detection within the complex existing structure.
MEP solutions
We have overseen a complete strip-out of existing, tired and inefficient services, and delivered an energy efficient design that supports the needs of contemporary high quality student accommodation which includes en-suite facilities, kitchens and communal areas.
Our expertise has been key to:
Installation of a ground source heat pump solution (GSHP). This open loop system exchanges water with an aquifer below the site to run a water-cooled variable refrigerant flow system (VRF) to meet the site's heating and cooling demand. This approach has minimised the roof-top plant enclosure, enabled more lettable space at the top of the building, and critically supports the goal for a highly energy efficient building.
Ventilation services design. Working with our in-house acousticians, we advocated mechanical ventilation to better suit the newly-designed tightly sealed spaces that will minimise traffic noise and also minimise energy consumption through the use of heat recovery.
Detailed coordination of new services. We've created a new services strategy to reflect a completely new internal layout which requires services to a large number of individual rooms. It has accounted for new drainage layouts, the restricted head heights and a new fire strategy with smoke shafts and sprinklers.
With completion scheduled for 2024, the transformation of More House will deliver outstanding new student accommodation and visually improve this part of Cromwell Road.
Images courtesy of Studio Moren and Estudio 3D
Got a project in mind?
Get in touch.