"

People want their high street revitalised. They want to be part of a lively community. Investors can see this and are themselves increasingly concerned with ethical, sustainable investment.

"
Chris Bowie-Hill
EGi Online, March 2021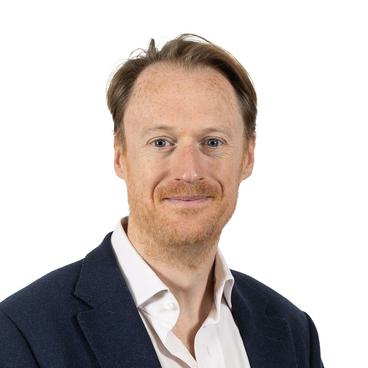 We've experienced a huge shift in the way consumers buy products. The perfect storm of the growth in e-commerce, the global pandemic and a cost-of-living crisis has shifted retail online and also changed spending patterns.
There's change in the air but some certainties remain. People still want a focal point in their communities. Investors still have assets — which they can't leave stranded. And where there's disruption, there's also opportunity.
Plug-in for a retail re-boot
There's an extraordinary opportunity for the investment community to re-imagine retail in a new world. From experiential destinations, to dark kitchens; padel tennis courts to battery storage; and vertical farms to EV charging parks.

A convergence of the retail and leisure sector will boost local communities and economies, and create asset value.
Maximising the space and the significant utility loads traditionally allocated to retail, especially out-of-town, presents an opportunity to make these assets attractive to investors, stakeholders and consumers who are all increasingly focused on ESG.
The key is to balance alternative uses with community needs. A golden opportunity to create places that serve greater financial, economic and social value.
Partnerships between the public and private sectors will be essential in many cases. Retaining 'active' frontages, creating a purpose for town centres, and encouraging a sense of community. That's what shapes success.
Pushing boundaries to reach a better place, here's three concepts we've been thinking about to re-imagine retail.
Converting department stores into vertical farms
Stay with it. Homeware on the fifth floor is replaced by lettuces grown under carefully managed conditions.
The demise of major high street department store chains leaves everyone with unsightly redundant assets.
It's all too easy to convert one use of building into another. The most popular being to convert these anchor buildings into gated student or apartment living for younger people because of the high yields. The irony is that it then excludes segments of the community by their very nature.
It's counter-intuitive, leaving a 'quiet' frontage at street level, where it was once a much loved 'active' part of town.
If we're serious about sustainable communities we need to be thinking longer term, and with greater community inclusion. Can we be more creative about the re-imagining, floor by floor?
Our concept maintains a retail purpose but also meets wider social and civic needs. In our vision this includes adapting the middle floors for vertical farming, producing food for the local market and helping to reduce carbon footprint.
At ground floor, the produce is sold, but there's also investment in an interactive science learning lab to educate visitors of all ages and inspire the next wave of urban farmers. Of course, alongside a child-friendly café! Top floors can be converted to penthouse suites for maximum rental income.
Suddenly, the asset is multi-functional. It's a destination and a commercial outlet.

Powering Netflix from a box retail park
Slightly unloved, the classic out-of-town retail box park has the land space and the power connectivity to strike back and prove its value. Value beyond popping to Pets at Home.
Vacant units, and unused parts of a site could be ideal places to convert into edge data centres and battery storage schemes. Our unbridled data demands mean investment in small, edge data centres is becoming more common to provide localised and rapid connectivity to urban conurbations.
Partnerships between the public and private sector also have the ability to convert other box retail units into community facilities, including for healthcare. Embracing the concept of the 15-minute neighbourhood, and thinking about the location as an en vogue destination, other uses could include gaming centres or meet the rise of interest in padel tennis with its smaller courts.
Attracting a different user group to the retail park has the potential to increase dwell time which makes an investment in EV charging worthwhile, as people choose to stay and charge their cars. Infrastructure built around convenience will go a long way to helping the transition to EV and achieving zero emission targets.
With an increasing array of government funds to help regenerate towns and get development off the ground, it's also a more than viable vision.
The commercial value of the asset, and its positive impact on the community, is now transformed.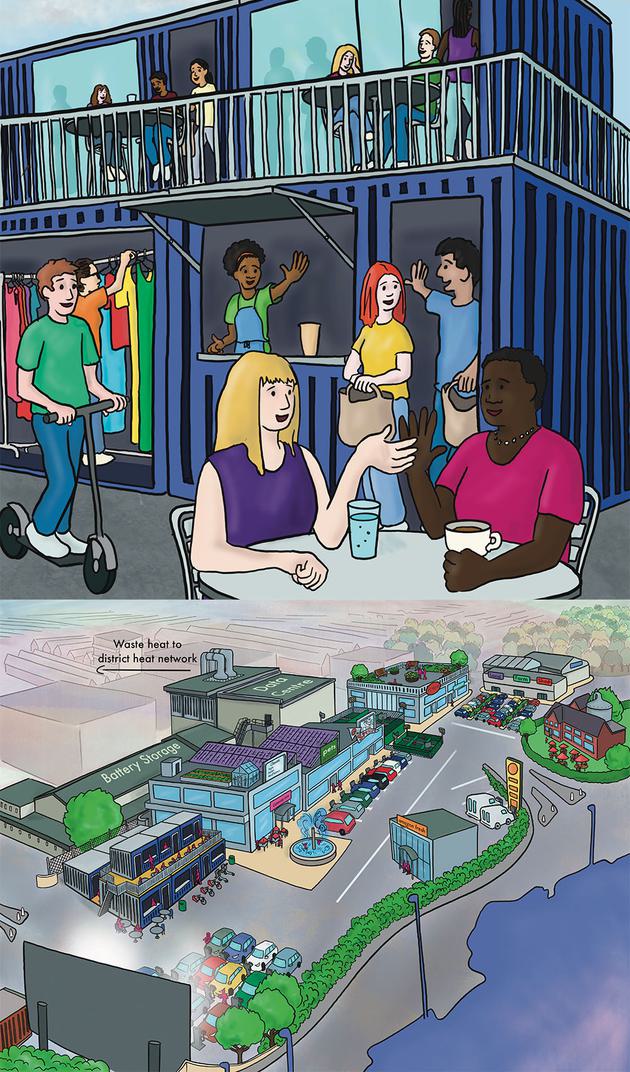 Thinking circular
How can we make better use of existing assets? How can we create value when they're 'dark'?

Power loads to retail assets have historically been over-estimated at design stage compared to actual in-use consumption.
Underutilised, back-of-house areas in a retail environment could be repurposed for energy storage solutions. Equally, as autonomous vehicles find their way into our towns and cities, the demand for edge data centres will grow to meet the demand for connectivity. These back-of-house areas, where sufficient power and fibre are accessible, present prime opportunities. As a by-product, the heat from these installations can be captured and recycled to near-by tenants as 'low carbon heat'.
This power can also be used to run EV charging points, offering both a revenue stream and a reason to drive footfall and dwell time.
Redundant space, or unused car parking can also be leased out for EV fleet charging. In particular, when car parks are unused at night, both in-town and out-of-town, there's an opportunity to increase EV charging provision and rent the spaces overnight to fleet companies and car clubs.
Let's apply the thinking behind a circular economy and make the best use of all our resources.
"

Based on daily public use, our modelling at a retail box park shows that a return on investment exceeding 70% can be achieved in 4 years by installing just 22 EV charge points on a space dedicated to retail car parking.

"

Leah Holmes
Associate Utilities Consultant