Circular Economy
It's time to think about resources not waste. A mindset shift on building design, construction and long-term use will promote circularity and reduce whole life carbon impacts.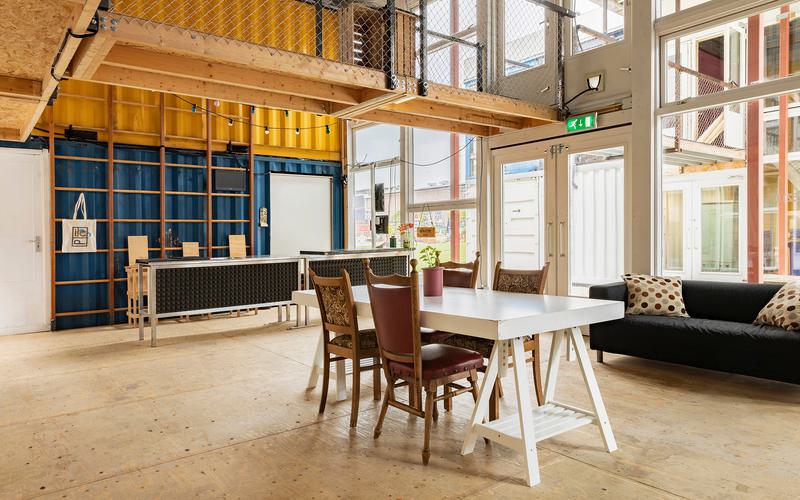 Waste from construction, demolition and excavation accounts for approximately 60% of overall UK waste.
In other walks of life, the concept of reusing a product or renting something as a service is well-established. It extends the lifetime usage. However, we still need to make more active choices as to what happens to a product, service or asset at the end of its life, or the next life, before we design it.
In the world of the built environment, the principles of reuse are even more complex. However, given the carbon impact of our sector, it is clearly worth a collaborative effort to imagine ways to promote circularity, design out waste and recognise that everything has a value.
Big questions need answering. How can we extend and adapt the life of a building beyond one lifecycle? How can we make materials returnable? What materials can we do without? How can we collect data on every component part of a building to track its effectiveness and enable its reuse in the future?
Planning requirements and the ESG principles of investors now place an increased focus on circular economy strategies and whole lifecycle carbon evaluations. It means many built environment schemes must demonstrate low carbon, zero waste and regenerative design.
Our energy, sustainability and engineering specialists are perfectly placed to support developers, local authorities, investors and designers to understand the impacts from masterplanning, demolition, refurbishment, new products and construction.
We're here to advise you on designing for flexibility, adaptability and longevity, whilst understanding how you can reuse, deconstruct and make more efficient use of materials. Critically, we will help you to make the right decisions and measure the positive impact for you.
Features and benefits of our service include:
Circular economy strategies to support planning submissions
Waste management and servicing strategies
Whole lifecycle carbon assessments
Circular economy design and evaluation
Support organisations with circularity in their operations and procedures
Design reviews to identify elements that support circular economy principles
Research material options or reuse pathways
Define, collect and calculate metrics and data on circularity
How our approach will help you
We support with circularity principles at a masterplan level, organisational level, and also for building design and refurbishment.
Assess the development plan and land use of the proposed masterplan, exploring reuse or refurbishment strategies
Review potential resource loops and additional facilities to help increase circularity
Consider build out timelines and circularity opportunities
Identify connections and circularity between key elements of a masterplan strategy such as energy, waste (construction and operational), transport, water, ecology, landscape and materials
Identify and scope opportunities to consider circularity at a business operational level
Facilitated workshops to understand ambitions and develop strategies, objectives and targets for circularity
Develop circularity roadmaps
Support organisations to research opportunities and services and develop implementation projects that embrace the principles of circularity
Develop procurement policies to include requirements around circularity and whole lifecycle carbon commitments
Develop circular fitout guides for facilities and offices
On construction projects, we will work with you and your consultant teams to advise on circular opportunities and strategies. Our role includes:
Workshops to establish circular economy aspirations for a project – setting objectives
Review and respond to specific local authority requirements around circularity
Identify existing materials or quick-wins for circularity
Review pre-demolition audits by the contractor
Research low-impact material and component options with design team and supply chain
Assess options for modularisation, prefabrication and standardisation
Review whole life carbon reduction strategies for circularity opportunities
Quantify material efficiency, reuse and recyclability of materials
Roadmap to increase circular economy potential
We also support with building or asset whole lifecycle carbon assessments.
For both tenants and landlords our role includes:
Pre-demolition / pre-refurbishment surveys to identify materials to be reused, remanufactured, or refurbished
Advice and support on fitout materials and products that reduce carbon or encourage circularity
Develop fitout guides to help your tenants to select low carbon and circular materials and promote your circularity and sustainability goals
Research new or alternative materials and products for fitouts that reduce carbon or increase circularity
Connect you to organisations or market places which can provide reused or refurbished materials and equipment
We help you define, collect and calculate appropriate metrics, quantities or qualitative data on circularity. We will help you track, evaluate and report on these metrics.
Metrics include:
Quantity of material diverted from landfill
Quantity of material reused
Percentage of material made from bio-based products
Percentage of material diverted from purchase
Carbon savings achieved
Pollution reduction
Recycling reduction
In need of fresh thinking?
Think Hydrock