Renewables and Energy Storage
Collocation of renewable energy generation and storage schemes is a game-changer in future-proofing communities and driving economic growth.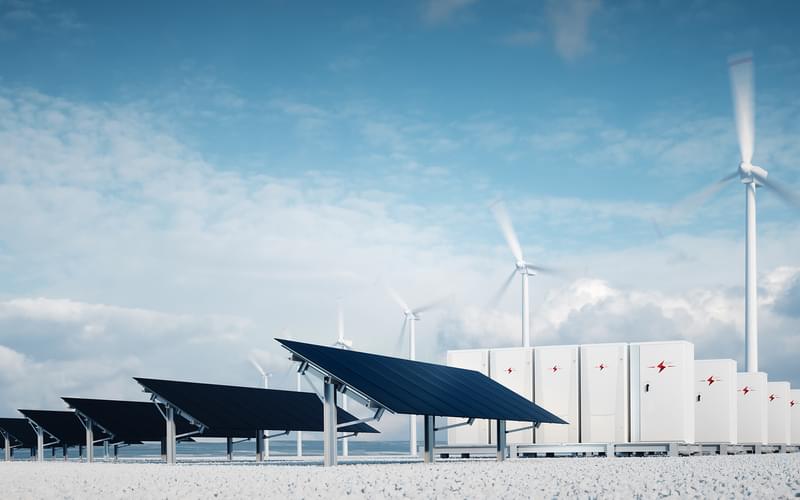 Early adopters are witnessing the benefit of intelligent investment in renewable technologies alongside energy storage solutions.
For developers, investors and local authorities, it's a formula that will unlock sites, deliver energy resilience, support decarbonisation, create income-generating assets and ultimately help stabilise the grid.

For renewable energy or battery storage schemes, we work with you from initial strategic decision-making, through feasibility appraisal, planning, design, tendering and procurement, supply chain management and operation.
We will help you optimise the best mix of renewable technologies, and demonstrate the opportunity to collocate with storage by conducting financial viability studies to model investment costs and predicted returns.
Our team will also support with funding applications and will engage with the relevant Distribution Network Operator (DNO) to evaluate the cost of connection and the size of storage available for battery storage schemes.
With battery storage, we advise on how schemes can be integrated into new and existing sites, either as a standalone investment on sterile site areas, or as an integrated part of end use.
Our renewables expertise covers solar photovoltaic, wind, hydrogen, biomass and biogas, hydro, geothermal and air, water and ground source heat pumps.
Together, renewable energy and battery storage help capitalise on energy production by:
Avoiding potential dips in grid supply.
Storing purchased power during low-demand periods for future use.
Giving a development resilience through the collocation of renewable energy generation and storage.
Storing energy to sell back to the National Grid or an aggregator, creating an income stream when demand is high.
How battery storage can transform the viability of sites
Guests from Harworth, Peel L&P and Engie joined our own leading expert, David Streather, to debate how development sites can be unlocked thanks to battery storage schemes.

How our approach will help you
We work with a range of clients with varying interests and needs:

We design, facilitate and manage the development of a site for battery installation. The landowner benefits from a long land lease arrangement on the area housing the storage device.

For investors and operators of renewable energy schemes, investment in the collocation of a battery storage scheme can maximise the commercial value of the renewable energy scheme.

Investment in a battery storage scheme can unlock the viability of sites for new, highly sustainable, net-zero urban communities. With control over energy storage and release, it can reinforce the grid and enable a strategic investment in the roll-out of electric vehicle charging.
For organisations such as industrial manufacturers, water companies and data centre operators, investment in battery storage offers a level of energy security and resilience and supports their environmental and social betterment strategies.

With our multi-disciplinary engineering capability, we are well placed to support the feasibility, planning and design stages of a battery storage scheme. We have teams who specialise in areas such as ground investigations, utility management, transport planning, noise, vibration and air quality studies, fire safety assessments, and drainage and flood risk assessments.
We act as both technical consultant to our clients and as a developer of stand-alone battery storage projects, working with landlords to create a ready to build project.
Our track record
Our track record includes:

Site viability studies for battery storage development company: We are supporting a leading battery storage developer with feasibility studies on a range of sites across southern England and South Wales. As part of our due diligence process and financial modelling, we assess opportunities for other renewable technologies to collocate with the storage schemes, and support the planning process and technical development.
Solar PV scheme, Derbyshire: Feasibility assessments, financial modelling and negotiation of grid connection for a multi-phase ground-mounted solar PV scheme on a logistics site. The initiative is aimed at improving the site's carbon credentials and contributing to an overall strategy for our client to reach net zero across their whole real estate portfolio.
300 MW of storage schemes assessed for viability: At the start of 2022, we were commissioned to support the viability and planning process for over 300 MW of battery storage schemes across the UK. These range from a number of 50+ MW schemes in the Midlands, to smaller schemes in areas such as Shropshire and Gloucestershire.
Decarbonisation strategy for a major industrial port extension: To meet local policy requirements we have advised on a range of renewable energy options and supported the port with design, delivery models, funding and operational input.
Energy options appraisal for global asset management group: We are advising on energy transformation initiatives across a wide range of sites which have been acquired in recent times in the retail and leisure sector. By conducting energy options appraisals that cover energy generation, storage and EV charging, we are assessing revenue generation potential and value uplift on the sites.
In need of fresh thinking?
Think Hydrock.