Back to Articles
How will the Digital Golden Thread affect new builds versus existing buildings?
22nd Mar 2023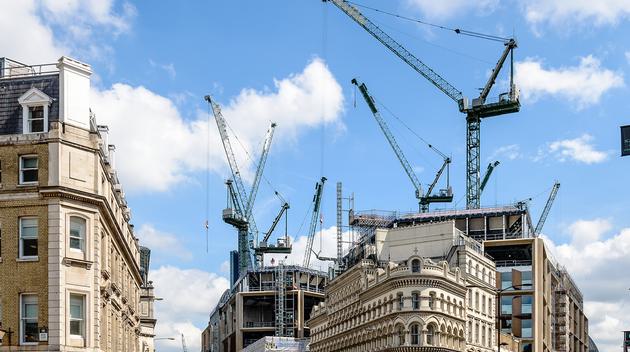 Following the Grenfell tragedy in 2017, Dame Judith Hackitt's review found the building industry not fit for purpose in terms of safety. As a result, the Building Safety Act was born, leading to some of the biggest changes to building safety for a generation.
One of the recommendations within the Building Safety Act is the creation of a digital golden thread of information that captures a building's data from the earliest design stage, during construction and right through to occupation, including decommissioning. This includes an auditable trail of accountability, recording which decisions have been made, when, and by whom.
The new regulations will initially apply to residential Higher Risk Buildings in England*, which means buildings that contain two or more dwellings and are over 18m or seven storeys in height, along with hospitals and care homes. Eventually, all new buildings will be required to comply with the Building Safety Act, so there is a strong case for embracing these new practices now to set a gold standard across the industry.
While around 500 new residential Higher Risk Buildings are constructed every year, there are around 13,000 buildings already built and occupied that this legislation will also apply to. They will all require an Accountable Person to be appointed, who must follow the legislation and the steps outlined by the new Building Safety Regulator office.

Who is the Accountable Person and what do they need to do?
The Accountable Person will be the organisation or person who owns or has responsibility for the building.
They must:
register all new buildings with the Building Safety Regulator before occupation.
register existing buildings with the Building Safety Regulator between April 2023 and October 2023. It will be an offence if an eligible building is occupied but not registered after October 2023.
prepare a safety case report for existing buildings;
co-operate with the Building Safety Regulator's requests around inspection and certification.
Regardless of the age of the building, the Accountable Person's duties will include managing building safety risks, which includes the spread of fire (including smoke, fumes, and heat) and/or structural failure. The Accountable Person will need to be able to show that they have taken all reasonable steps to both prevent a building safety risk happening, and reduce the seriousness of an incident if one happens.
A large part of managing building safety risks will include creating and/or maintaining the building information held within the digital golden thread.

The building's information must be:
kept digitally
kept securely
the single source of truth
available to someone who needs the information to do a job
available when that person needs the information
presented in a way that person can use.
What does the Digital Golden Thread mean for new buildings?
New projects are in the position of acting as a 'clean slate' for adopting and refining the new Building Safety Act process, which will allow for the use of innovative systems from the beginning. There is a lot of new regulation to understand, with more secondary legislation yet to emerge. However, the principles of the process are becoming clearer. Getting used to applying those principles to a new project, regardless of use, size and complexity now is worth embracing. Let's make it muscle memory, so that when it is a requirement across the industry, we are already used to it.
There will be three 'Gateways' a new project must pass through to get from early design stages through to occupation. The names and definitions of each are still being confirmed by the Building Safety Regulator, but they cover:
Gateway One: planning phase
Gateway Two: The Building Control Application and Works Phase (construction cannot begin unless the Regulator has approved the application.)
Gateway Three: Final completion and handover (similarly, a building cannot be occupied unless approved by the regulator).
The Gateway process, whilst still being defined, is sure to be about demonstrating compliance with Building Regulations. Ensuring a design is compliant with Building Regulations or Approved Documents is a good place to start when the project is submitted for planning. We can all think of projects that had to return to planning because of small design hiccups.
This process will be about building up a bank of quality information and putting the right data capture systems in place from day one. We must start as we mean to go on, recording the relevant information in a secure, digital, cloud-based vault, from concept design onwards. Trying to attempt this retrospectively, however, will be difficult, involving both finding, and then forensically analysing years' worth of project data, emails, files and so on.
The good news is that a new building will already be on Building Safety Regulator's radar, having passed through the required gateways to get to this point. The Accountable Person will need to ensure they update the relevant building safety information in a timely manner as updates occur.
What does the Digital Golden Thread mean for existing buildings?
For existing buildings, the variety in both the amount and quality of available historic data will be vast. Attempting to gather the required data for the digital golden thread retrospectively could be akin to opening a can of worms.
Information is often lost during the design and construction process, or it is stored in a project vault or Common Data Environment where there can be too much data, making it difficult to find that key piece of information. Once it has been found, confirming the validity of the information, drawings, design details, specification and bill of quantities can be a daunting task. How sure can one be that what was included in the 'design' is what was actually built?
Over time, older buildings may have been updated, modernised, changed lawfully or unlawfully, may comply with the Building Regulations of the day or may not. Is anyone really going to know unless intrusive surveys are undertaken? And do we accept a percentage of opening up, or do we check it all?
Navigating the requirements of the Building Safety Act is no envious task, but applying the process from RIBA Stage 1 on every project, regardless of use, can only be the right thing. Retrospectively applying the requirements of the Building Safety Act and its associated legislation will be difficult, but more important than ever.
Creating an accurate retrospective digital golden thread
As the legislation is still in development, we don't currently have all the answers – but we do know that there are key questions we need to be asking ourselves as an industry.
It's worth remembering that the point of the digital golden thread of information is not to keep – or find – every detail about a building – it only requires information that is relevant to building safety, kept in a digital format.
The digital golden thread of information is intended to be a source of evidence demonstrating how building safety risks are understood and how they are being managed on an ongoing basis. The Accountable Person should be able to prove to the Building Safety Regulator that the measures currently in place were designed, installed, maintained, and inspected:
by competent people – whilst secondary legislation is due, this is currently defined as "having the necessary skills, knowledge, experience and behaviours and where organisations are involved, the appropriate organisational capability". (For more information on competency click here.)
in accordance with relevant legislation, standards, and manufacturers' recommendations
As the Accountable Person, you will need to demonstrate that you have taken all reasonable steps to find as much detailed and accurate information as possible. The relevant safety standards which were in place when your building was built, and during any later refurbishment, will need to be recorded. If this information is not available, the Building Safety Regulator will want to see evidence that you have attempted to find it.
Of course, your building's individual circumstances will dictate what reasonable steps you are able to take to record and manage your safety risks.
The Building Safety Act should be a wake-up call
What's clear is that applying these regulations will create a fresh standard for new builds, but it will be a complex process retrospectively. At Hydrock we are closely following the legislation as it develops but there are still many questions as to the details of the digital golden thread process. What is clear is that cultural change across the industry is necessary and this is an opportunity to embrace it.
The construction industry cannot expect to carry on as it did before. Unfortunately, the circumstances that led to the tragic loss of 72 lives at Grenfell Tower in 2017 were not isolated to that building. A fatal fire at Lakanal House in 2009, and significant structural failings at DG One leisure centre in 2018 and 17 schools across Edinburgh in 2016/7 were all further building safety wake up calls.
The Building Safety Act and the digital golden thread of information are an opportunity to embrace the change for the better, creating a dynamic shockwave that spreads through our related professions and into an industry that needs to modernise. We have a great opportunity here to change the systems or processes we struggle with, whether that be procurement routes, or lines of communication.
Whether we embrace the influence of digital disruptors from other industries or push for rapid change from within, we need a pliable solution that can sweep the construction industry up with genuine change, and improve its image along the way. And, most importantly of all, it needs to make places for those who live and work in the built environment safer and more pleasant to be in.
*It's worth noting that the consultations have currently been labelled as "Applies to England", meaning buildings in Scotland, Wales and Northern Ireland may need to do something differently. We will share more on this as it develops.
Building Safety Act: latest news
Stay informed with our dedicated newsletter featuring coverage from our conference and other quality content.