Back to Articles
The Building Safety Act's second staircase consultation: the easy way out for politicians as well as residents?
Adam Eaton
\
12th Apr 2023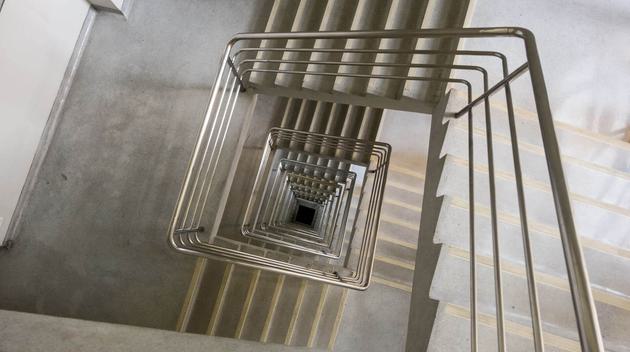 Following the Grenfell Tower tragedy in 2017, Dame Judith Hackitt's review led to the transformative Building Safety Act. This is set to be a complete shake up of building regulations that will have an enormous impact on the way buildings are designed, built and maintained. The legislation is still in development, but what has become clear so far is that there is not one simple solution to make buildings genuinely safer.
Yet, some organisations and political bodies are turning to mandatory second staircases in new buildings over a certain height as a potential answer. It's easy to see why: another staircase is a tangible, physical thing, but we mustn't be enticed into a knee-jerk reaction. We need to remember that fire safety covers a number of measures that are all equally important, even if some are more visible than others.
Why a second staircase?
The Department for Levelling Up, Housing & Communities (DLUHC) introduced the possible requirement for a second staircase in buildings above 30m in height just before Christmas 2022, encouraging all developments "to prepare for this change now". Then, in February 2023, the Mayor of London mandated a second staircase in all new buildings above 30m with immediate effect.
Long term supporters of second staircases in tall buildings include RIBA, who have been calling for it since 2018, and the National Fire Chiefs Council (NFCC). One of their arguments is that a second staircase would provide more room for firefighting activities (such as hoses on the floor) and evacuation routes.
The traditional advice to residents of tall buildings in the event of a fire is to 'Stay Put', avoiding mass movement while the firefighters contain the fire in one area of the building. However, public trust in Stay Put has dwindled post-Grenfell. NFCC figures showed nearly 8,500 residents of tall buildings chose to evacuate between April 2019 – March 2022.
However, it's also worth noting that a second staircase in residential higher risk buildings was not in the recommendations made by Dame Judith Hackitt in her inquiry. Why is that? There is no actual evidence that single staircases pose a greater risk to safety. Her recommendations focused instead on a significant shift in the culture of the construction industry – concentrating on competence and an effective combination of multiple, more robust safety measures.
"

There are clearly arguments for and against second staircases, but our decision-making process should always be evidence-based.

"
Besides, there is already confusion in the industry over the minimum height for a second staircase, as the NFCC recommends it should be 18m or seven storeys, differing significantly from the government's 30m stipulation. Tall buildings between these heights currently in development are now stuck in a grey area of delays, and developers face overall market uncertainty. Industry experts are predicting that a mandatory second staircase could cause a loss of up to 6% of residential floorspace in London alone, equating to 1.5 rooms per floor or around 5,400 new apartments in total. This unfortunate reduction in much needed housing sits at odds with the Mayor of London's targets to build over 100,000 new homes this year.
There are clearly arguments for and against second staircases, but our decision-making process should always be evidence-based. There will be plenty of times when a second staircase is the right decision – but whether there are one or two, we should remember that all fire safety measures need to work in harmony together. We don't want a second staircase to act as a panacea that could accidentally lead to other, less visible, but just as vital measures being neglected.
How can we use the Building Safety Act to keep higher risk buildings safe?
We should be going above and beyond to make buildings the safest they can be. When it comes to decision-making around fire safety, the current guidance – Approved Document B – has been called not detailed enough. An open letter to the industry published by the Government in August 2022 explained that detailed fire engineering analysis will be required.
The fire safety measures a fire engineer currently explores in buildings over 18m include:
An evacuation alert system
Sprinkler systems
Non-combustible walls
Ensuring the new Building Safety Act regulations are embedded in a project from the off.
We need to start as we mean to go on – new buildings, with or without a second staircase, need such passive and active fire protection measures that are maintained properly, on an ongoing basis, to ensure they are as safe as possible.
Of course, existing residential Higher Risk Buildings are also due for a serious shake up via the requirements of the new Building Safety Act. From intrusive surveys to data gathering, there will be lots of retrospective work for building owners to do to officially establish the condition and safety of their buildings, so they can put together the mandatory digital golden thread of information.
Building safety should always be our biggest concern. When the correct safety measures are in place, and are maintained carefully, one staircase could be a perfectly safe option. There will be many cases where a second staircase will actually be the safest option instead – but either way, such decisions should always be evidence based, with detailed analysis that takes multiple factors about that particular building into account.
As an industry, we must be a force for good – we have a responsibility to make buildings as safe as possible, and that includes using every tool in the toolbox rather than relying on solutions that look convenient but might, in fact, be too good to be true.