Back to News
Best Companies to Work For Survey – the 2022 final results are in!
7th Nov 2022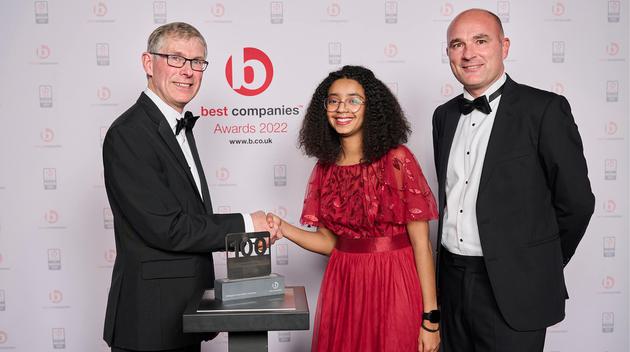 Battersea, London is the spiritual home of The Best Companies to Work For Survey. It was the scene last week for the return of the in-person annual celebration of companies who go the extra mile to stand out from the crowd and create great work environments for their people to thrive.
Drumroll please…. the final results are in and we couldn't be more chuffed to say that Hydrock has been ranked as the 26th Best Large Company to Work For in the UK.
And the best news is, that it isn't us saying it – it's our staff!
Renowned for being the most extensive research into employee engagement in the UK, the annual Best Companies ranking assesses companies based solely on the scores and ratings provided directly by employees via a survey which can take place over the course of a year.
As a business we feel quite passionate about how we engage with our people, which is why we've taken part in the listings for the past thirteen years, with consecutive listings in the top 100 for the past eight years.
The progress we've been making on Diversity, Equity and Inclusion with incredibly strong output from our Employee Resource Groups covering issues such as race, menopause and baby loss, are just recent examples of how we want to create an open and inclusive work environment.
Guided by our values and distinctive culture, it's what sets us apart in the industry, but just like other companies, we too are on a journey and we have no intention of resting on our laurels. We still have so much we want to achieve with your help.
Commenting on our recent ranking, our CEO, Dr Brian McConnell, said:
"

Without our staff, there is no Hydrock. They are the intellect, the innovators, the very heart of this company, so their wellbeing is of the upmost importance. I'm enormously proud of this achievement for Hydrock, eight consecutive years is truly something to be proud of.

"
The citation on Hydrock by Best Companies states that 94% of staff agreed that their team is fun to work with, 79% of staff agreed they're happy with the balance between work and home life, and 85% of staff agreed their job is good for their own personal growth.
The complete listing from Best Companies is available to view here.