Back to News
Celebrating International Women in Engineering Day 2023: A journey of empowerment and growth
22nd Jun 2023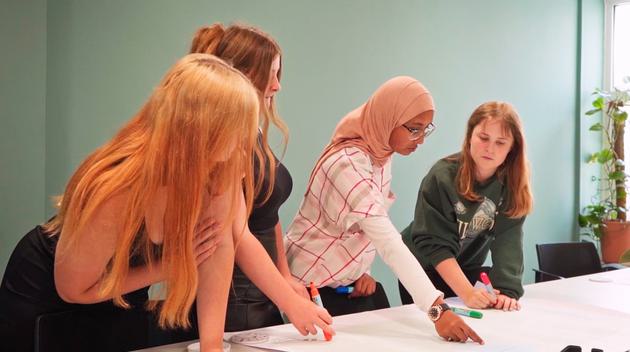 Today marks International Women in Engineering Day (INWED). In the past we've celebrated it in various meaningful ways by amplifying the voices of our female engineers and hosting inspiring events.
As we once again take the time to acknowledge INWED, we can see how these conversations and initiatives are having an impact.
Let's briefly rewind
For INWED 2022 we gathered some of the industry's top professionals for a thought-provoking roundtable discussion. Together, we explored the need for new routes into the property sector to ensure future diversity. We challenged the traditional entrance criteria and called for alternative benchmarks that value aptitude, attitude, and ability rather than mere exam results and university degrees.
We focused on empowering school-aged children, ensuring they see a diverse range of role models and receive accurate information about our industry. These discussions lit a spark within us, propelling us forward on our journey.
What happened next
Fully committed to engaging with young minds at an early stage, Hydrock has now hosted a number of STEM events aimed purely at young women, aged between 14-18 from diverse backgrounds and schools, ranging from a week-long event in Wales to a series of single day events in Bristol.
We've been impressed by the passion they demonstrated for their futures, grasping the opportunity to be exposed to just one of many careers afforded by STEM.
And now…
We're delighted to announce that Farzana Alam, one of the participants from our Girls in STEM event, who also previously took part in a week of work experience, will be joining us as an apprentice in our Cardiff office, spending three days immersed in the civil engineering discipline and two days at the University of South Wales.
Commenting on Farzana's appointment, Richard Baker, said:
"

Farzana immediately stood out, from the point that she joined us for work experience, with the week-long STEM event serving to reinforce her passion for engineering. We could see her clear aptitude for solving technical issues and know that her innate head for engineering promises a bright future. Building on this, thanks to last year's STEM event in Cardiff being so successful, we're delighted that it will now become an annual event, creating a pathway for other young women to follow.

"
Working closely with Farzana will be civil engineer, Jessica Li who said:
"

Farzana's exceptional talent, dedication, and enthusiasm made a great impression on us. She very quickly became part of the team and we're thrilled to welcome her back later this summer when she officially begins her journey with us. We can't wait to see her thrive and grow.

"
Farzana's journey from a participant in our Girls in STEM event to becoming a member of our team is a testament to the positive impact we can create through our initiatives. It exemplifies the progress we are making in attracting young female talent into our industry and fostering an inclusive environment where everyone can thrive.
Today, as we celebrate International Women in Engineering Day, our eyes are open to the challenges that still lie ahead, however our commitment to gender equality and diversity in engineering remains unwavering.