Back to News
Hydrock launch new data-led estate optimisation product for estate directors
4th Sept 2023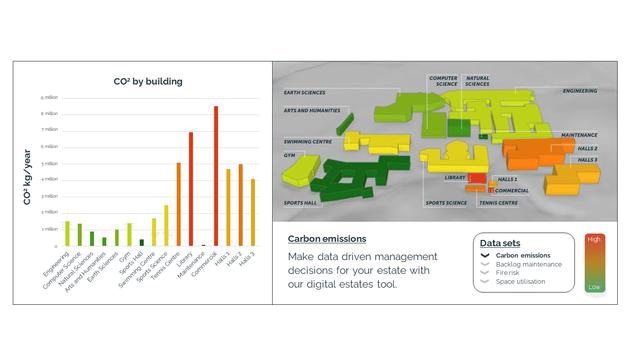 Hydrock has unveiled a new data-led product to help estate directors and managers understand the operational performance of their estate. The product helps estate directors by gathering the best data to inform decisions that achieve efficiencies, decarbonisation and the safety and wellbeing of users.
'Digital Estates' is a new tool from Hydrock that takes a data-first approach to aggregate and present in dashboard style key metrics for a real estate portfolio. It solves the challenge of how investment in maintenance, improvement and efficiency programmes should be prioritised and managed.
Speaking about the product, Chris Bowie-Hill, director for innovation delivery, said:
"

People responsible for large estates in sectors such as healthcare and higher education told us that their biggest headache was knowing where to start. With so many challenges from climatic, regulatory and behavioural change issues, the key is to prioritise spend and ensure maximum value is delivered against all these challenges, and not in isolation. It became clear that what estate directors need is a single source of truth where all of the information and demands on their estate is visible in one place. From this, the concept of 'digital estates' was born - a tool that draws this data together to be interrogated and manipulated to identify the most efficient and effective use of capital investment to future-proof their estate.

"
Hydrock's digital estates product brings data from across an estate and its assets, combines and assesses it with open-source data to visualise utilities, carbon, maintenance, fire risk, climate risk, and surrounding GIS information.

Chris continued:
"

Estate directors are contending with so many demands. They need to understand the impacts of new fire safety legislation, respond to decarbonisation and net zero targets, consider air quality and overall wellbeing, and reduce energy bills and consumption. What we find by analysing the data performance of an estate, is that several of these objectives overlap. However, without that digital interpretation this can be missed and budgets can be allocated in isolation to improve one aspect, when a more nuanced approach could have tackled several needs at once for a more efficient spend and outcome.

"
'Digital Estates' is a product that provides an evidence-base to support decisions to commit to maintenance and capital improvement projects. It helps to better balance CapEx and OpEx decisions to create a more sustainable outcome.
Our engineering, energy and sustainability teams will then support estate teams, typically in the healthcare, education and defence sectors, to apply for relevant publicly-available funds to support their commitments to decarbonisation, and design the solutions for implementation.