Back to Articles
What happens when power is more valuable than land?
Leah Holmes
\
10th Jan 2023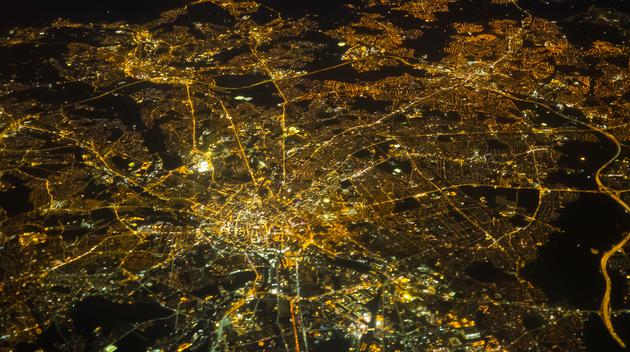 Leah Holmes, Associate in our utility management team assesses the impact of limited grid capacity on future developments.
Eight years. Let this sink in. Eight years has been quoted to get the required power connections for a proposed development in the pharmaceutical sector in the Thames Valley.
This is why there is a growing body of opinion that for real estate development, having access to power is more valuable than the land itself.
Sending up a flare in west London
In summer 2022, the Greater London Authority (GLA) published a report on the 'West London Electrical Capacity Constraints' having been alerted to the lack of grid capacity by a number of housing developers.
This of course is a region hugely popular with energy-intensive data centre operators who are locating adjacent to fibre optic cables that pass along the M4 corridor and then across the Atlantic.
The scale of the problem shines an unfavourable light on our aging and under-invested electrical infrastructure which is evidently not ready for an energy transition from fossil fuels. Indeed, the GLA reported that recent applicants to Scottish and Southern Electricity Networks (SSEN), who own and operate the electricity distribution network in this region, are being advised that there is not sufficient capacity for a new connection up to 2035. Smaller scale connections, for example residential developments of less than 25 units and EV charging points are less affected, but not out of the woods.
The GLA are coordinating all the major players in this situation, including SSEN, National Grid Electricity Transmission (NGET), National Grid Electricity System Operator (NGESO), UK Power Networks, the affected London boroughs, developers and the data centre operators themselves. Discussions centre on how to progress updates to the distribution and transmission network and alternative sources of accessing power.
But this is not an issue solely isolated to West London and the Thames Valley. On a relatively innocuous upgrade to a car park serving a rail station in Northamptonshire, the wait for power is three to four years. This is simply to install regular lighting to the car park and meet the local authority's planning regulations to provide electric vehicle charging to just 5% of the spaces.
In this specific case, the distribution network operator (DNO) is focused on the capacity upgrades required to support a nearby 10,000 home development. To supply the car park alone, they'll need to upgrade 4,000m of extra-high voltage cabling. The irony is surely not lost on anyone that a local authority's enforcement of a need for dedicated EV spaces is actually the reason that a site becomes less viable and delayed.
This irony increases to a mind-boggling point when a suggested* solution by a third party to overcome the unavailable capacity was for a diesel generator to run 24/7 to supply the EV charge points whilst the power supply is awaited from the grid. If you didn't catch that the first time, let me repeat it louder for those at the back. Diesel … to provide the power for EV charging for electric vehicles … which were invented to reduce the use of diesel as a fuel! [*I can categorically confirm, this suggestion did not come from anyone within Hydrock!]
These are staggering statistics that shine a light on the UK's creaking utility infrastructure. In our work, this three to four year wait, accompanied by complex and expensive network reinforcements, plays out in 70% of the schemes we support.
Ready access to power is therefore a priceless asset for developers and landowners.

Time to get tactical
If there's competition between sites to access power, it's time to get tactical.
Securing power capacity requires a strategic approach all of its own. A wide range of information is needed from which decisions to phase both investment in power and a development build-out programme can then be made. Typically, it's important to understand:
The size and voltage of the utility infrastructure around a site and its likely capacity thresholds
Existing supply agreements with the DNO's
Current usage and available capacity at existing substations
Potential constraints on the network
Your future load demand and power requirements
The load gap between existing supply and future demand
Your own needs and your willingness to phase your requirements
Options to procure power from an alternative company to the incumbent DNO
Route proving studies to rule in or rule out alternative connection points
Whether your site has space to site your own primary substation
Opportunities for onsite generation and storage to reduce peak demand
Given the constraints on the network, what is clear is the importance of putting in a request for power to the DNO at the pre-planning stage, and for large schemes, engaging with the DNOs strategic planning teams so they're aware of upcoming developments requiring a power connection.
Power availability is now a key part of any site due diligence assessment. Once a decision is made to invest in a site, new or existing, formally applying for connectivity is a vital step in-conjunction with a planning application.
The smart money is on microgrids
Connecting to a local renewable energy generation scheme to supply power via a private wire power purchase agreement (PPA), or investing in your own micro-grid, is an increasingly smart, effective and commercially advantageous way to reduce the load required from the grid.
With many local plans requiring investment in onsite or nearby renewable energy generation to reduce energy related carbon emissions, extending the investment to a microgrid to capture the lifetime benefits of the renewable technologies, is a logical step to take.
Our recent financial modelling of a proposed microgrid for a major development site in Greater Manchester revealed the long-term financial benefits that can be achieved. Upfront costs to invest in power generation and storage are considerably more, in this case by almost £400,000. However, over 25 years there is an eight-fold increase in return on investment compared to investing in the minimum requirements to meet planning regulations. Indeed, payback on the investment is also achieved quicker by five years.
If the idea of financing, owning, installing and managing energy is too much, there is a burgeoning market from third-party operators to offer 'energy as a service' (EaaS) to developers on a long-term agreement. The EaaS provider designs, builds, owns and operates the energy system on behalf of the developer.
In terms of higher utilisation of renewable energy, security of supply through storage, and the ability for users to pay the operator solely for the units they consume, the resulting environmental, social and governance (ESG) benefits strengthen the case for investing in microgrids.
Read more about our power procurement strategy service here.