Structural solutions driving forward ambitious leisure operator's growth plans in northern England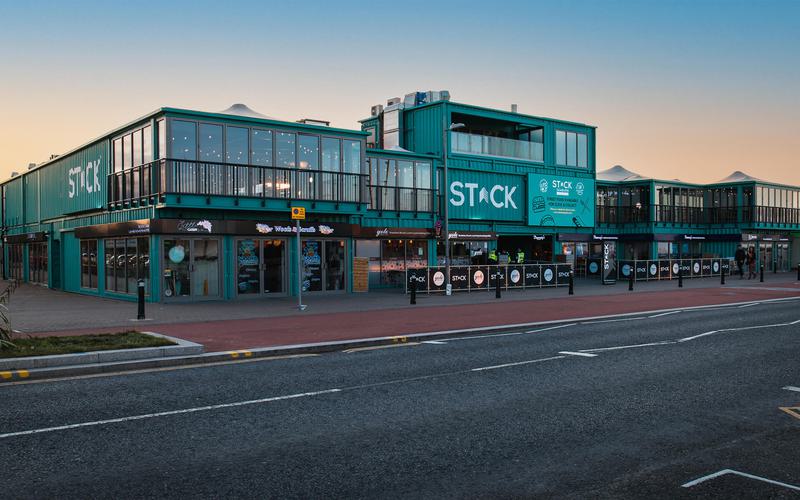 We were appointed to provide structural engineering solutions for the UK's second STACK venue. The success of the uber-cool hangout spot has been the catalyst for the developer's plans to expand its portfolio of venues across the north of England.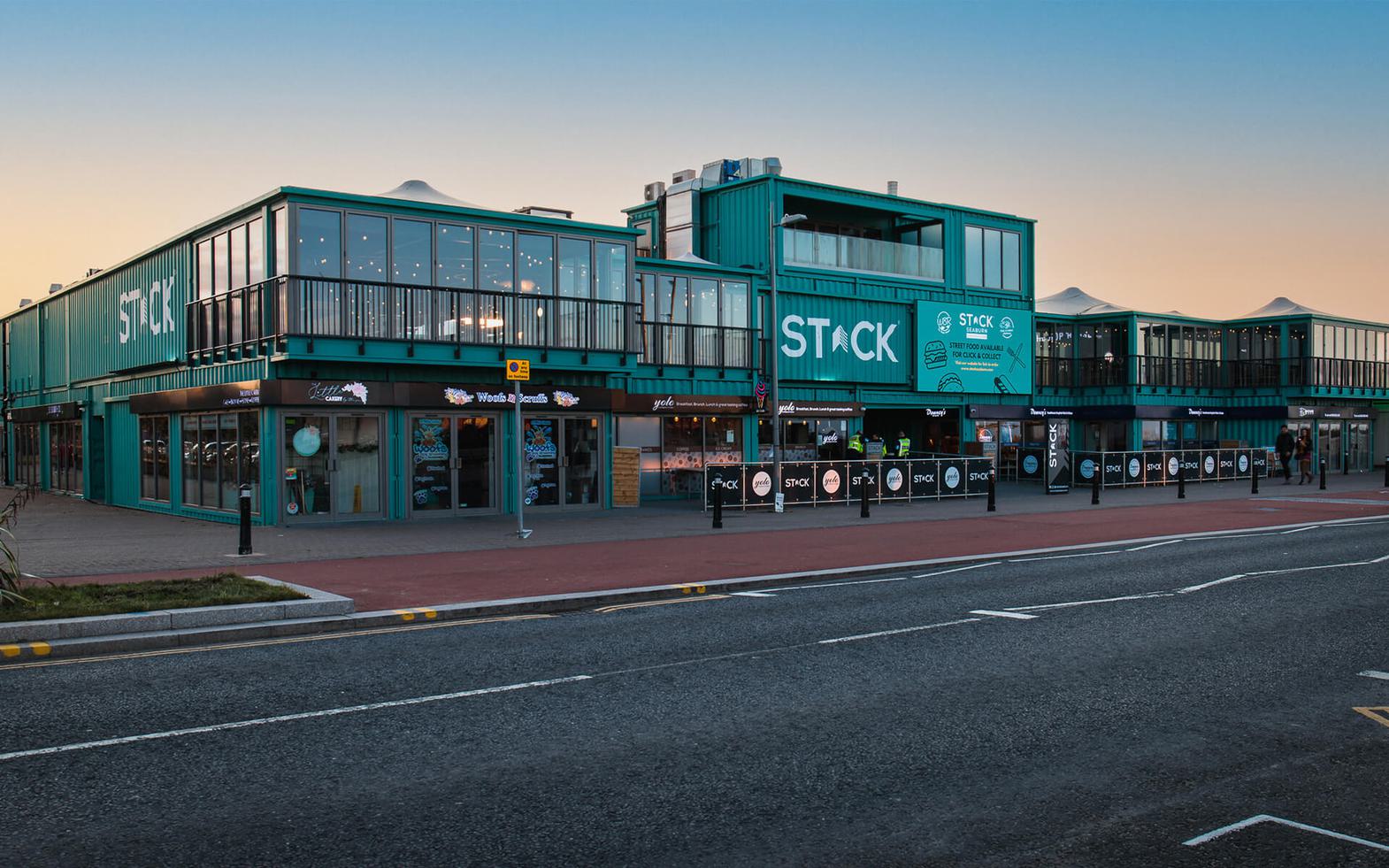 STACK Seaburn is a shipping container village providing an unforgettable leisure destination for the community in Sunderland, north-east England.
Developed by Danieli Holdings on the back of the hugely popular STACK Newcastle, the project had a construction value of £3m.
The leisure operator worked closely with the team at Sunderland City Council to bring the site on land opposite Seaburn's promenade forward, creating a vibrant, flexible and relaxed space that can be enjoyed by everyone.
The 'stacked' concept
STACK Seaburn was created using a 'stack' of around 50 reused shipping containers, assembled to make an enclosed village that can operate in all weather conditions.
Designed by Dunwoodie Architects, the 600-capacity venue predominantly comprises a two-storey structure with a small three-storey section on the front elevations.
It also includes a decked area on the first floor, perfect for sunny days by the sea, and a ground floor stage area, bordered by 12 units that provide dedicated space for independent food and drink providers and other retailers.
Structural load numbers that stack up
At STACK Seaburn, our brief was to breathe new life into existing container structures while maintaining the impression of a development formed from shipping containers.
One single 40ft shipping container has a tare weight of approximately 3750Kg and can carry a gross load of 26,300 Kg which equates to an approximate UDL of 8.9kN/m2 in total, meaning the proposed load — live and dead — within the container units would only equate to around half of the achievable gross load.
As such, we were confident of controlling costs and reducing the environmental impact by using existing materials while ensuring a great-looking venue.
A unique multi-purpose venue
Located on the site of the former Seaburn Centre adjacent to Seldon's Leisure World, immediately opposite Whitburn Bay, STACK Seaburn has been designed for construction in two phases.
As it stands currently, the venue is split over two main levels with an extended third level at the front which will act as a honeymoon suite when the second phase of the site, comprising an indoor entertainment and wedding space at the rear of the venue, has been developed.
Shipping containers wrap around the front and two side elevations to create an open-air music zone in the centre with a stage at the back. As they're stacked on top of each other, structural spacers which were essentially stocky compression members have been used to form a service zone below the first-floor containers.
On the first floor, a deck area constructed from hot-rolled steel beams and timber infills acts as a diaphragm. These connect back to the containers at one end, and are supported on columns around the internal void which overlook the stage area.
Shipping containers are built to be strong and secure. In order to construct a deck of this nature, our structural engineers optimised the quantity of structural elements within the superstructure and substructure by utilising the strength, and stiffness, of the containers to support vertical and horizontal loads.
We took a similar approach at roof level, modifying containers to provide connections points for tensile fabric structures which have been adopted for the roof overhanging the deck.
In addition, a further arrangement of tensile style tents has been fixed to a frame over the main stage area, providing a combination of high durability and safety.
Weather-proof structural solutions
Our main challenge was dealing with the wind loads and salty moisture particles in the air, with the site being immediately next to the North Sea.
To overcome wind loads we relied on the existing container support posts and inherent rigour of the side panels to transfer load in compression and tensions to the foundations — while containers are anchored to the foundations to resist any uplift from wind loads.
Where the sides of containers needed to be altered, we retrofitted moment frames to ensure they have adequate racking resistance.
In November 2021, Storm Arwen essentially served as a live testing event for the development. On the back of it, we carried out structural surveys on a number of traditional properties along the coast to assess damage caused by the storm.
The results revealed that STACK Seaburn's primary structural elements i.e., the shipping containers, which after all have been designed to resist harsh climatic environments, connected support frames and foundations were unaffected.
Building a case for the shipping container village
As a result of a hugely inefficient system, there are millions of used shipping containers going to waste and left to rust around the world.
Recycling them is an option, of course, but melting them down uses around 8,000 kWh of energy. Converting them, however, can use as little as 400 kWh.
For this project, we were able to modify used shipping containers, retrofitted with basis strengthening features using simple engineering principles to make them suitable for a new purpose.
To put it in to perspective the process of making virgin steel in an oxygen furnace produce embodied carbon dioxide emissions in the range of 2,800 kgCO₂e/t.
Through careful planning and supply chain management, shipping containers present a huge opportunity to reduce the consumption of raw materials by reusing existing structural components.
A big hit in the local community, creating social value
The venue in Seaburn officially opened in September 2020, creating more than 200 jobs for people and boosting the local economy in the process.
Despite opening during the pandemic, it proved to be a huge hit with more than 700,000 people visiting in the first year.
Moving forward, it's all stacking up
Further STACK venues are planned for Bishop Auckland, Lincoln and Middlesbrough.
Got a project in mind?
Get in touch.