A facility made to inspire and prepare the next generation of engineers
The University of the West of England (UWE)
Bristol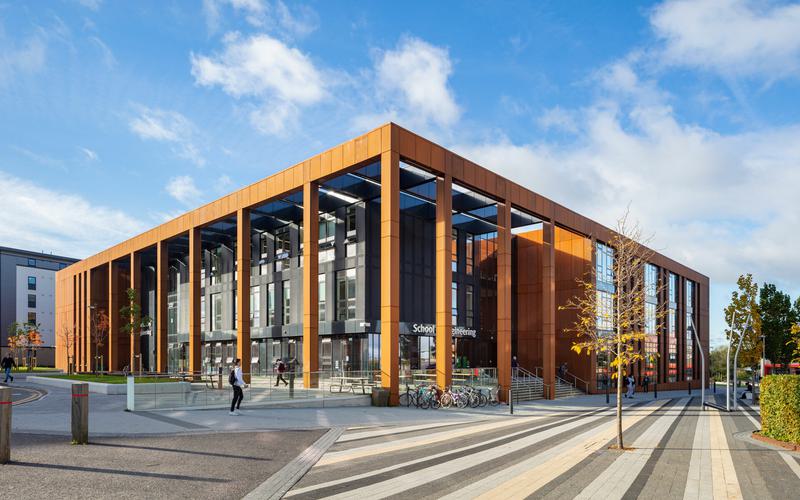 1,600
Students accommodated
8,500 sq m
Engineering and Design Faculty Building
The University of the West of England's Faculty of Engineering and Design delivers state-of-the-art teaching and research facilities, ready to train the next generation of engineers.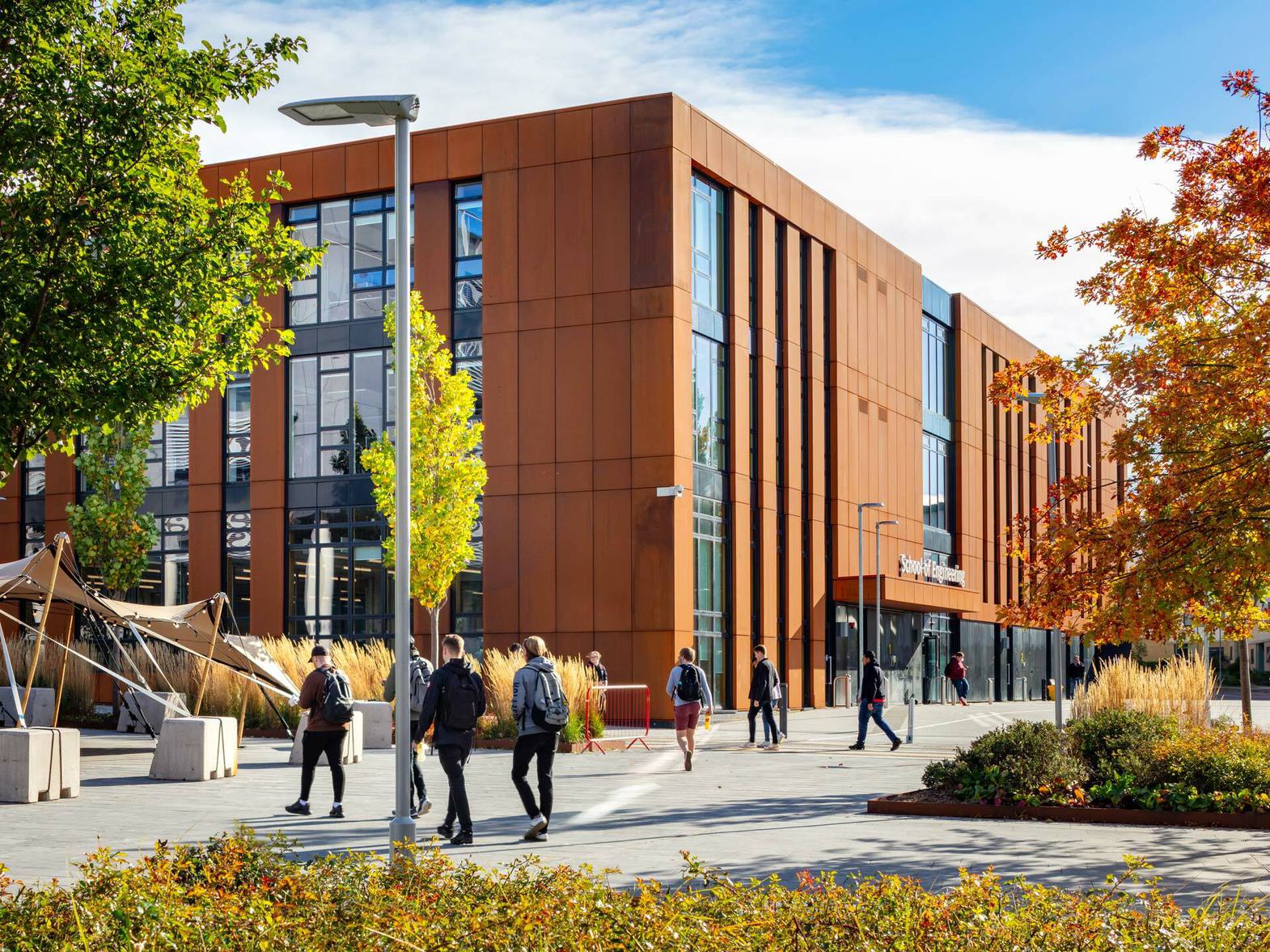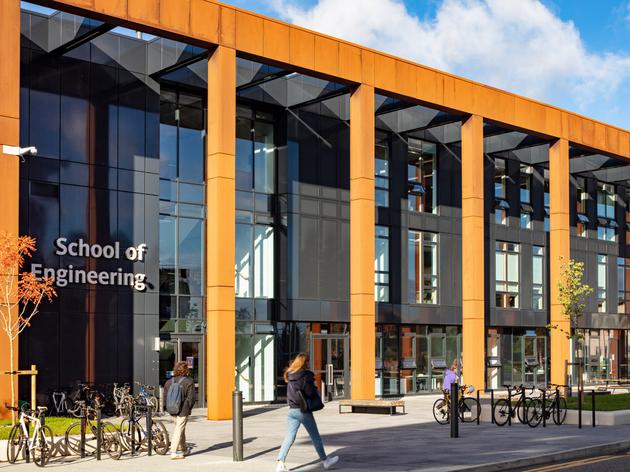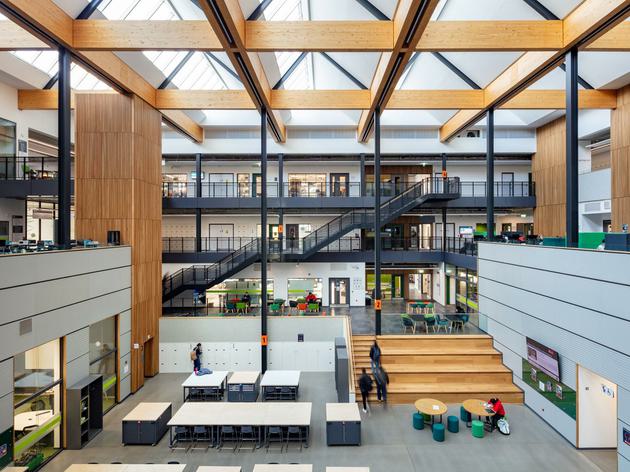 For this award-winning 8,500 sq m facility designed for the University of West of England (UWE), we provided full end-to-end multidisciplinary engineering services from RIBA Stages 1 to 7.
Reflecting UWE's aim of encouraging greater diversity within engineering and meeting the local demand for skilled graduates, the iconic, Corten steel clad building features flexible and collaborative teaching, learning and research spaces for 1,600 students and 100 employees.
Finished in November 2020, the building supports many different engineering disciplines in one contemporary space. Three storeys of laboratories and teaching spaces surround a central atrium - a large, open space flooded with natural daylight. As a communal space, it tiers upwards and outwards from a ground floor platform, featuring multiple interactive spaces for sitting and collaborating.
At the 2021 British Construction Industry Awards (BCIA), the building won Project of the Year and Social Infrastructure Project of the Year.
"

We were impressed at how well this project delivered against a range of challenges, including the intelligent design - where every space within is a potential learning space, and design choices are made to not only encourage collaboration, but also to ready students for their future careers in engineering by replicating the types of environments they will go on to work in.

"
BCIA judges citation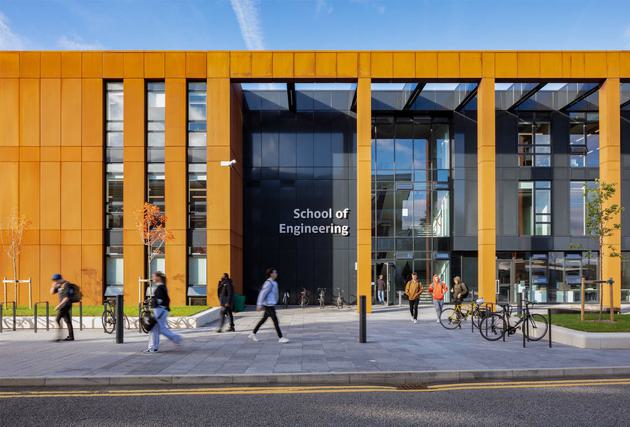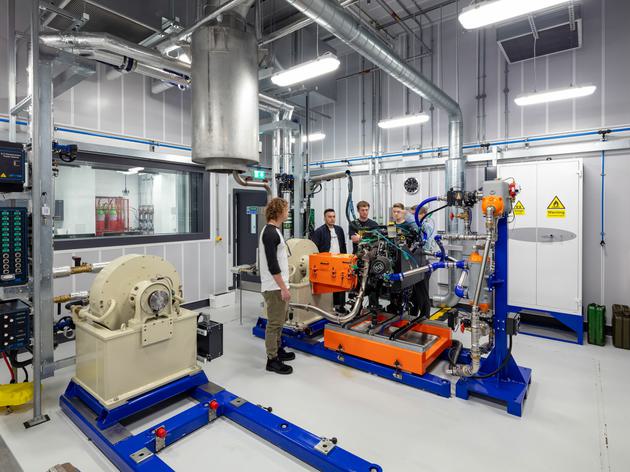 Engineering solutions
UWE's Faculty of Engineering and Design required a bespoke building that would cater for a diverse range of engineering subjects and responds to how modern engineering, research and problem solving are tackled in the industry. Specific areas required very different physical properties, with each teaching space having a unique purpose.
The building reflects the physical nature of different engineering subjects. This involved designing spaces for 'heavier', material-based engineering on the ground floor and catering for 'lighter' and cleaner engineering forms, for example hydraulics, acoustic and electrical, as you move up each of the three floors.
More traditional 'heavy' engineering subjects such as structural engineering, construction material, mechanical workshops and engine test cells require large spaces that are highly serviced and are typically loud due to the machinery and processes involved. These testing spaces need to absorb vibrational impact and minimise disturbance to other teaching spaces nearby, which we achieved through designing a reinforced concrete 'floating slab' mounted on special acoustic bearing pads at regular spacings. A 1.2m thick reinforced concrete strong wall and strong floor, capable of withstanding 150t, has been designed to enable testing of construction material and aircraft components. Bespoke anchors embedded within the strong wall and strong floor and a 2.5t lifting crane have also been designed to meet the university testing requirement.
As many of these ground floor engineering workrooms generate high levels of noise, a key challenge for our acoustic engineers was to determine the level of sound insulation necessary to achieve acceptable internal noise levels in the adjoining rooms during the operation of equipment. Where necessary, reaching a pragmatic approach between practical design and acoustics standards.
On the floors above this, high-tech electronics labs, modelling and simulation suites and mechatronics labs with robotic arms had different requirements again, needing solutions to combat high heat gains and sensitivity to noise and vibration. A thermo-fluids lab required floating power sockets mounted from the ceiling to counteract any potential issues from regular water simulations, while a programming laboratory features a large robotic arm, which is very sensitive to the room's doors opening and shutting.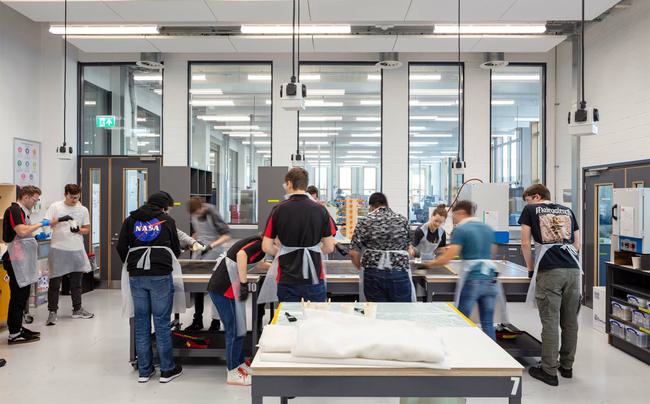 We used precast concrete planks spanning up to 12m to create large, open floor spaces that allow for flexible arrangement of teaching spaces. Designed to sit on a bottom plate welded to a steel beam greatly reduced the structural depth compared to more traditional methods. This also provides an exposed flat soffit that's hugely beneficial to service distribution and achieved the architect's desired aesthetic. Our structural engineers also helped the contractor to reduce the construction program by using various off-site manufactured precast elements such as ground beams, shear walls, floor planks and retaining walls.
Ensuring each space had the particular services required and wouldn't cause interference to adjacent teaching and learning spaces was a particular challenge.
Our input into the stakeholder process was key to the project's success, including multiple workshops with each team of lecturers and technicians to define the particular requirements of each space. This interactive process ensured that we optimised all MEP requirements.
In addition, our team developed innovative and robust fire safety solutions to safeguard the building, which included adopting Monte Carlo and Computational Fluid Dynamics (CFD) assessment modelling.
A sustainable solution
This BREEAM 'Excellent' rated building was designed to meet UWE's ambitious targets to reduce carbon by 2030. Along with adding rainwater collection facilities, a significant solar panel array and a CHP District Heating Network connection, our engineering design focused on making the life cycle of the building as efficient as possible, creating long-term value.
Low carbon design principles, including natural ventilation and passive cooling, were adopted from the start of the design process to minimise the building's carbon emissions.
The project team exceeded their targets and expectations for energy and carbon reduction on this project, with regulated energy use. The MEP engineers achieved a very low 'A' rated EPC value, assisting UWE in reaching their target of a Display Energy Certificate (DEC) 'B' rating.
The facility has been designed as a 'Smart Building', allowing rooms to be controlled individually through the building management system. Levels of CO2 are monitored, with window and louvre vents opening automatically to draw fresh air into the naturally ventilated areas as demand requires.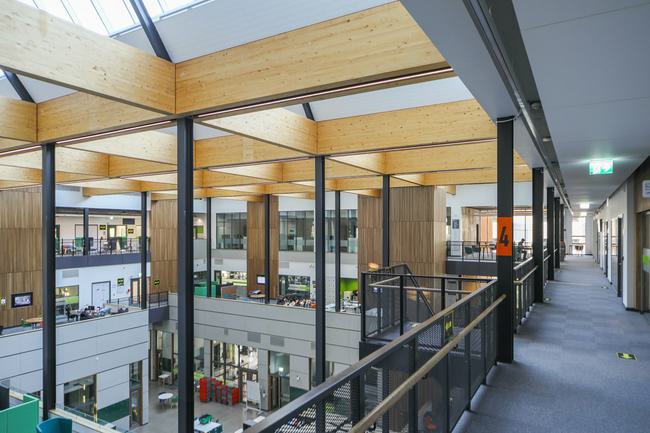 Related specialisms

Fire Safety
Our fire team provided a full liaison with the approving authorities and stakeholders within the university to guarantee that all aspects of the fire safety design were aligned with the desired aesthetic and functional objectives of the scheme.

Acoustics
For our acoustic engineers, the atrium design required careful modelling to establish the quantity and distribution of sound absorption.

Structural Engineering
Our structural engineers designed the building's steel frame, including a northlight roof comprising of cross-laminated timber (CLT) panels supported on exposed steel A-frames, in turn bearing onto twin 18-metre-long glulam beams, supported by exposed UC steel columns.
Modernising the teaching of engineering
The project re-united the award-winning team behind the UKHO headquarters comprising architects, AHR, main contractor, BAM, and cost consultant Mace, along with project management from Capita.
The building has won many accolades including the sought-after Project of the Year at the British Construction Industry Awards (BCIA) 2021, as well as being awarded Social Infrastructure Project of the Year.
It achieved further industry acknowledgement at the Education Estates Awards 2021 when the building was shortlisted for Project of the Year Universities.
Judges recognised the building's intelligent design, where every space within is a potential learning space. Design choices not only encourage collaboration, but also to ready students for their future careers in engineering by replicating the types of environments they will go on to work in. The judges also commented that our client's vision was translated into the scheme, modernising the teaching of engineering.
Images courtesy of Diane Auckland
Got a project in mind?
Get in touch.