Autonomous Vehicle (AV) Modelling
Preparing for an AV future through digital simulation of the way vehicles and people interact with their surroundings.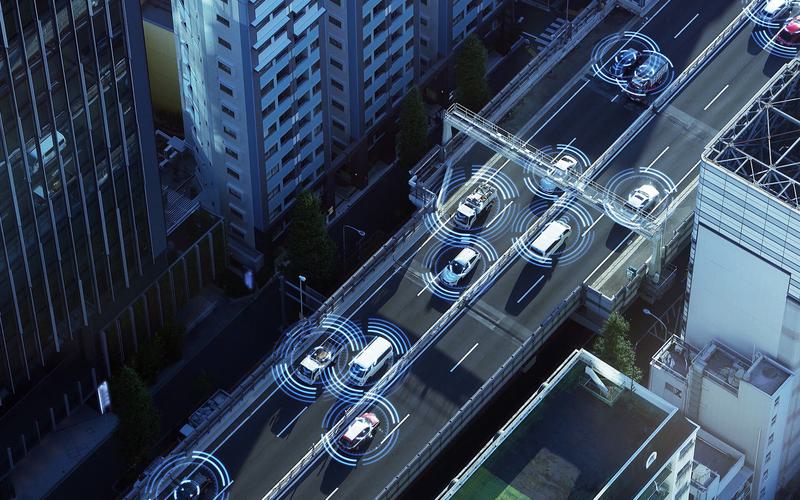 We're living in a new age of progress. A future where autonomous vehicles (AV) will be a familiar sight in urban environments is within our grasp.
Developers of deep-learning artificial intelligence have been steadily progressing through the commercialisation process of developing driverless cars and vans for some time. A coding breakthrough is likely closer than we believe.
As part of this journey, being able to understand how vehicles interact with pedestrians and existing constraints, such as road design, will form a large part of embedding new technologies into our society. ​​​​​​​
Our dedicated Mobility Analytics team has built on existing software to devise a way to assess how an AV will interact with other types of transport and pedestrians within a single model.
Features and benefits of our service include:
Strategic advice that's applicable to long term placemaking policy.
Proof-of-concept / risk-management in advance of physical AV trials.
Review of proposed or existing highway networks for AV compatibility.
Identify changes to existing highway layouts to benefit AVs alongside other users.
Manoeuvring, routing and other scenario testing.
Forecast legacy traffic, pedestrian, cycle and public transport movements for current and future-year testing.
Introducing our AV modelling tool
We've developed an industry-first modelling tool for the AV market.
The software runs alongside Vissim and Viswalk simulation software, which are the world's most advanced products in this space.
We use these as a foundation to assess and predict how an AV will interact with other vehicles, cycles and pedestrian traffic — and, ultimately, how those other users respond to the AV.
Using our AV modelling tool, we input specific AV operating characteristics and analyse not only vehicle behaviour, but also the way in which people interact with it, and the effect of the environmental characteristics within which the AV is operating.
Our modelling provides a critical 'Vehicle-People-Design' linkage which is relevant to the following:
AV manufacturers and operators
Urban designers
Architects and landscape architects
Developers
Local authorities
Government agencies
You can rely on our AV modelling tool to provide realistic scenario-testing at scale. From local to the network-wide, our software uniquely analyses the interaction and feedback between AVs and other users.
Our tool uses manufacturer-supplied data or generic open-source AI to model specific vehicle behaviour, as per project requirements.
In need of fresh thinking?
Think Hydrock.