Back to News
Cardiff office empowers young women in STEM with inspirational work experience week
10th Oct 2023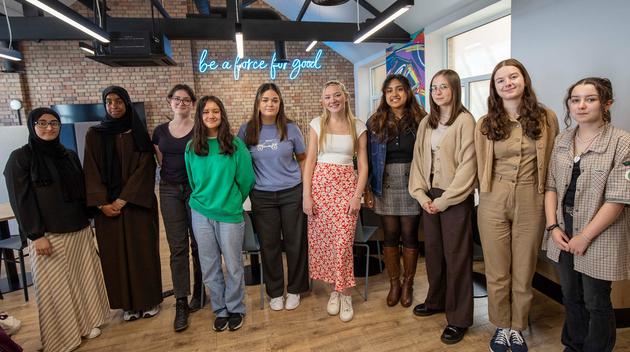 Building upon last year's success and continuing their journey to be a force for good in Wales, our Cardiff office recently concluded its second Girls in STEM work experience week. The event saw 10 young women from diverse backgrounds in Wales, and ranging in ages from GSCE to A levels, step into the dynamic world of engineering.
We are also thrilled to announce that Farzana Alam, one of our participants of last year's Girls in STEM week, is now working with us a Trainee Civil Engineer. She commented:
"

It's nearly been a month since I've started Hydrock and, looking back to my work experience week, they gave me a great taste of what my life working as a civil engineer would be like. I've already learnt so much and my team are very supportive and caring, which makes a great working environment.

"
Girls in STEM week 2023
A fresh approach was adopted at this year's Girls in STEM week, with each day dedicated to a specific engineering discipline, all using the same project as an activity base, Plaza, Port Talbot.
The week kicked off with an introductory session, introducing the students to Hydrock as a company, along with ice-breaking activities to ensure they felt comfortable and connected with one another.
Monday afternoon was dedicated to the geotechnical team, where the students embarked on their own desktop study of the existing Port Talbot Plaza site, they also had the opportunity to don some stylish PPE!
Tuesday belonged to civil engineering, as the girls learned the ropes of AutoCAD and advanced the Plaza project by mapping drainage and analysing the site from a civil engineering perspective.
Wednesday saw the MEP team taking the lead. The girls delved into the multifaceted world of MEP design, understanding its connections with other disciplines and sustainability. In the afternoon, they let their creativity shine through lighting design exercises.
Thursday provided a unique opportunity for the girls to interact with two specialist teams: air quality and fire safety. The air quality segment delved into the intricacies of air quality management, while the fire team discussed the evolving role of a fire engineer and changing regulations. The girls engaged in reading recommended guidance and applied this knowledge to inform their own design of fire safety drawings for Plaza.
Following lunch, Thursday afternoon was led by EESW Cymru, introducing a different facet of STEM: coding. The girls embraced the challenge of coding robots from scratch, enabling them to make their creations move, dance, and engage in robot wars-style battles.
Friday focused on equipping the girls with essential skills they could take away and use even if they didn't choose the path of becoming an engineer. An interactive session on crafting effective CVs and mastering job interviews provided invaluable insights into future employment prospects. Role-playing exercises helped them navigate interview scenarios with confidence.
Throughout the week, our engineers shared their unique journeys into the world of engineering, discussing both the university and apprenticeship routes, ensuring the girls were well-informed about their potential career choices.
This year's Girls in STEM week was another huge success, made possible by the dedication of our engineers and the unwavering support of everyone involved. Take a look at some of the behind-the-scenes footage, taken by the girls during their time with us, in this video: