Back to News
Cardiff team crowned Consultancy of the Year at Insider Wales Property Awards 2023
20th Jun 2023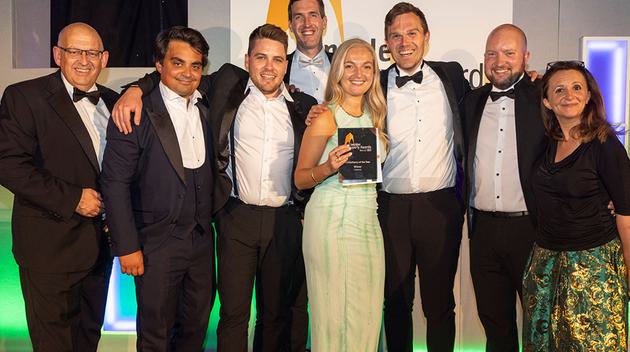 The hard work, dedication, and exceptional achievements of our Cardiff team have been recognised once again as they secured the prestigious Consultancy of the Year award at the Insider Wales Property Awards 2023.
Our Welsh team continue to demonstrate why Hydrock is a leading engineering, energy and sustainability consultancy, with innovative solutions and a client-centric approach. This win cements the team's position as a standout player in the region, serving as a testament to their talent, expertise, and relentless pursuit of success.

Daniel Beynon, Regional Director for Wales, said:
"

Winning the Consultancy of the Year award is a testament to the hard work and expertise of our talented team, and I am incredibly proud of what we all have and continue to achieve. Providing full multidisciplinary services for a wide range of clients, working with key partners on the regeneration and decarbonisation of Wales - our work is close to all our hearts, and we're proud to be playing an integral role in the improvement of our own local communities.

"
The Cardiff team has been instrumental in numerous remarkable projects that have left a lasting impact on Wales. Among their notable achievements is the award winning Bay Technology Centre, at Baglan Energy Park, the first commercial facility in Wales to be energy positive in operation.
Additionally, their recent triumph includes The Plaza at Port Talbot, a regeneration project that received the esteemed Conservation and Regeneration award at the Constructing Excellence Awards 2023. The Plaza, formerly a cinema where icons like Sir Anthony Hopkins, Richard Burton, and Michael Sheen drew inspiration for their future careers, has been transformed into an incredible community hub. This ambitious endeavour by Neath Port Talbot incorporates incubator space for start-up businesses, a hall, fitness centre, cafe, and shops, revitalizing the area and providing an invaluable space for local residents.
These projects showcase the Cardiff team's ability to deliver exceptional results and push beyond boundaries. They have truly set the standard for excellence in Wales.