Award-winning beacon for the local community
Mulberry Park Community Hub, Bath
With an 8m span, eye-catching copper alloy clad cantilever, we delivered the structural engineering design for this award-winning community facility that supports a new 700-home development.
Commissioned by Bath-based housing association and house-builder, Curo, the £10m Mulberry Park Community Hub is designed as a beacon for the local community.

It's community focus and eye-catching design saw it scoop the RICS Awards 2019, South West Community Benefit award and it was also shortlisted for RIBA South West Awards 2021.
With a gross internal floor area of 3,150 sq. m, the Community Hub includes a 210-place primary school, 70-place children's nursery, and community facilities that include a café, clinic, fitness suite, business enterprise spaces, flexible spaces for community uses, and a 4G pitch and multi-use games area outside the facility.
With its eye-catching cantilevered design, the facility supports a contemporary new development of 700 high quality homes and open spaces developed by Curo on a former MoD site near the Combe Down neighbourhood of Bath.
Structural engineering design
Working collaboratively with BDP (architect), Ridge (QS and Project Manager) and Rydon (Contractor), our structural engineering team was briefed to deliver a unique co-location of facilities, that would prove adaptable to future uses.
Designed to BIM Level 2, the striking feature of the Mulberry Park Community Hub is our engineering design of the cantilevered forms of the building. BDP's architectural design was inspired by the Mulberry Harbours which were temporary floating harbours used for the Allied invasion of Normandy during the Second World War, and designed by the Admiralty who were located at this site when it was an MoD base.
A striking copper alloy cladding has been used on the main cantilever and other parts of the building. This is perforated with patterns derived from historic aerial photographs of the harbours and is used to highlight the two beacon elements of the scheme, the main school hall along the Avenue and the third-floor enterprise space cantilevered above the main entrance and public square.
The main cantilever has been designed to span 8m from support to tip at both ends of the Hub. Our engineering design solution was a storey high steel frame truss structure balanced across the central portion of the building.
On the first floor, a 5m span cantilever provides space for a fitness studio and gym. The engineering design necessitated vibration and human response checks to understand and manage the effect on all users of the space given its use for active movement.
Building services design
Our MEP team delivered the services design strategy up to RIBA Stage 3. Our engineering design focused on natural ventilation and natural light, while underfloor heating and exposed concrete soffits admit night-time purging. Large expanses of glass create light-filled spaces on the ground floor for both the school and the café and multifunctional spaces.
Outcome
The Hub enables people to come together, have fun, and try new things. The open day, attended by 875 people, included interactive theatre, dance and story-telling, an opportunity to be a radio presenter through local volunteer-led station, BA1 Radio, and an all-ages Bath Rugby coaching session.
Mulberry Park Community Hub is a trailblazer for future community buildings. A distinctive design, drawing on the history of the site, acting as a meeting place for the communities of Foxhill, Combe Down and Mulberry Park, with facilities to educate future generations and accommodate user groups including the local rugby club.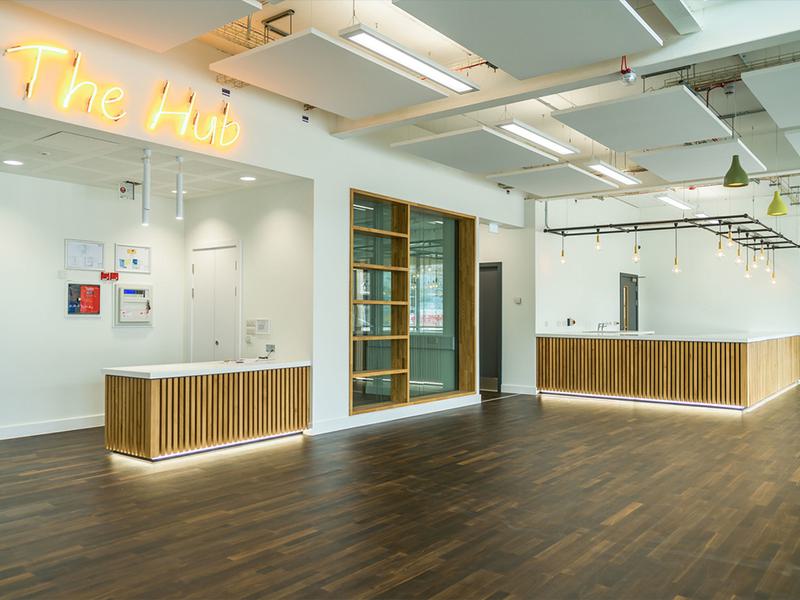 Got a project in mind?
Get in touch.