The exemplary blueprint for net zero BTR development
£70m
Iconic build-to-rent scheme in Manchester
130m
Running track located on the rooftop
Providing a blueprint for the north-west developer's ambition to deliver net zero carbon developments, we delivered a forensic whole life carbon assessment on Vox.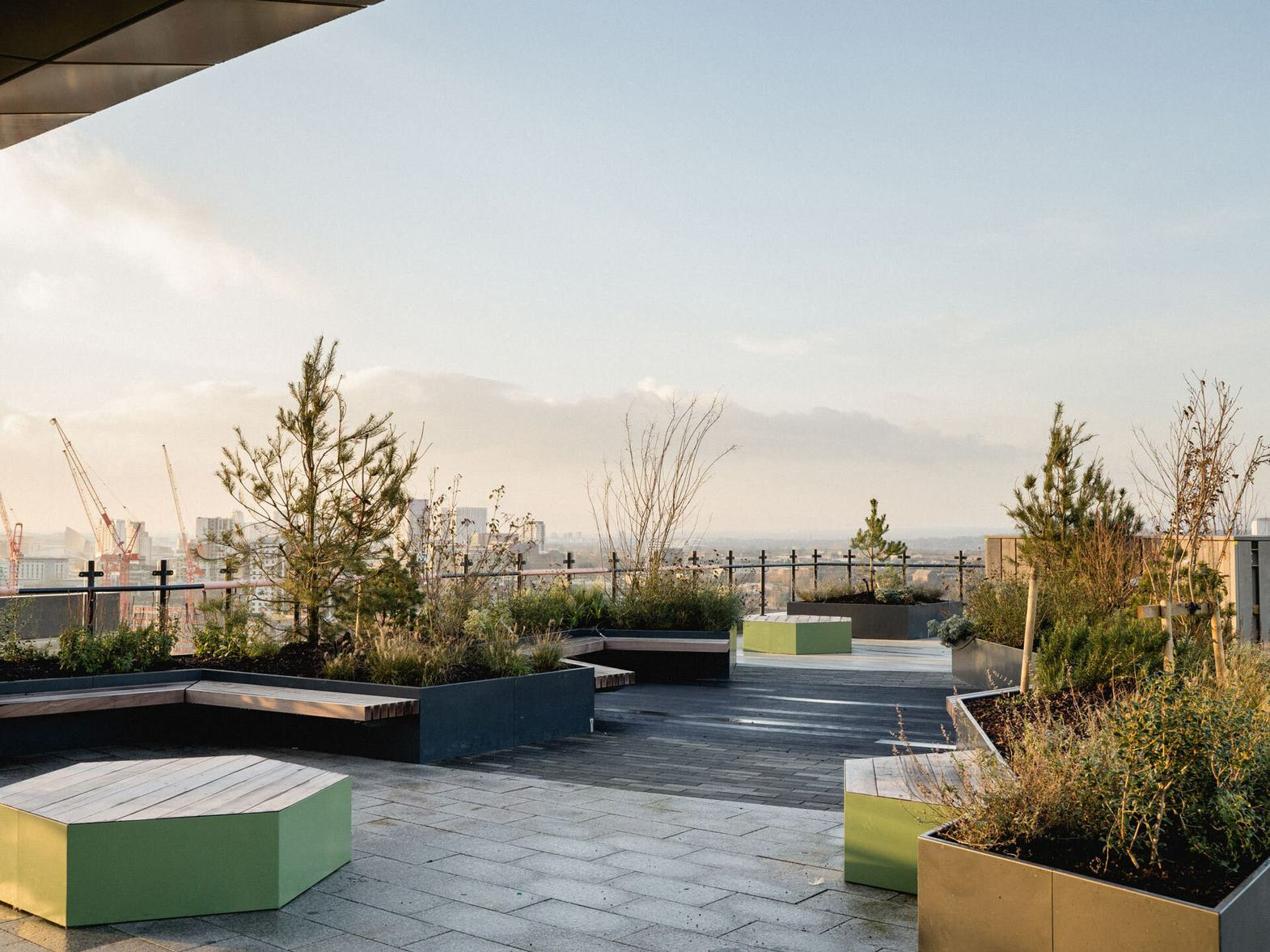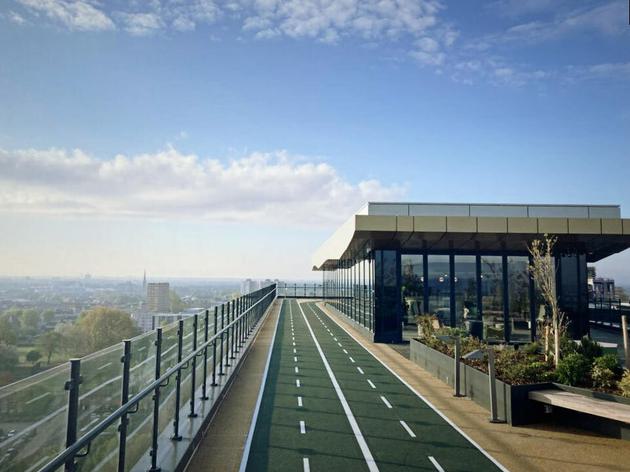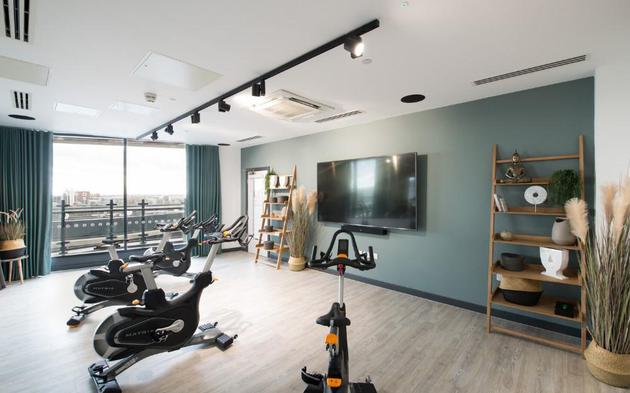 Vox is a £70m build-to-rent scheme project that has transformed a disused industrial site in Castlefield, Manchester, into a highly-sustainable development.
It's been described as one of Manchester's most exciting developments, bringing a sleek, retro and rather Scandinavian vibe to the city.
A ten-minute walk from the city centre, the scheme includes a ground floor convenience store and landscaped public realm. Sustainable travel has been considered at every opportunity with 50 under-building car parking spaces, together with EV charging points, and enough storage for over 280 bicycles.
The design and fit-out of the 280 stylish, bright and spacious rental apartments focused on promoting health and wellbeing. Offering 'balanced city living' the scheme includes a gym, garden, yoga room and, best of all, a 130-metre running track and communal lounge on the 15th floor rooftop.
But good building design moves beyond meeting the comfort and wellbeing of residents. In parallel, Glenbrook is set on helping to reduce the human impact on the environment, which is met by the clear focus investors are placing on the environmental, social and governance (ESG) factors within their portfolios.
For our net-zero benchmarking study on Vox, we were challenged to review the existing, already high-performing design principles and take an even more forensic approach to evidence the building's whole life embodied carbon footprint.
"

We wanted to get an idea of where we are, what we've done well, and what we could be doing better in the future. We deliver for large pension funds and ESG is obviously high on their agenda. As part of that benchmarking exercise, Hydrock helped us understand our embodied and operational carbon.

"
Shannon Conway
Residential Director at Glenbrook
Diving into the embodied carbon footprint
Vox already surpasses the requirements of existing building regulations and generic operational energy modelling (heating, cooling, powering), due to its high-performance building fabric and efficient shape.
However, our specialists dived deeper into the 'real life' embodied carbon footprint, from cradle to grave. Our studies covered:
Reviewing the extraction, assembly, maintenance, replacement and disposal of the materials and systems that make-up Glenbrook's archetypal building design.
Using the London Energy Transformation Initiative (LETI) benchmark to establish opportunities to reduce the carbon footprint on future schemes.
Identifying opportunities to reduce embodied carbon, for example streamlining use of materials and volume of aggregates during the phasing of construction.
Outlining energy-related opportunities, including increased use of renewables, a greater focus on occupancy behaviour to eliminate the performance gap, and offsetting emissions off site.
Reducing the

Carbon footprint
A sustainable solution
A whole lifecycle carbon assessment
Vox already achieved a 37% betterment of industry-standard carbon reductions. However, our study revealed that a further 24% reduction in whole-life emissions could still be viably achieved with targeted areas for improvement, predominantly through air source heat pumps, greater focus on occupancy behaviour, and offsetting emissions off site.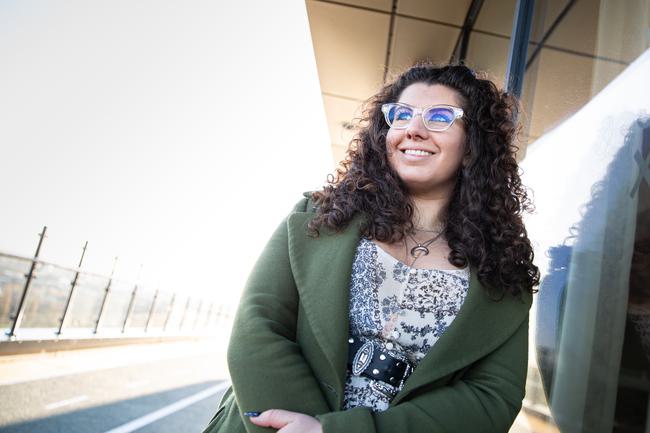 Related specialisms

Net-zero strategy
We'll guide you step-by-step on the most cost-effective roadmap to net zero so you can view profitability and sustainability as two sides of the same coin.

Carbon verification and validation
Our carbon management specialists will help you to manage, record and verify your carbon footprint claims with confidence and credibility.

ESG strategy and reporting
Reporting to the needs of investors, we'll benchmark your real estate assets and help you develop an ESG strategy that reflects your organisation's vision.
A blueprint for exemplary design
In collaboration, we've produced a guide which serves as a blueprint for more efficient building design. With another six developments in the pipeline, this will steer Glenbrook's ongoing holistic approach to achieving net-zero emissions.
Promoting industry best-practice to a wider audience, our Divisional Director of Smart Energy and Sustainability, Josh Bullard, joined Glenbrook's highly-acclaimed real estate podcast. In the episode, he provides much more detail around the practical approaches to improving embodied and operational carbon in the built environment.
You can listen to the Glenbrook Podcast here.
Got a project in mind?
Get in touch.