Education
From that first moment in the school playground to a break-through moment of inspirational new thinking, learning spaces have a deep influence on all of us.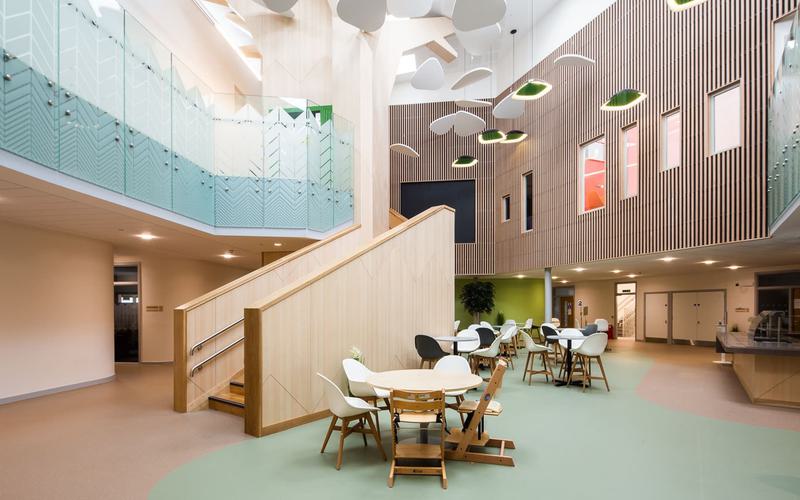 Education spaces play a critical role in our communities as they nurture and inspire future generations and offer a safe and inclusive place for everyone.
Our approach is to look at these spaces and infrastructure through the lens of the user. Creating spaces that allow children, students, teachers, administrative employees and parents to flourish.
This is where the exciting opportunity lies to design spaces that better adapt to the latest ideas in teaching and learning, creating connected communities in which users feel they belong and want to spend their time.
The design of every type of facility from early learning to the most advanced research laboratories, through to specialist needs facilities, all require an understanding of how structures, services, materials and green space enhance the experience. The built environment has a substantial impact on learning progress, human performance and wellbeing.
It's why we take a collaborative role with our project partners and stakeholders, to fully understand what matters to them and ultimately the users of these spaces.
What matters includes delivering energy efficient buildings to meet decarbonisation targets and reduce energy bills, creating additional vital funds for learning resources. Equally, priorities also include the evolution of totally immersive learning spaces, studios and workshops that mirror the workplace, and the greater use of outdoor space, all of which change the physical and structural needs of academia.
Across all communities, we're inspired to help. With our own commitments to encourage people from all backgrounds into careers in engineering, energy and sustainability, the success of the education sector matters to us.
Who we work with
We work with all stakeholders in the education sector:

Local authorities
Main contractors
Private institutions
Design teams
Specialist developers
It's a multi-faceted sector, and our experience covers:
Universities
Technical colleges
Sixth Form colleges
Specialist educational needs
Secondary schools
Primary schools
All-through schools
Private schools
Student accommodation
We are a highly valued partner within teams working under the Department for Education (DfE) framework where the procurement strategy is to align itself with the Government's Construction Playbook priorities. We are fully conversant with the DfE's Output Specification for schools and the Welsh Government's 21st Century Schools Programme.
Where we add value
The performance of academic space has a significant impact on learning experiences, funding, decarbonisation strategies and income streams. We can enhance educational estates in a number of ways:

On campus-type sites, we fully cost the opportunity to invest in renewable energy and collocate with energy storage solutions to deliver resilience, generate income and enhance sustainability credentials.
We work with a range of stakeholders to model and identify passive design techniques that promote natural ventilation whilst improving the air tightness of buildings to reduce energy wastage. Our structural designs include embodied carbon calculations and advocate the use of more sustainable modular build programmes as well as the use of low-carbon materials.
On larger sites, we model the requirements and opportunities for charging, and address the supporting utility requirements.
We support local authorities, higher education facilities and privately funded establishments to profile their assets and identify both operational and investment opportunities to improve the energy performance of their estates. We fully cost all recommendations and help implement change programmes that deliver the most effective return on investment.
Our acoustics expertise creates spaces that improve engagement, reduce stress and enhance wellbeing. This very careful approach to soundscaping is particularly relevant to our work on SEN schools.
We've a track record of repurposing existing buildings for new academic spaces. These include redundant retail buildings converted into accommodation or college spaces, and former campus sites that are sustainably converted into new learning uses such as performance arts venues or sports training facilities.
Education really does shape the future, so influencing the spaces that cater for everyone is something we take great pride in.
In need of fresh thinking?
Think Hydrock.