Back to Articles
Key Lessons from UKREIIF: Through the lens of a young person
23rd May 2022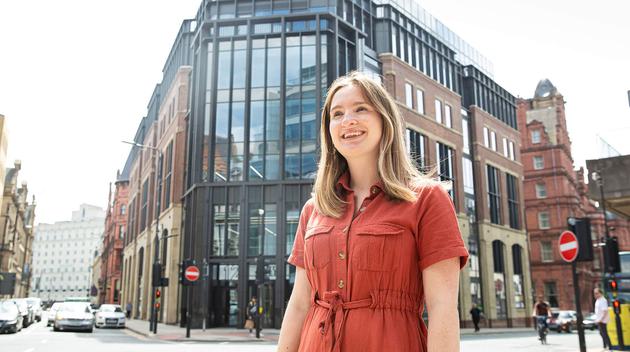 Following three days of tireless networking, our sustainability placement student, Katie Roberts, shares her key takeaways from the UK Real Estate Investment and Infrastructure Forum.
Last week the inaugural UK Real Estate and Infrastructure Forum (UKREIIF) touched down in Leeds, bringing the public and private sectors together to ensure we're creating better, more sustainable communities. I was fortunate to go along as an ambassador for Regeneration Brainery, a non-profit organisation dedicated to bringing young people from a diverse range of backgrounds closer to the built environment.
Over 4,500 delegates attended the conference, with over 300 speakers, including Rebecca Lydon who was part of a roundtable panel discussing barriers to development.
The key themes that underpinned UKREiiF included levelling up, social value and the net zero agenda. Reflecting on the three-day programme, here's three things I learned:
1 – We need to retrofit, now
With the emerging cost of living crisis, energy bills rising rapidly and net zero targets looming, the need to intensify retrofit is urgent. The UKGBC estimates that 80% of 2050's buildings are already standing so it's imperative that all buildings become more efficient. Encouraging retrofitting is also a social value issue, with the ability to reduce energy bills for millions whilst nationally reducing reliance on oil and gas. However, it will not come cheaply. Savills estimate that £330bn is needed to retrofit the UK's 29 million existing homes. With the essential changes that homes require coming at significant costs with long pay back periods, questions are raised about the evident funding gap. Challenges also remain in ensuring that we've the technical skills required to ramp up retrofitting whilst meeting other environmental targets including improving biodiversity and moving towards a circular economy.
2 – We need to future-proof developments
Future-proofing developments was an important point of discussion, generally defined as ensuring that all developments can be adapted to meet changing societal demands. At the individual building level, it'll be critical that owners are able to adapt their buildings to meet occupiers' changing needs, reducing the need to rebuild. At the neighbourhood level, developments need to be mixed-use to blend living, working and recreation to create vibrant places that are better able to respond to challenges.
3 – We need to encourage diversity and inclusion
A key takeaway from the event was the need for an intersectional approach to create a more diverse and inclusive sector workforce. The statistics aren't great: The Bridge Group found that 45% of people in management positions attended independent or selective state schools whilst PWC found that 81% of board members in the sector are male. Research by Deloitte discovered that organisations with inclusive cultures are three times as likely to be high performing. Given the nature of the sector it's critical that decision makers are representative of the places they seek to improve.
Initiatives supported by Hydrock, such as the Regeneration Brainery and STEM Ambassador Programme are seeking to change this by educating young people about the sector and the wide range of roles available so that they can develop the skills they need. Whilst outreach programmes such as these are critical, there's evidently a pipeline issue, with studies suggesting that on average it'll take 20-25 years for this more diverse cohort to reach management roles. A generational commitment and support for initiatives such as these needs to be encouraged.
My final word
The overarching takeaway from UKREIIF is that ESG underpins everything within the built environment. We need to create desirable neighbourhoods that offer access to employment, education, recreation and health facilities whilst meeting ambitious environmental targets. This puts the built environment at the heart of the levelling-up agenda.
"

We need to create desirable neighbourhoods that offer access to employment, education, recreation and health facilities whilst meeting ambitious environmental targets. This puts the built environment at the heart of the levelling-up agenda.

"
Find out more about our Energy and Sustainability consultancy.
Hydrock were shortlisted for the UKREIIF Consultancy of the Year award recognising their commitment to sustainability, innovation and being a force for good.

Regeneration Brainery is a non-profit organisation established to encourage young people from a diverse range of backgrounds to join the property and construction sector. They provide Bootcamps to schools with speakers from across the Real Estate sectors to showcase the opportunities available. Regeneration Brainery also offer week long "Brainerys" in several UK cities offering students the chance to connect with industry mentors, attend site visits and present ideas for projects.