A masterclass in sustainable brownfield development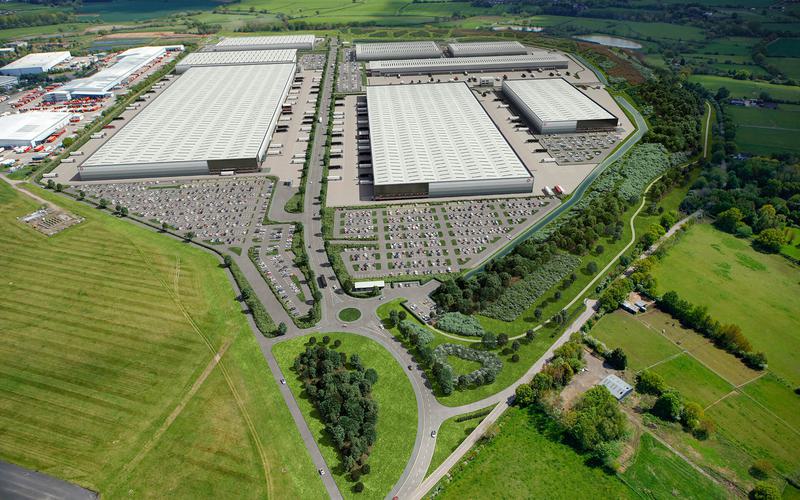 A twenty-first century solution to a twentieth century problem and one of the largest brownfield schemes of its kind in the UK, SEGRO Park Coventry is a class-leading example of sustainable development. 450-acres of industrial and logistics space development on the edge of Coventry Airport, formerly comprising five licenced and unlicensed landfills, a wastewater treatment plant and a WW2 airbase.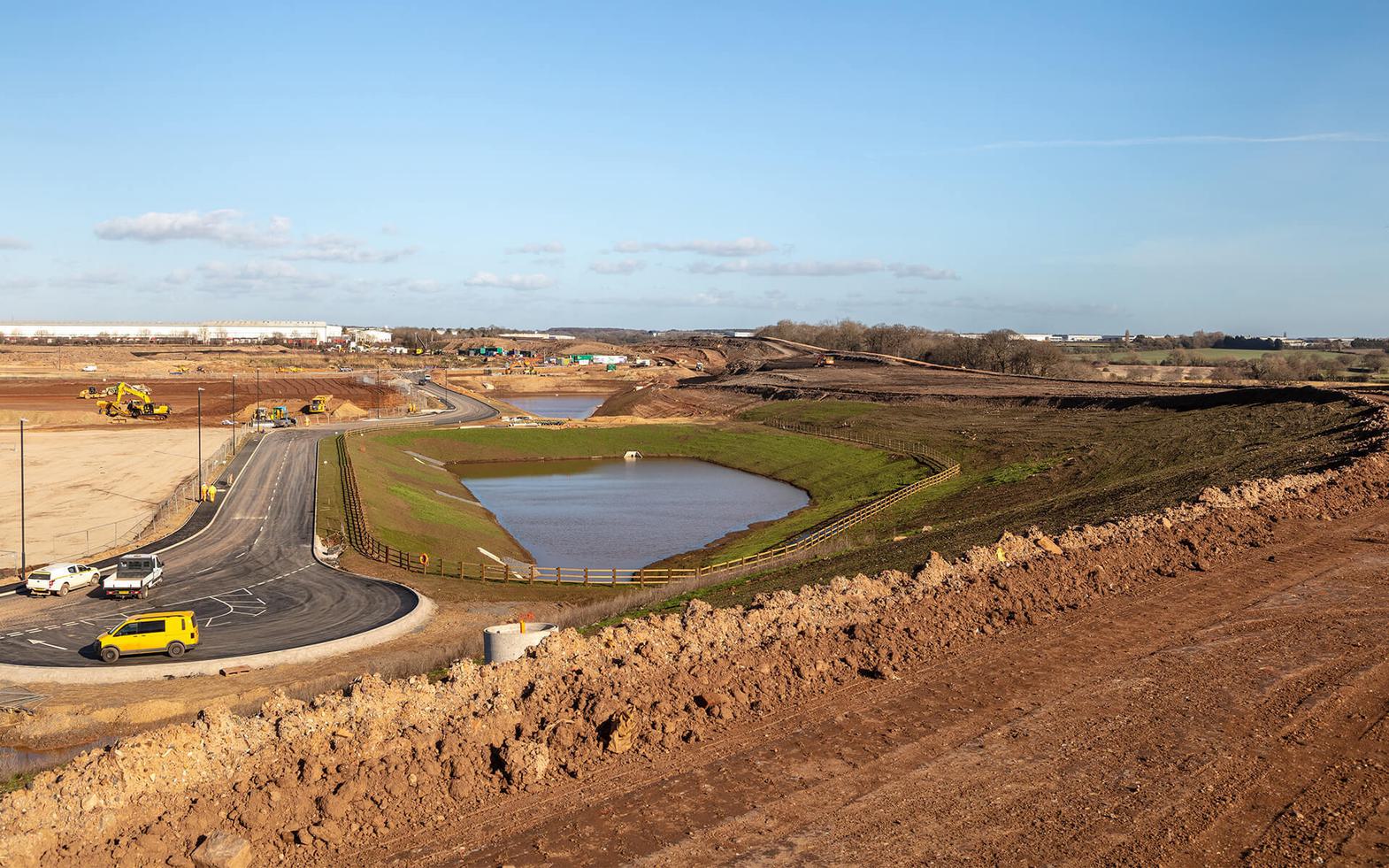 We were appointed by SEGRO to support on this project's rigorous multiple-component geotechnical design criteria. Meticulous material classification, digital material tracking and the use of an array of on-site material treatment processes were used to maximise the re-use of site-won material. This subsequently improved the environmental impact of the site's former uses, transforming this blighted and derelict land into a valuable commercial and community location.
Situated on the edge of Coventry Airport, this brownfield site formerly comprised of five licenced and unlicensed landfills, a wastewater treatment plant with 20 sewage lagoons, and a WW2 airbase. The site's location, size and scale of contamination borne from its former use makes this project a text-book example of 'right development, right site' and is one of the largest brownfield schemes of its kind in the UK.
The development is targeting BREEAM Excellent and an EPC rating of A. It includes a community park of 100 hectares for people to enjoy wildlife, woodlands, Avon Wetlands and Middlemarch Bird Sanctuary, along with footpaths, cycle paths and bridleways that connect the park to the local community.
With no direct equivalent of BREEAM for earthworks design, Section 5.4 of BS 6031 has been the mantra - using the mindset of 'rethink, reduce, reuse and recycle'. Re-thinking the concept of design acceptability criteria, identifying the right treatment solutions, and maximising the re-use of existing on-site materials is consistent with SuRF UK by protecting virgin material resources, minimising road haulage and associated air and noise impacts, and not just exporting the environmental impact of the waste somewhere else.
The challenge was to provide a series of development plateaus totalling 215 acres to meet planning requirements, and to construct a landscape bund along the site boundaries. This resulted in the requirement to place of in excess of six million m³ of soil. Reuse of the sewage and landfill materials for the bund construction was essential to minimise material import and offsite disposal.
Around 3.7 million m³ of landfill waste and Made Ground, and approximately 600,000 m³ of residual sewage was treated and re-used under a bespoke EA DFR permit with 1.9 million m³ of soils reused under a Materials Management Plan (MMP) declaration. To remove this volume of waste material off-site and replace it with suitable fill would have required in excess of 740,000 lorry movements with an estimated total carbon footprint of 169,700 tonnes CO2e.
The sustainable engineered design solution comprised the excavation, sorting, screening, hydraulic binder treatment, centrifugal de-watering, and selected placement within the landscape bund. This totalled an area of 2km in length, 100m wide and 30m in height, meaning a generic engineering and testing approach would not have been suitable.
Instead, we developed a comprehensive geotechnical design to manage the solution which can act as a blueprint for future schemes. Specific materials and classes of fill were used in predetermined locations within the bund creating a stable landform for less stable materials to be recovered and encapsulated. Due to the variability of these materials, the challenge was to produce a testing procedure that would ensure long term performance. This involved geotechnical testing and the use of CPT and LWD along with a series of extensometers, inclinometers and pore pressure monitoring. The material also had to meet strict environmental criteria, resulting in the site posing a lower risk to the environment compared to the risk posed as a derelict brownfield site.
Outside of this, the structural areas needed to be reinstated with clean material, requiring the placement of 2.7 million m³ of site-won fill.
In 2022, 1,52 million m3 of materials have been moved and placed, with this multi-year project due to complete in October 2023.
Got a project in mind?
Get in touch.