Integrated designs on a landmark Build-to-Rent scheme in one of the world's 'coolest' neighbourhoods
One Silk Street
Manchester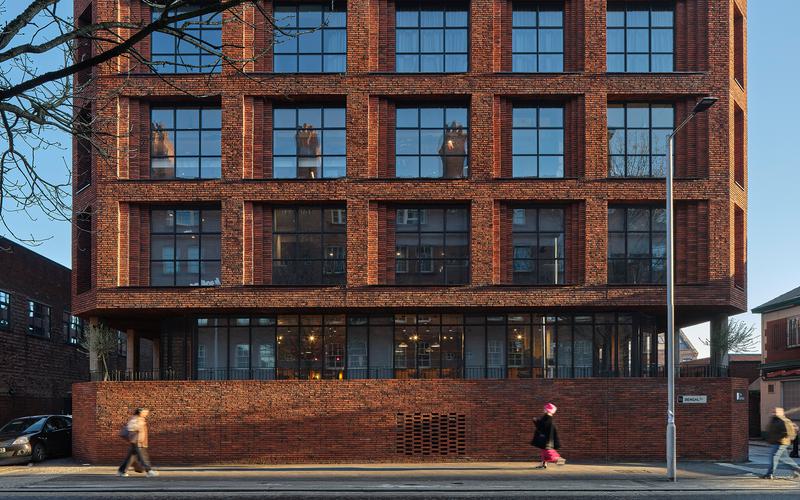 Delivering multidisciplinary engineering on a stylish mixed-use Build-to-Rent scheme in Ancoats, Manchester
One Silk Street is a luxury co-living development within the Ancoats area of Manchester, named the 13th coolest neighbourhood in the world by Time Out magazine.
The Build-to-Rent (BTR) scheme has been developed by Northern Group. It builds on Ancoats' rich history with a modern take on mill-style living, bringing together professional and residential communities whilst honouring the site's industrial heritage.
One Silk Street has been developed on underused brownfield land, formerly the site of the 1950s electrical works and more recently the site of a vehicle repairs garage.
We were appointed alongside architects Falconer Chester Hall to deliver multidisciplinary detailed design for the scheme.
Unlocking brownfield land
With an outstanding track-record of delivery at several residential developments located in the Ancoats for Manchester Life, our team has a great working knowledge of the area's specific ground conditions.
Geo-environmental and geo-technical engineering are both key contributing fields to sustainable development and targets to achieve carbon neutrality and circularity by 2050.
Taking forward preliminary site assessments, our team delivered ground investigations to determine geo-environmental and geotechnical site conditions. This identified both the key contamination risks and mitigation requirements to enable development, allowing us to provide initial geotechnical recommendations for design.
One Silk Street has been developed on a land-locked site. Following industry best-practice, our land quality specialists provided a Materials Management Plan (MMP) to comply with waste regulation, enabling sustainable re-use of materials.
The latter included an element of 'dig out, put back in' during the earthworks phase of construction —generating significant environmental and financial benefits.
Overcoming Victorian drainage systems
Our civil and structural specialists provided detailed design to enable construction. These included the use of piled foundations with a semi-basement, reinforced concrete structural frame which was cast in-situ, and the design of a brick clad structure.
Performing under an S278 agreement and carrying out public realm works, the team also provided below-ground drainage design, which was made more challenging due to the Victorian drainage systems still used in the area.
Building performance
We help our clients bring buildings to life. Our MEP team were appointed through RIBA stages 4–6 to consider the multiple facets that feed into or influence the design and performance of One Silk Street. This included integrating wider electrical and mechanical issues such as fire, acoustics, sustainability and building physics.
Harnessing sound
Our acoustic engineers were appointed through RIBA stages 2–5. The scheme was challenging due to the heritage nature of the building and the architectural intent to leave historic elements exposed. To overcome this, we developed bespoke detailing to optimise the building's acoustics, whilst ensuring we achieved building regulation requirements and protected the architect's vision for the scheme.
Safeguarding communities through a pragmatic fire engineering solution
We delivered a fire strategy through RIBA stage 4–6. This included our expert fire consultants performing computational fluid dynamic (CFD) and evacuation modelling to determine the safety margins based on use and purpose.
On the back of this bespoke modelling, we were able to increase lettable space, whilst maintaining a safe design — which led to significant cost savings and additional revenue opportunities.
Bringing flexibility to Ancoats
Completed in 2022, the building comprises 30,000 sq. ft. of flexible COLONY co-working space (2–40 person) across the first three floors. The next five floors are dedicated to luxury apartment living.
One Silk Street also offers important amenities for the working environment, including 21 car parking spaces and five EV Charging points. Safe and secure bike storage facilities have also been provided to accommodate sustainable travel for commercial tenants and residents alike.
There's also a 10,000 sq. ft. communal roof garden offering rare outside space for both office and residential tenants.
Making the headlines: an award-winning development
Got a project in mind?
Get in touch.