Back to News
Catch up on the Carbon Series
17th Dec 2021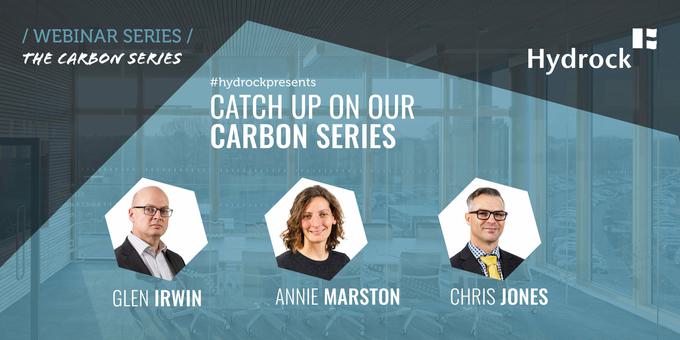 Our Carbon Series looks at how engineering innovations in the built environment can help to speed up our transition to a net zero building industry.
Hosted by Marketing Director Graham Munday and set over three sessions, our expert speakers across building performance, building physics, and data centres discuss their visions for better performing, more efficient, and more holistically integrated buildings.
Carbon Series #1: Design for Performance with Glen Irwin
Within ten years', operational energy consumption will need to be a third of what it currently is in new build offices based on established metrics produced by both RIBA and LETi. So, how can we get better at understanding the carbon impacts of every decision we take in designing our buildings? For developers, funders and their architectural partners, the key to success comes from engaging your building services team from the outset to help you to design with operation in mind.
Carbon Series #2: Energy use in buildings with Dr Annie Marston
Can we afford to wait any longer to tackle energy use in existing commercial buildings? In our minds, have we over-complicated what's required? Who's going to show some leadership?
Shining a light on industrial, manufacturing, logistics and office buildings Dr Annie Marston will explore:
Practical and immediate steps to understand and reduce operational energy use
The importance of creating a digital twin for the life cycle of the building asset
The implications on carbon and energy use when re-configuring or re-purposing existing buildings
The importance of stopping to think and then taking a comprehensive approach
Fuelled by the most recent climate emergency reports, this webinar is designed to offer practical and immediate advice to property managers, investors, architects and project managers to help reduce energy use and associated costs in existing buildings, and address the question on everyone's lips – how do we do something right now?
Carbon Series #3: Energy Positive Developments with Chris Jones
Imagine a future where we capture and recycle waste heat from our energy intensive buildings.
A data centre on the ground floor of a former retail unit is recycling its waste heat into a heat network developed as part of the masterplanning. As a consequence, the nearby Passivhaus designed school doesn't need to source energy for heat from the grid and we can provide low grade heat for ambient loop heat pumps to deliver hot water to the local hospital.
New legislation will require us all to revisit the energy consumption of our buildings, and for mixed-use developments we think we can benefit from recycling waste heat.