Back to News
Sustainability key to multiple award winning Civic Centre development
22nd May 2015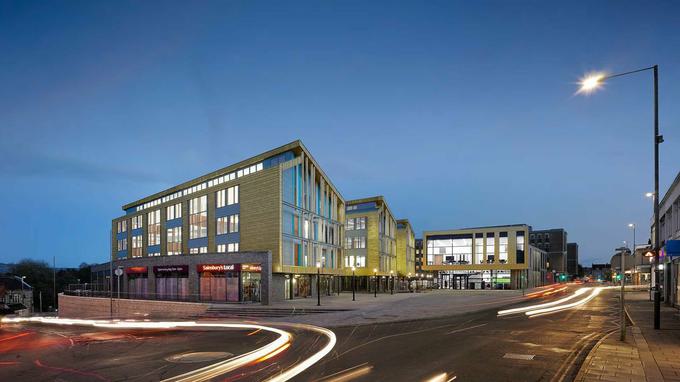 Our involvement in the project team responsible for delivering the new Keynsham Civic Centre has been recognised with four awards in the space of a month.
Replacing out-dated 1960s buildings, the new landmark civic centre is the focal point of a £33 million regeneration of Keynsham town centre. It comprises 68,000 sq ft of council offices, a library and a One Stop Shop to enable the community to access local services in one place. There is also 20,000 sq ft of retail space, including a Sainsbury's Local store, located around two new pedestrian streets, and in addition, a market square, new car parking and highways improvements. The whole development is succeeding in bringing new jobs and investment to the area.
In May 2015 the project won two British Council for Offices (BCO) awards in the South West, Thames Valley and South Wales region for Corporate Workplace and Innovation. It also won the regional prize and the Sustainability Award in the Royal Institute of British Architects (RIBA) South West Awards.
Appointed by Bath and North East Somerset Council, and working in a project team that included AHR Architects, Hydrock has delivered civil and structural engineering, and geotechnical and geo-environmental advice for this development.
Commenting on the building and the recent accolades, Hydrock's Director for Structural Engineering, Jerry King said: "The delivery of sustainable, energy-efficient office space for the council employees was an important aspect of the structural design of Keynsham Civic Centre, and alongside the installation of one of the largest council-owned solar panel systems in the UK, the building is on course to achieve its target of a Display Energy Certificate (DEC) A rating. We are very proud to have contributed to this development and delighted that the project team has been recognised with these leading industry awards."
The office building is constructed entirely in cross laminated timber and incorporates composite precast concrete planks to provide thermal mass as part of the natural ventilation strategy for the building. This prefabricated structure sits directly on top of an in-situ concrete podium housing the retail element of the scheme. The lightweight timber structure has enabled the use of traditional spread footings saving significant substructure costs. The civic centre consists of a prefabricated steel frame supported on a first floor podium structure as per the main building.
Image courtesy of AHR Architects – read details of the project on their website: http://www.ahr-global.com/Keynsham-Civic-Centre