Back to News
Hydrock commits to go net zero by 2030
14th Jan 2021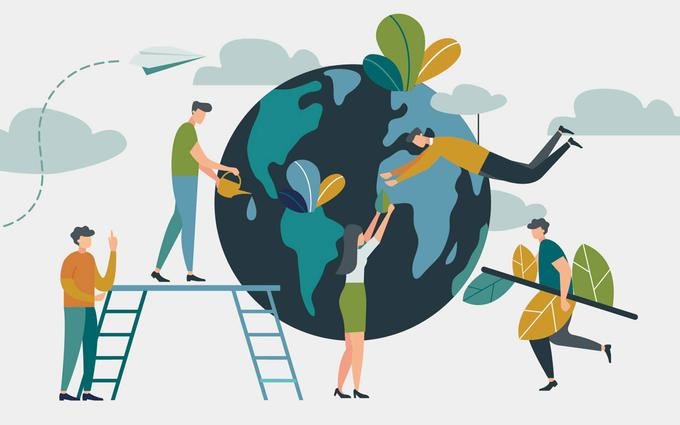 At Hydrock we're proud of our work in creating places and communities that enhance and benefit society. With our clients and project partners we strive to make the buildings and infrastructure that we design as sustainable and future-proofed as possible. We recognise that the built environment, our sector, is responsible for a significant percentage of the world's energy-related carbon emissions.
As a responsible business, actively advising clients in the built environment sector on their approach to sustainability, we have ourselves analysed our own footprint, identified how we can improve and set a target to operate as a net zero company by 2030.
Led by our own Sustainability Working Group, which comprises a range of staff from different practice areas across Hydrock and is sponsored at Board level by Mike Yiannis, our Chief Financial Officer, we have mapped our Scope 1 and 2 carbon emissions. This process has identified some key areas of our operational business that we can address which will reduce these emissions by up to 79%.
In announcing our commitment to reach net zero by 2030, the interventions that we will pursue include:
Reducing business mileage by 80% per employee
Increasing the percentage of time employees work from home on a permanent basis
Switching pool and company cars to electric vehicles
Decarbonising the heat and power within Hydrock's offices by moving away from oil and gas heating, and switching to renewable electricity providers, where possible
Formally committing to targets verified with the Science Based Targets Initiative (SBTi)
Setting our sights on combatting our scope 3 Emissions
Commenting on Hydrock's commitment, Mike Yiannis, Hydrock's CFO and Board Sponsor of the company's Sustainability Working Group, said: "Future-proofing the built environment is embedded into what we do as consultants, so we are on the front line of understanding just how important it is to make the built environment more energy efficient and sustainable. It's an area that inspires our employees and quite naturally as a responsible business we need to look at our own impacts and manage those appropriately.
"Our Sustainability Working Group has worked passionately across our business with all our teams to establish how we can make a difference, and I'm really excited that we've made this commitment and identified some immediate areas where we can focus, change behaviours and reduce our impact."
Ruby Lowe, a nuclear management consultant within Hydrock, chairs the Sustainability Working Group, and said: "We've launched our 'road map to net zero' report and engaged our staff in this process. We will be reviewing our progress on an annual basis and have the Board support to pursue key initiatives such as switching our pool cars to EVs and changing to renewable energy providers. Our aspiration is to meet our target well ahead of 2030."
Read a summary of our Road Map to Net Zero report here: